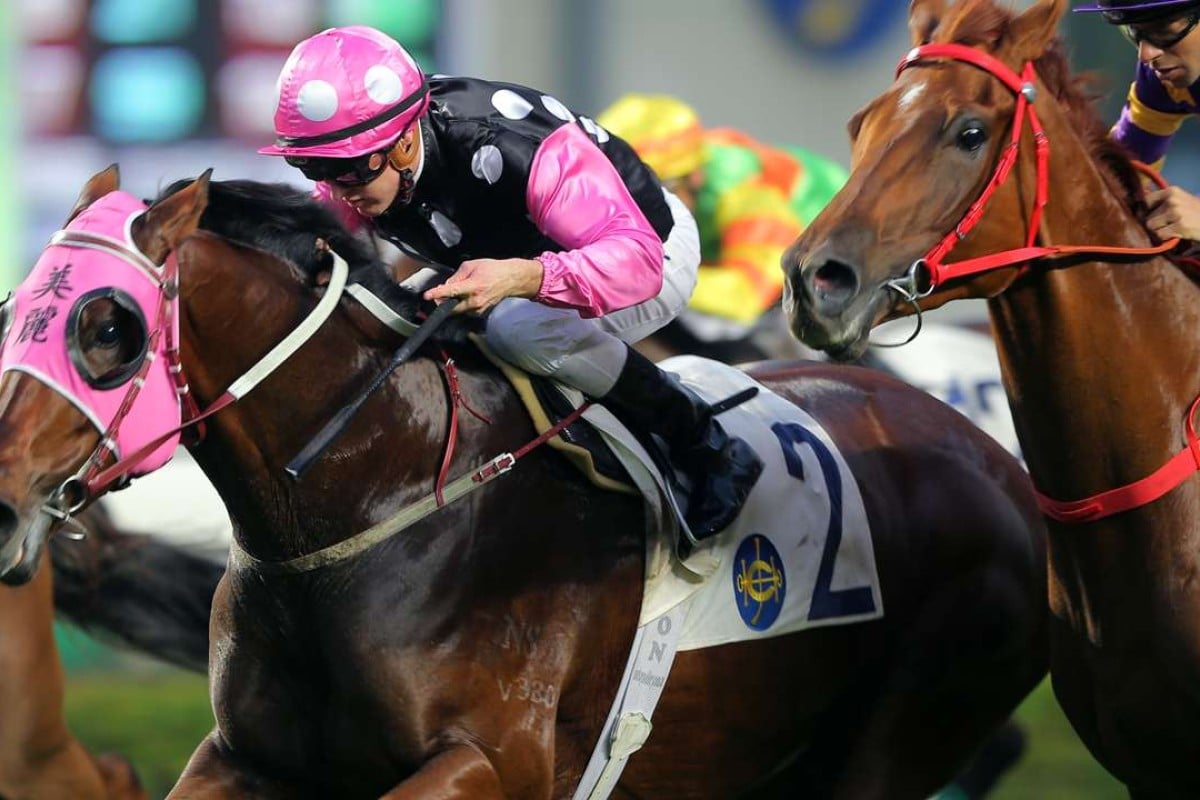 Beauty Generation's second-up performance proved to be a mixed blessing when the four-year-old suffered a minor heel injury, but jockey Zac Purton has no doubt he'll still be competitive in the Group One Hong Kong Classic Mile on Sunday.
Trainer John Moore ran Beauty Generation for the second time in Hong Kong only 12 days after his local debut, knowing that he was a gross horse who will need hard competition to get him fit.
That view was borne out when Beauty Generation loomed up to win easily over the Sha Tin mile then only scrambled home at the finish as his fitness blew out in the final 100 metres.
In the immediate aftermath, Moore said that run would bring the big bay on in fitness to where he wanted him for Sunday's first four-year-old Group One.
But a minor injury out of the performance, when his left hind heel bulb was galloped on early in the race, has meant that Beauty Generation's preparation went two steps forward and two steps back.
"He lost a plate when he was galloped on that day and came out of it with a wound on the heel so, as a result, he missed a couple of days' track work," Purton said.
"So he hasn't taken as much benefit as we'd hoped from that second run and missing any work for a big, robust sort of horse like Beauty Generation isn't ideal."
Moore asked Purton to take Beauty Generation around the all-weather on Tuesday morning to make sure everything was in order and got a thumbs up from the Australian rider.
"It was only a minor injury he had, but John just wanted to be sure that the horse was stretching out properly and felt OK and he feels fine to me," Purton said.
"All the signs are good for Sunday. He just wants a good gate and I'm sure he'll be competitive in the Classic Mile."
Purton isn't concerned that Beauty Generation's best performance as a three-year-old in Australia, under the name Montaigne, came over 2,400m against open age Group One horses and thinks the mile won't be an issue.
"His form in Australia probably suggests that he'll be better over 2,000m and maybe that's when we'll see the best of him, but he handled the mile well the other day and, to me, the big thing is his fitness," he said.
"I'm really looking forward to the day I can get on him and he's 100 per cent. He had a minor setback before he raced here first-up, now he's had this minor setback since the last run.
"It won't stop him winning if everything goes right on Sunday, but really only racing is going to get him properly fit and that's what I'm keen to see."
Purton has missed the last two meetings with suspension although that might only have saved him having to stand down last Saturday.
"I had a pretty bad cold and might not have been able to turn up on the day anyway so I don't feel like it has cost me anything," he said.