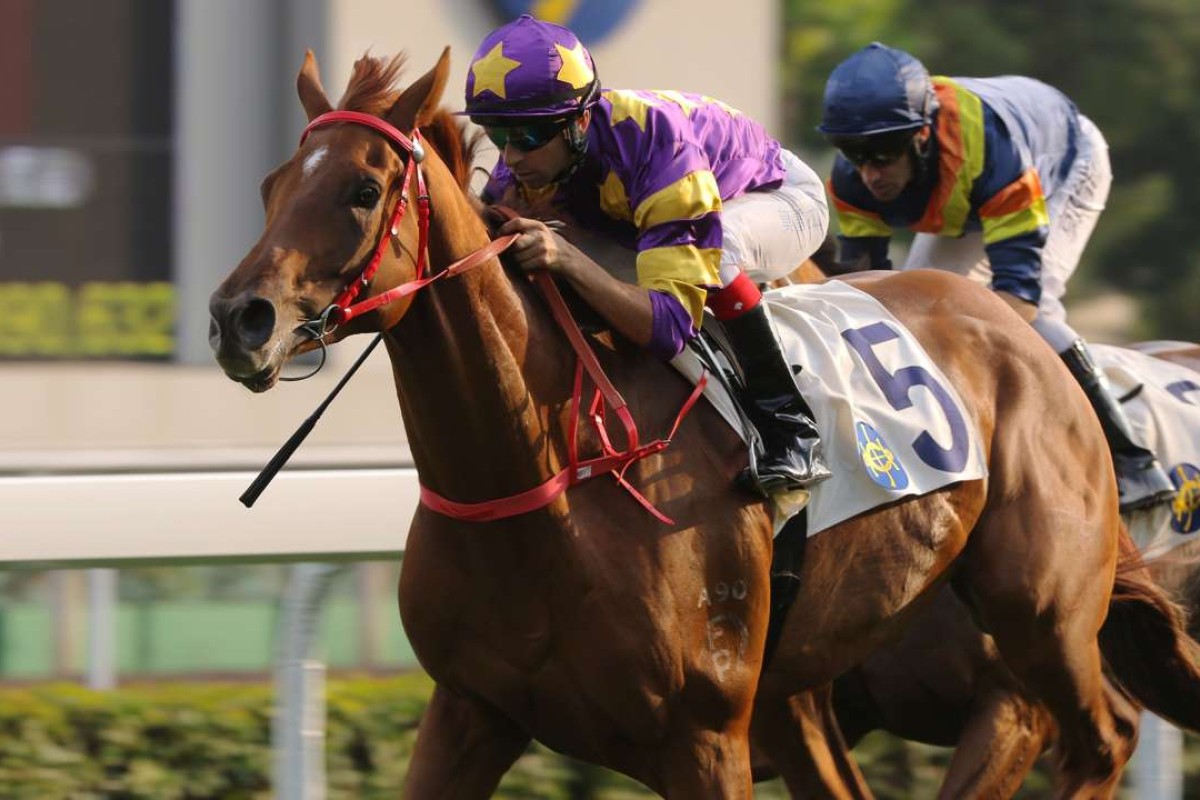 The John Size-trained Western Express added one more piece to the Hong Kong Derby puzzle as he redeemed himself with a very convincing Class Two victory and racked up win number 500 for Joao Moreira since he arrived in Hong Kong.
Like all of the Magic Man's milestones, that 500 has come up ridiculously fast – in just three years and three months since he landed – and it's hard not to be numbed to the numbers after a while, even for Moreira himself.
"Well, it's nice. It's a high five," he said with a smile after what has virtually become his standard winning treble on Bravo Watchman, Mambo Rock and Western Express.
"But don't worry, we're going to stretch that number quite a bit yet."
Size now has to plot a path to the Derby for Western Express that is going to suit the lovely moving four-year-old and it may involve stepping around the obvious clashes with the established stars of his age group.
"For me, I was just happy to see him go to the races today and do what I expected," Size said after the 1,400m Class Two win by more than a length.
Chad Schofield's gem gives Danny Shum a Supreme Profit in Centenary Vase
"After he didn't quite handle the Classic Mile experience as I'd hoped, I wanted to see him redeem himself and he did. I still hope he's going to be a good horse and when they do what you expect, that's all you can ask.
"Now I have to see how the handicapper handles him and what our options are going towards the Derby but he probably does want to step up in distance and see how he handles 1,800m. We'll see how he is and what's on the calendar."
Moreira believes the best of Western Express is still some way off, even if he gets to the Derby and runs well.
"His progress hasn't been very stable – one good run, then one not as good but, if you compare where he's at now with three months ago, I think he has improved a lot," he said.
Balls and all: why Hong Kong horses are mostly geldings
"He needs to improve more to be a Derby horse, if he's going to be a contender, but I wouldn't say he can't do it.
"I've seen other horses with his kind of ability improve and surprise in Derbies before. He can sustain his sprint for much longer than most horses so he has very good talent. But, to be honest, I don't think he's even close to being the horse that he can be one day with more maturity."
For the David Hall-trained Mambo Rock, Moreira said the difference was simply the addition blinkers, as the horse had been difficult to manoeuvre in races without them.
Chris So unveils talented type in Bravo Watchman
"David put the blinkers on and Mambo rocked. He was able to be closer in running this time and, when I went for him, he really responded," Moreira said. "I'm pleased to get another winner for David because I haven't had one for a while. Actually, I haven't had many rides for him either so our good strike rate is probably still OK."