As word of his remarkable eight-win haul spreads throughout the racing world and beyond into mainstream media, record-breaking jockey Joao Moreira is already looking forward to his next winner.
The humble Brazilian clearly has his feet firmly on the ground and after celebrating with a quiet glass of champagne with wife Taciana on Sunday night he was "back to the grind" at trackwork on Monday morning.
"The wheel keeps on turning, just because I rode eight winners on Sunday doesn't guarantee me any success at the next meeting," he said. "I just spent some nice time with family after the races and got back to work today."
Moreira's historic effort at Sha Tin on Sunday, an all-time record for wins in a day in Hong Kong, not only dominated front pages at home but was covered extensively around the globe on major racing and even news sites.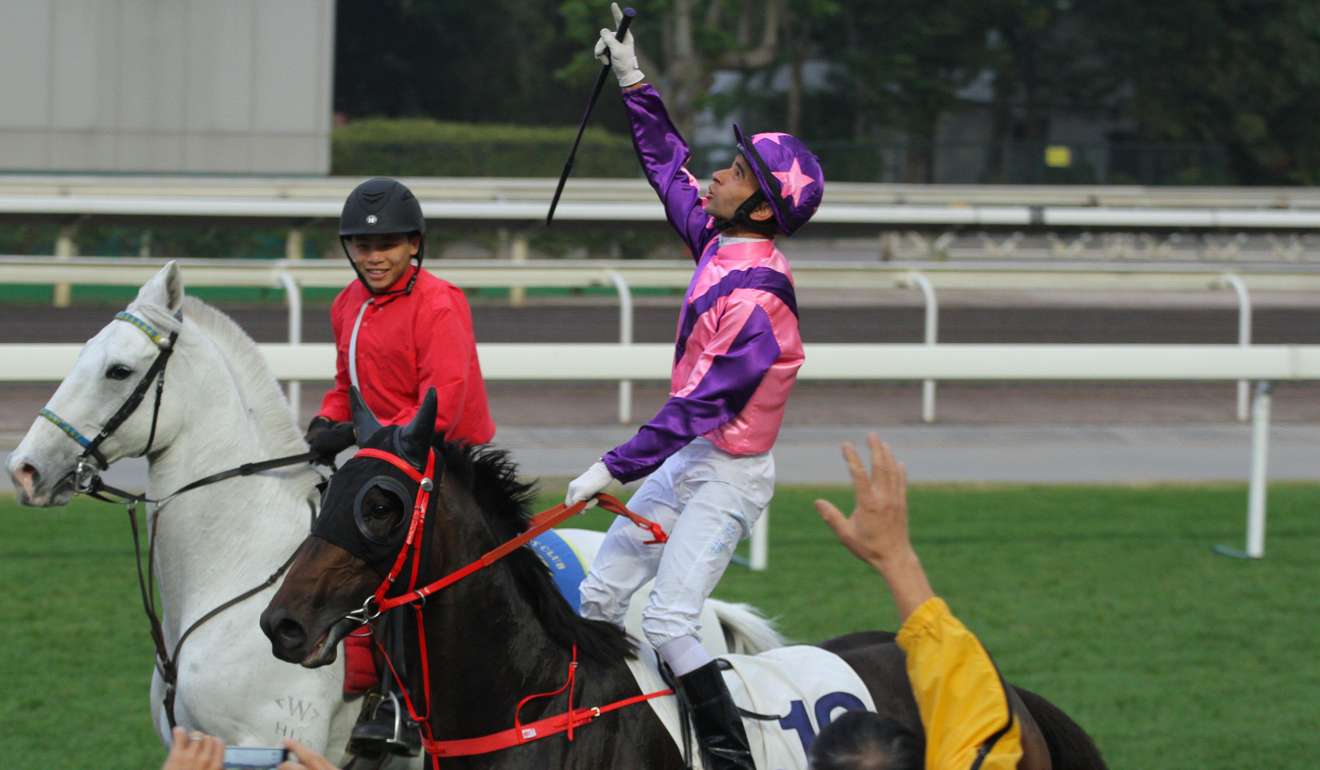 "I received so many calls, text messages and emails from every part of the world and obviously I appreciate it," Moreira said, adding that he had knocked back numerous requests for English-speaking interviews. "I'm a bit shy and I don't feel my vocabulary is quite up to scratch sometimes."
Just great as Joao Moreira rides record eight winners in one day at Sha Tin
News of Moreira's eight-timer was carried on websites in England, America, France, South Africa and covered extensively in Australia, where the jockey had ridden on Saturday, going without a winner at Randwick.
Of course, the most widespread coverage was saved for the voracious local media, with the story covered by news sections of every Chinese-language paper and even economic journals.
"From a local perspective it was covered by papers that don't usually have day-to-day racing coverage," the Jockey Club's executive manager of public affairs Pat Cummings said. "This was viewed as a massive Hong Kong story, it was carried as a general news item."
Momentous milestones for Mike de Kock and Joao Moreira
Moreira, who has won the last two jockeys' championships, is on pace to smash his own single season record for wins in the season, especially now with five extra meetings added this term, from 83 fixtures to 88.
The 33-year-old now has 110 wins from 51 meetings but foremost in Moreira's mind is the BMW Hong Kong Derby on March 19, in which he will ride nominal favourite Rapper Dragon.
Moreira has won all four international day events and most major races in just over three years based in Hong Kong but is yet to capture the Derby.
"That's the big one and that will be a real celebration if I can win that," he said, having claimed the first two legs of the four-year-old series aboard Rapper Dragon. "It would be nice to win it on him, he certainly is the horse of the moment."
Rapper Dragon defies history in dominant Classic Cup display
Rapper Dragon is one of many Derby runners set down to trial at Sha Tin on Tuesday morning, along with the John Moore-trained stablemates Eagle Way, Beauty Generation, Helene Charisma and Rodrico.
Seasons Bloom, Gold Land, My Darling and Dinozzo will also trial over 1,600m in preparation for the HK$18 million race.