John Moore declared Rapper Dragon will lead the new generation of Hong Kong's equine stars after a sizzling BMW Hong Kong Derby win that landed the trainer a record sixth win in the race and left him almost paralysed by his choice of targets.
Planted on the back of the speed by Joao Moreira, Rapper Dragon went clear early in the home straight then, at the point where many felt he was questionable, just got stronger and put away the chasers with comfort to become the first horse to claim the four-year-old series.
Moore had said pre-race he had no doubts about the distance but, as strong as Rapper Dragon was over the 2,000m, post-race Moore was leaning to a drop back in distance for the Champions Mile, before a tilt at 2,400m later in the Champions & Chater Cup to end the campaign.
"I want to dodge my other horse Werther in the QE II, the way he's working at the moment, and this horse is so versatile. I'm sure I can freshen him up and come back to 1,600m with him. I want to split them but I do think he proved today he runs 2,000m and he was so strong at the finish I think he'll get the 2,400m as well," said Moore, who equalled his own 2012 record of saddling up six runners in the Derby, but emerged this time with the winning result as well.
I wanted this race so much – Joao Moreira wins the Derby aboard Rapper Dragon
"This is a really classy animal, he has done everything right and a big thanks to all the stable staff and their hard work behind the scenes but not forgetting my son George – he found this horse when Rapper Dragon was a two-year-old with Gai Waterhouse, not me. He bought him, we took him through his classes last season and he has got here to the grand final and done the job.
"It was a great ride by Joao, but it helps that this is a horse with some early speed so he can lay up with the leaders.
"Whether he can take the place of Able Friend remains to be seen – he'll have to go through and win a QE II Cup or a Champions Mile – but he's my champion right now, he's won me a Derby and he is going to be a horse who will represent Hong Kong proudly at international level in the future."
Moore admits retirement 'on the cards' for Able Friend
A sixth Derby for Moore, eclipsing Brian Kan Ping-chee's five wins, and a first for Moreira, who admitted he had been under heavy pressure leading into the race.
"Honestly, I was struggling with it. I don't think I have ever ridden a big winner before feeling such responsibility," Moreira said, but his nerves never showed in the ride.
For a brief moment, Pakistan Star and Silvestre de Sousa looked like spoiling the party, as the second favourite burst through a gap still with time to pick up the leader if good enough, but it was only a very brief moment.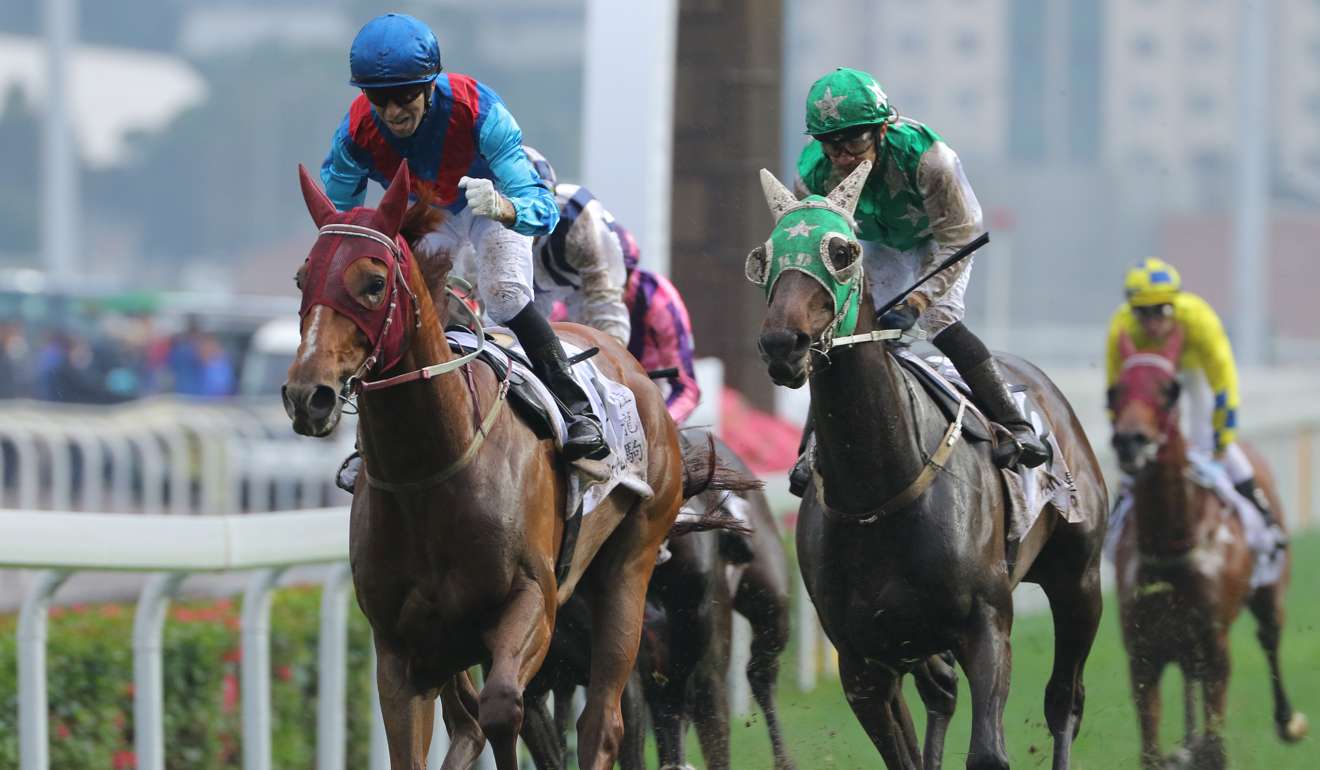 "When I got the opening at the 200m, he gave me a dash but, when I got near Rapper Dragon, then he picked up again," said de Sousa after being part of the first all-Brazilian Derby jockey quinella.
"When you ride a horse from the back, you can have a hard luck story, but I got a really good run through the field and I just got beaten by the best horse.
"I think Tony Cruz is pretty happy with the run and I will be back to ride him in the QE II Cup."
The future is now: Derby runners ready to fill the void at elite level
De Sousa also suggested the best is still ahead of Pakistan Star as he fills out physically.
"He is not fully developed. He can be stronger behind, his neck is still narrow – I think there is something up the sleeve for next season," he said.
One of the winner's stablemates, Beauty Generation (Zac Purton) found his way into third just ahead of Seasons Bloom, but neither jockey nor trainer was offering any excuse.
"I think that's as good as he is," said Moore. "I think his people in Australia were pretty smart – they sold him at the right time.
"Of my others, I don't think the ground suited Booming Delight, Eagle Way needs further and so does Helene Charisma, but I liked how he ran to the line after getting in some trouble in the straight. They'll be aimed towards the 2,400m features coming up."