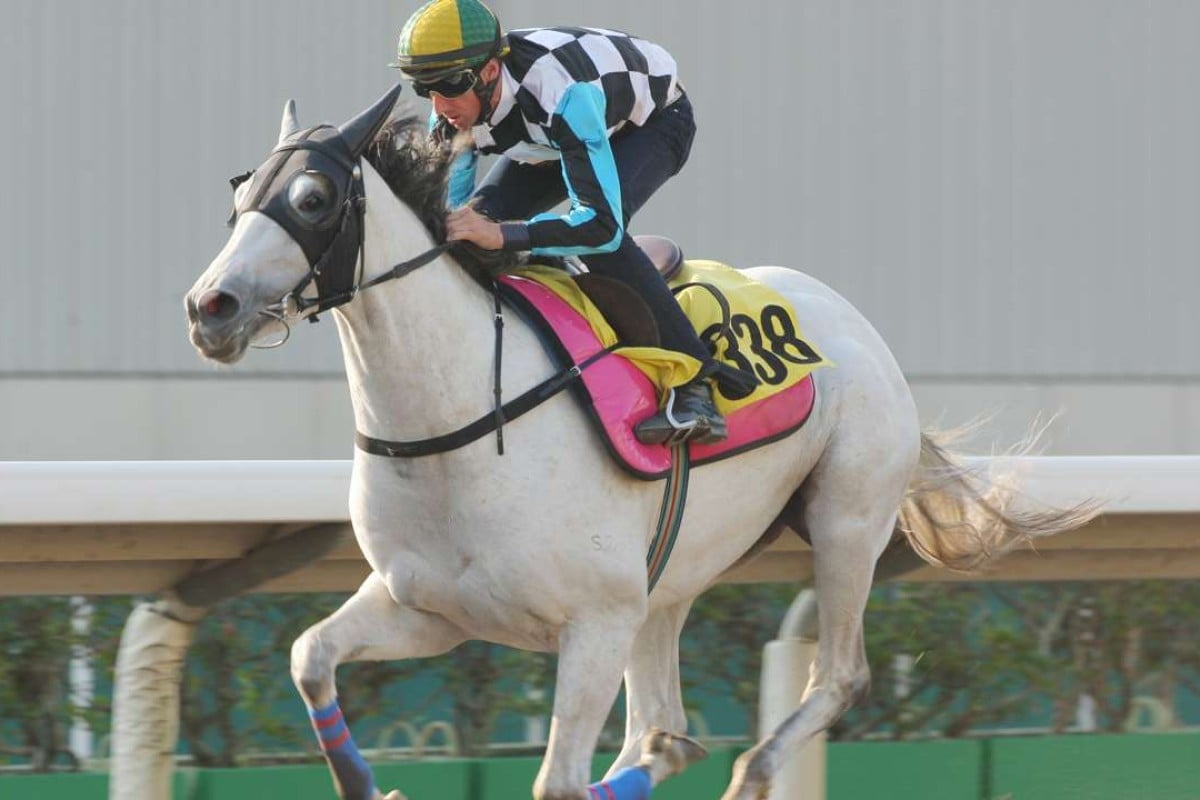 Martin Cruz, son of trainer Derek Cruz, already had Storm Kid's retirement paperwork in his pocket and was ready to lodge it at Jockey Club headquarters after Wednesday night's meeting at Happy Valley.
Then something astounding happened; towards the end of the Finance Street Handicap Storm Kid, who appears to gallop in slow motion and has been dubbed Hong Kong's slowest horse, started going past some of his rivals. Storm Kid was a massive odds, around 200-1, but for a moment it looked like the loveable loser might even challenge for the win.
Even if it was just for a few strides, the beautiful grey gelding offered a glimmer of hope, looming ominously. Then, just as quickly, reality kicked in, lactic acid built up and just as he had in nine previous starts, said to himself "meh, I'm just not feeling it today", and finally gave in.
Still, a seventh place finish – beaten four and a quarter lengths – was easily a career-best performance.
Actually it was kind of surprising that the grey gelding had even been able to keep up in the first place, such had been the pitiful nature of his nine previous starts.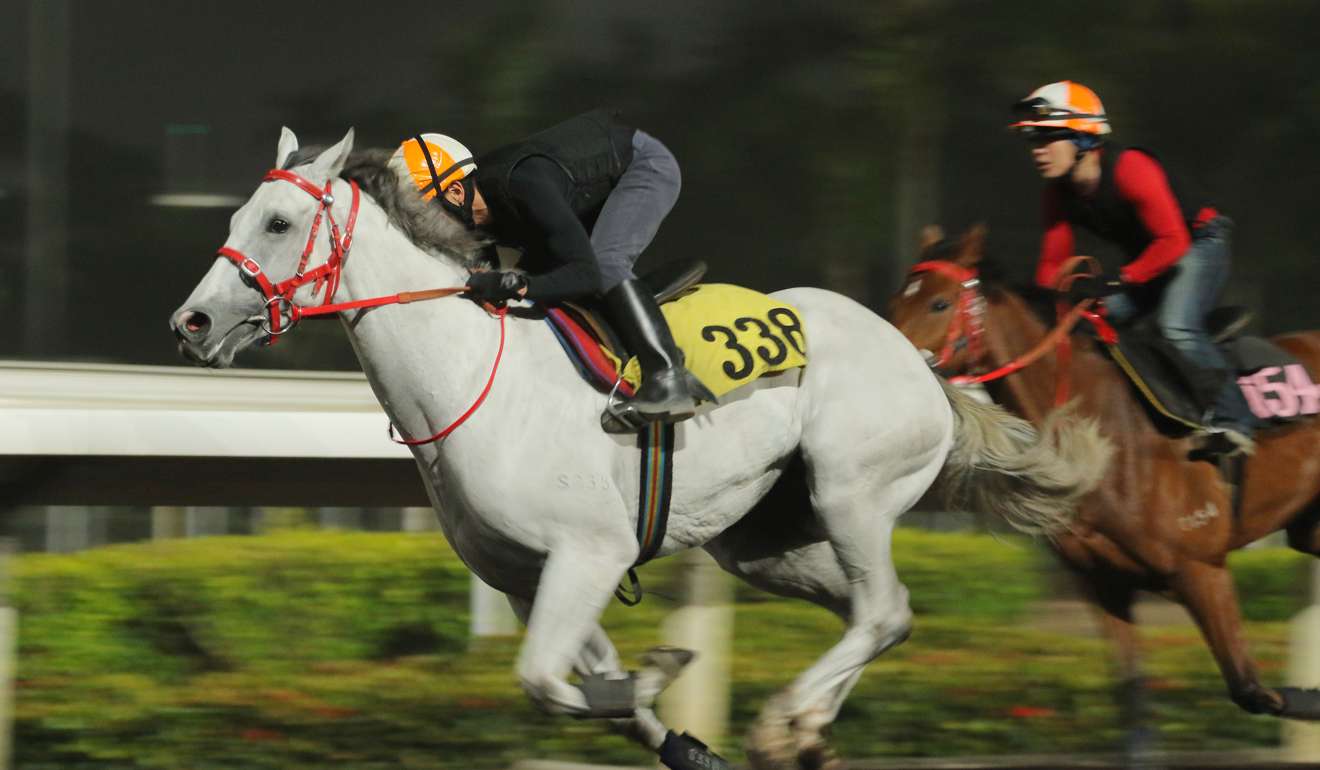 Most horses that are as slow as Storm Kid just need longer distances, but unfortunately he doesn't just lack speed, he doesn't have much stamina either.
Storm Kid has never started shorter than 94-1 in a race and until this week had never finished within 10 lengths of the winner.
So it probably says more about the quality, or more pointedly, the lack thereof, of the 1,650m Class Five that Storm Kid was able to finish as close as he did, but there was enough in the performance to earn another chance at glory.
So Storm Kid, a charismatic six-year-old, blessed with good looks but very little athletic ability, goes around again on Wednesday at Happy Valley.
Leading jockey Joao Moreira was even asked if he would like to ride Storm Kid.
"I texted Joao and asked him, saying 'come on man, do us a favour'," Cruz said with a laugh. "But he said he had a better offer, even though I told him 'I think he might be getting into form now'."
Not surprisingly Moreira had already been booked to ride a better credentialed rival. Which one? We aren't sure, but it's safe to assume the horse is better than Storm Kid because every horse in Hong Kong has better credentials than Storm Kid.
Yet being slow hasn't stopped Storm Kid becoming one of Hong Kong's most popular horses... actually, being slow has made him one of its most talked about horses on social media and is just as well liked by his handlers.
According to stable staff Storm Kid has a great nature, he can be playful on racedays but is a nightmare to keep clean because of his near white hair, especially when covered with dirt from kickback. And kickback kind of comes with the territory when you finish last nearly every time you step on to the track.
Despite his obviously shortcomings as a racehorse, Storm Kid has become a personal favourite of many, including Jockey Club vet Amy Kelly, who says Storm Kid is "a dude".
"He has an adorable personality," she said. "I'm a little bit obsessed with him and always drop in to give him a carrot, even if I am just passing by the stables, he is just a lovely animal."
Kelly isn't alone in her Storm Kid obsession as racing fans have continued to follow his career "progress".
It does seem like Storm Kid has a mind of his own and his nickname "the People's Horse" is apt.
Storm Kid showed this unique personality right from his arrival at Sha Tin, winning over visitors during the lead-up to the Hong Kong International Sale, where he was purchased by the Forever Favourite Syndicate.
Originally with trainer Francis Lui Kin-wai, Storm Kid was sacked after being beaten by a combined margin of more than 100 lengths in his first three barrier trials.
Then when Gary Ng Ting-keung took over, Storm Kid didn't improve much at all.
"When somebody has a horse that slow they come to me," Ng said, with a hint of resignation. "I couldn't help him much in the time I had him. We did our best. He was too slow for the sprints, but I was worried about putting him in long races as well, because he didn't have any stamina either. He needed to get stronger."
Until Wednesday, the highlight of Storm Kid's career was his first start this season, when entered in a 1,000m race, he fired up, took charge of jockey Howard Cheng Yue-tin and sprinted to the 1,400m start – the wrong direction.
Now with Cruz for two starts, Storm Kid has brought an unofficial fan club that now rivals some Group One performers.
Maybe it's that people can identify with the battler rising up against adversity, after all, we can't all be superstars, and racehorses can't all be Able Friend, Rapper Dragon or Pakistan Star.
It's no coincidence that slow racehorses have a history of gaining similar cult status to Storm Kid all over the racing world.
Most notable was Japan's inspiring Haru Urara, a mare that finished her career with a zero from 113 record but gained national hero status in a time of need.
Wearing a Hello Kitty-themed hood, Haru Urara became a symbol for hope in the early 2000s as Japan lurched through a recession.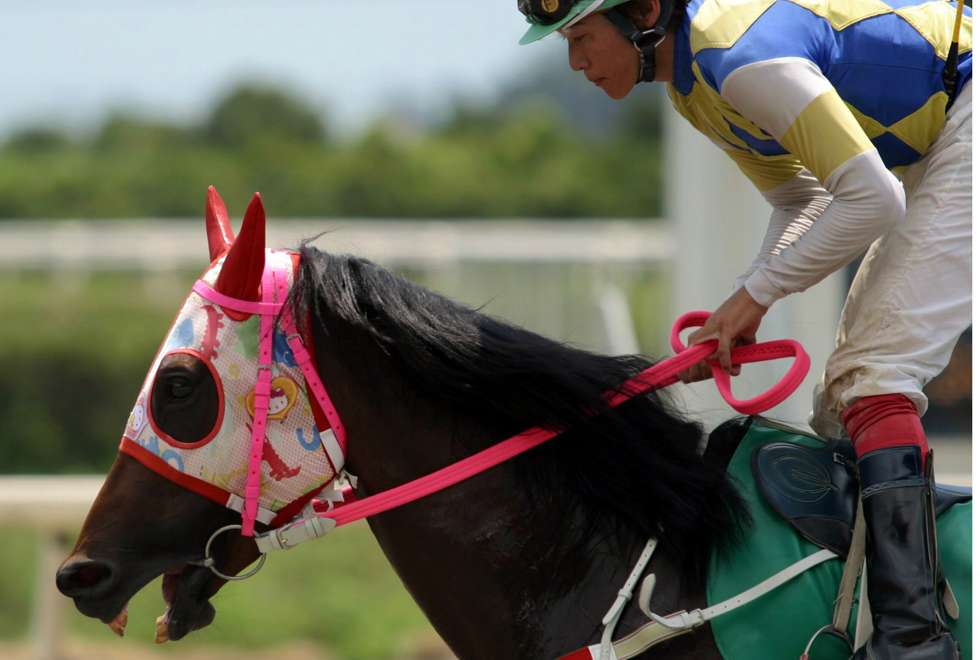 As her losing streak stretched into triple figures the mare was given a nickname that translated to "the shining star of losers everywhere" and losing betting slips bearing her name became lucky charms that kept people safe from traffic accidents (long story, but basically the word "ataranai" can mean both "to lose a bet" and "to avoid being struck").
Haru Urara fever reached its peak when more than 13,000 fans packed into tiny Kochi Raceourse, Shikoku, when legendary jockey Yutaka Take rode Haru Urara in her 106th straight loss in March 2004.
In America, Zippy Chippy achieved widespread media coverage and finished without a win from 106 starts – although he did beat a baseball player in an exhibition foot race once.
Storm Kid's fame hasn't reached those levels, yet, and his losing streak won't ever be allowed to get near triple figures, but Hong Kong racing's devoted fans on Twitter have certainly kept a close eye on his progress, if you can call it that.
Some of "Stormy's" fans are now even providing detailed statistical breakdowns of his woefully inept performances.
So can Storm Kid keep improving on Wednesday? Local jockey Derek Leung Ka-chun will ride the six-year-old in what could be his final start. You heard it here first; if Leung can win on Storm Kid he gets Happy Lucky Dragon Win's ride of the year.
If Storm Kid can keep showing improvement maybe the race for him will be the 2,200m race for Hong Kong's lowest level of racing, Class Five, on April 20 – a race containing such a slow bunch it could take all night to run
Win or lose, and let's face it, it will probably be the latter, Storm Kid is going to make an adorable pet, show pony or racetrack lead horse one day.
There's still time for the Jockey Club time to capitalise on the horse that could be a secret marketing weapon, especially with a lack of high profile horses at the moment – Storm Kid plushies and memorabilia, perhaps?