Blazing Speed may yet have some life left in his legs but jockey Neil Callan is willing to provide a home for the tough gelding when it does come time to retire.
On Sunday, Blazing Speed will attempt to win a third Standard Chartered Champions & Chater Cup at Sha Tin, after triumphs last year and in 2014.
Callan and Blazing Speed have proved a formidable, and fitting, combination, given that both are no-nonsense, combative performers who seem to be consistently underrated.
Blazing Speed has won nearly HK$50 million in prize money for connections and holds the unique distinction of having won at top level at 1,600m, 2,000m and 2,400m.
Blazing Speed fights off Victory Magic to give Tony Cruz four straight Champions Chater Cups
Among his eight career wins have been four Group Ones, with Blazing Speed delivering Callan a maiden Group One in Hong Kong by taking the 2014 edition and the duo combining in the following year's Citi Hong Kong Gold Cup.
"Obviously, I have a soft spot for him and I would love to keep him after he is retired," Callan said. "We have some stables at my wife Trish's parents place in Newmarket.
"I'm not sure what the plans are for him but I have offered. Hopefully retirement is a while away yet though, he is still running some good races."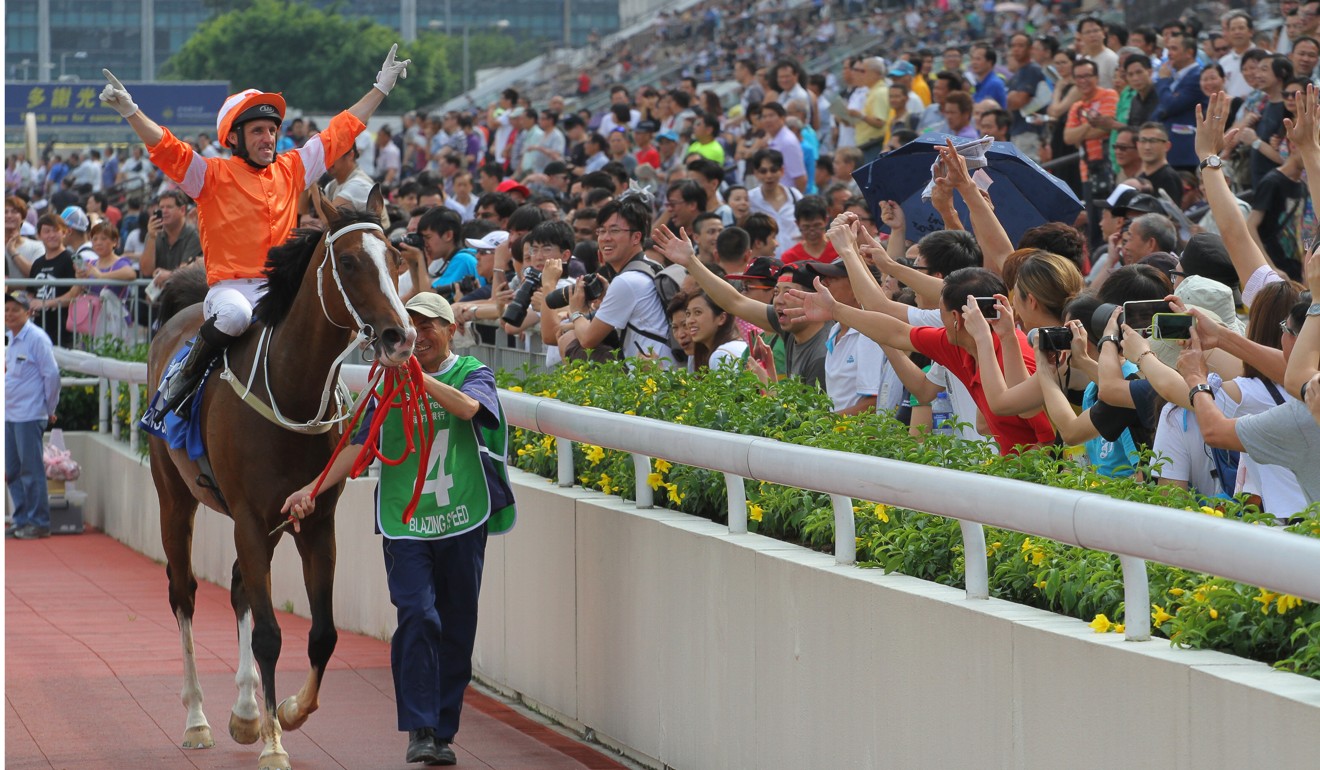 Blazing Speed hasn't won since last year's Champions & Chater, but the Tony Cruz-trained charge hasn't raced badly this season either, and Callan was heartened by the way the eight-year-old got through his work on Thursday morning.
"I watched him work with Tony, He jumped out of the stalls and hit the line nice and strong. It looked great from where I was sitting," Callan said. "He is still in pretty good shape, the old boy."
The common element among Blazing Speed's two wins in the Champions & Chater has been a charmed one-out and one-back run in slowly run races, but Callan believes his horse doesn't have to get all of the favours to win.
"He can win from wherever he sits in the run, he is the most straightforward horse you could ever ride," Callan said.
"There's no one way he has to be ridden, you just go with the flow, and he will tell you in the run how he wants to be ridden."
Milestones for Cruz, Callan after Blazing Speed QE II Cup win