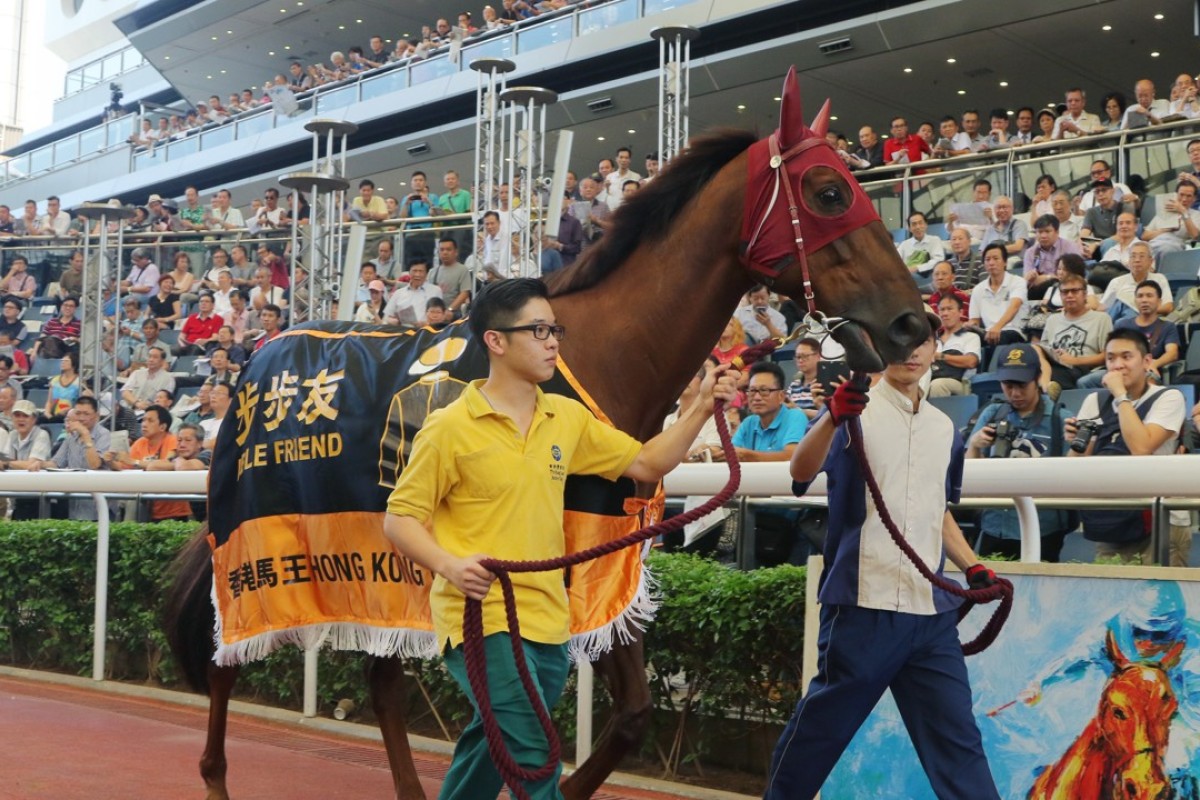 When Able Friend ambled into the Sha Tin parade ring for his farewell ceremony on Sunday, you could have heard a pin drop.
Now, we wish the relative calm was because those who had packed into the modern day coliseum that constitutes Sha Tin's parade ring were on the edge of their seats, transfixed at the sight of their former racetrack hero as he walked in front of them for the final time.
Alas, no, there was silence because, to be brutally honest, those rusted-on regulars don't really care for this type of stuff, and the best most could do was peer curiously over the top of newspaper form guides as the one-time Horse of the Year walked by.
Put it this way, they aren't the most sentimental lot. It takes all sorts to make racing great; there are the racing purists, in love with the romance of the turf, the horse lovers and the socialites, then there are hardened punters – but on another level all together is the Sha Tin parade ring regular.
They've got form, these guys. The booing and merciless heckling of 13-time champion jockey Douglas Whyte took on a life of its own a few seasons back, while the lack of tolerance took a tasteless turn three weeks ago when they booed Joao Moreira.
Now, we are not suggesting Moreira is a protected species, and actually, being booed by the crowd here is almost a badge of honour – it actually means you've really made it.
Zero Hedge the latest winner to be produced from the John Size machine
The reason this time was because Moreira's mount Rapper Dragon had tragically broken down in the Champions Mile – the crowd weren't to know the four-year-old would later die, but any semi-educated racegoer would have known something was wrong from watching the incident unfold live.
On Sunday, during Able Friend's farewell, most of the crowd probably couldn't wait for the upcoming Class Three handicap to get underway, but at least they remained respectful for what was a well-organised ceremony for one of Hong Kong's most loved horses.
Of course, not everyone surrounding the parade ring was a grumpy cigarette-toting taxi driver on his day off and only concerned with the next winner, but the overall muted reaction was in stark contrast with the pure fandom and fervour for the sport seen in Japan.
On Sunday at Sha Tin, among the masses, there was a group that stood out, for a start they were actually looking at Able Friend and not reading a form guide. Clutching not newspapers but home made art in tribute of Big Red, they had made their way to the front row, desperate to get a last look at their beloved gentle giant before he heads back to Australia.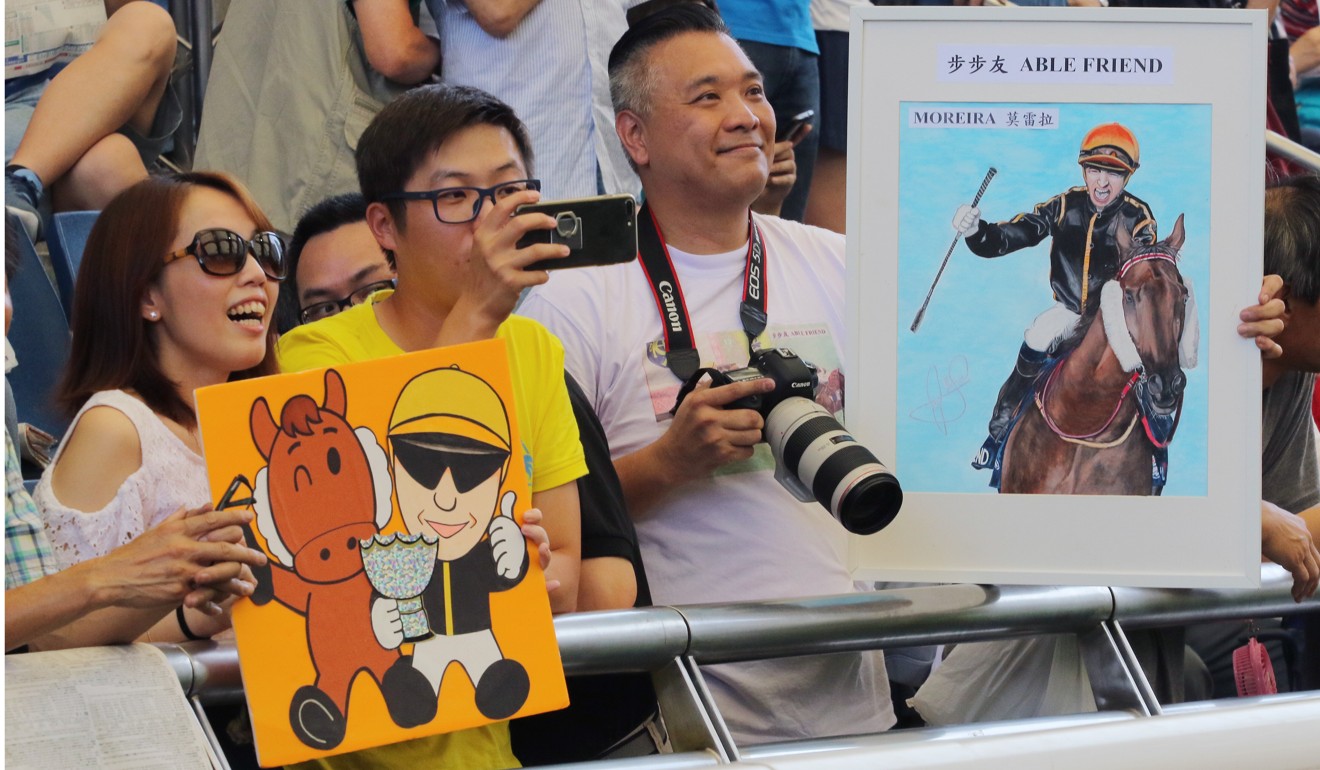 Suki Huen Sin-man doesn't quite fit the dominant demographic around the parade ring, for a start, she is female, and she is also new to racing.
Suki describes herself as a "super fan" of Able Friend and Moreira and had come to the races, poster in hand, to say goodbye.
"I got interested in racing because of Able Friend and Joao," She said. "I wish the ceremony had lasted longer."
Last year, she travelled to Tokyo to see what racing was like in Japan and was surprised. "There is a big grassed area and children are allowed in, it is a totally different atmosphere."
Douglas Whyte's winning double comes off the back of patience
Fittingly, a few races after "Bo Bo Yau" said goodbye, the Tokyo Yushun, the Japanese Derby, was simulcast to Jockey Club customers and shown on the big screen.
Another contrast, the pictures showed the Derby runners parading in front of fans that had slept in front of the gates, so they could sprint through the moment they opened and attach a brightly coloured banner to the fence around the parade ring.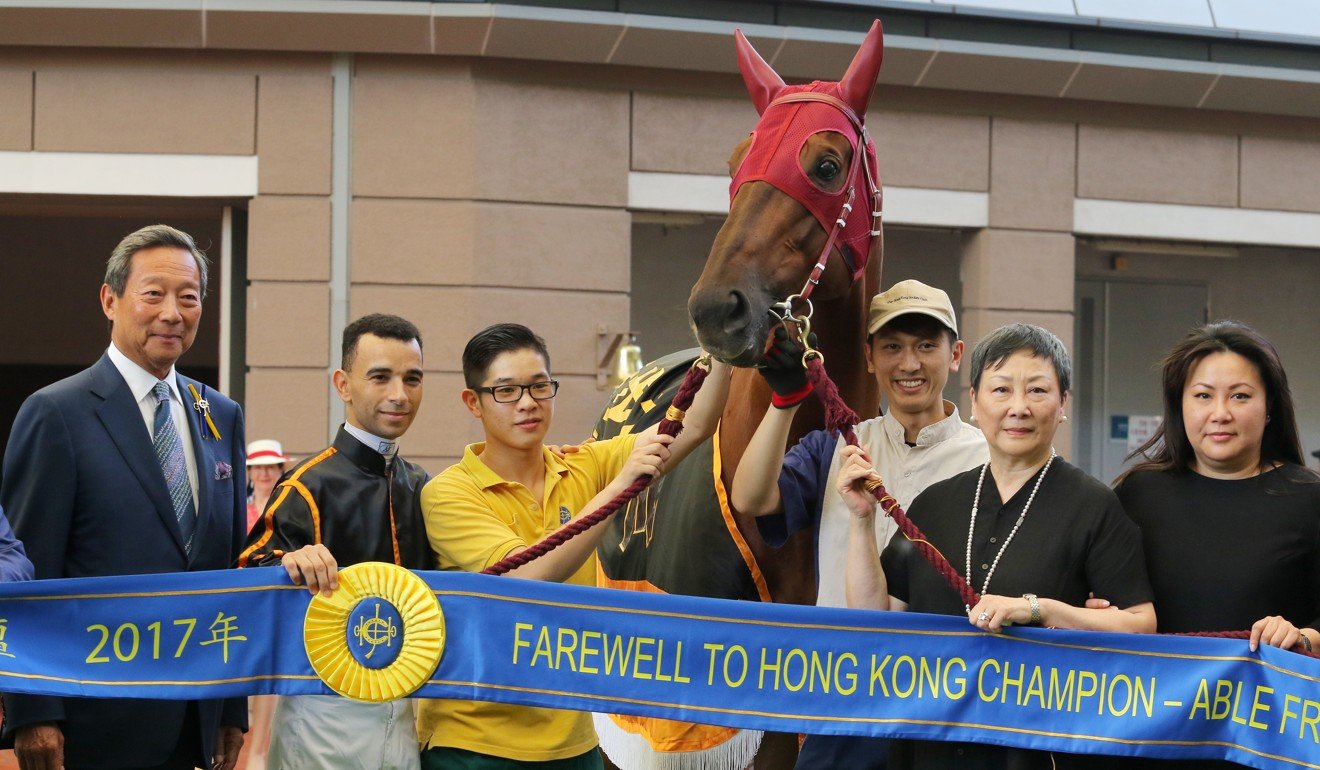 In Japan, retirement ceremonies aren't the low-key affairs we see like Able Friend's, squeezed between races early in the day, they are lavishly produced post-race day extravaganzas.
When Orfevre retired after winning the Arima Kinen by eight lengths at the end of 2013, 60,000 stayed behind at Nakayama, as the chestnut strutted out in front of the packed stands under a spotlight.
Maybe it was just as well Able Friend didn't get that type of send-off; as by the end of it all, the normally unflappable gelding was uncharacteristically jig jogging his way through proceedings.
You would be lucky to get 600 people to stay behind for any event at Sha Tin anyway, unless you could bet on it of course, but maybe the new generation of "super fans" offers a glimpse at a new type of Hong Kong racing culture.