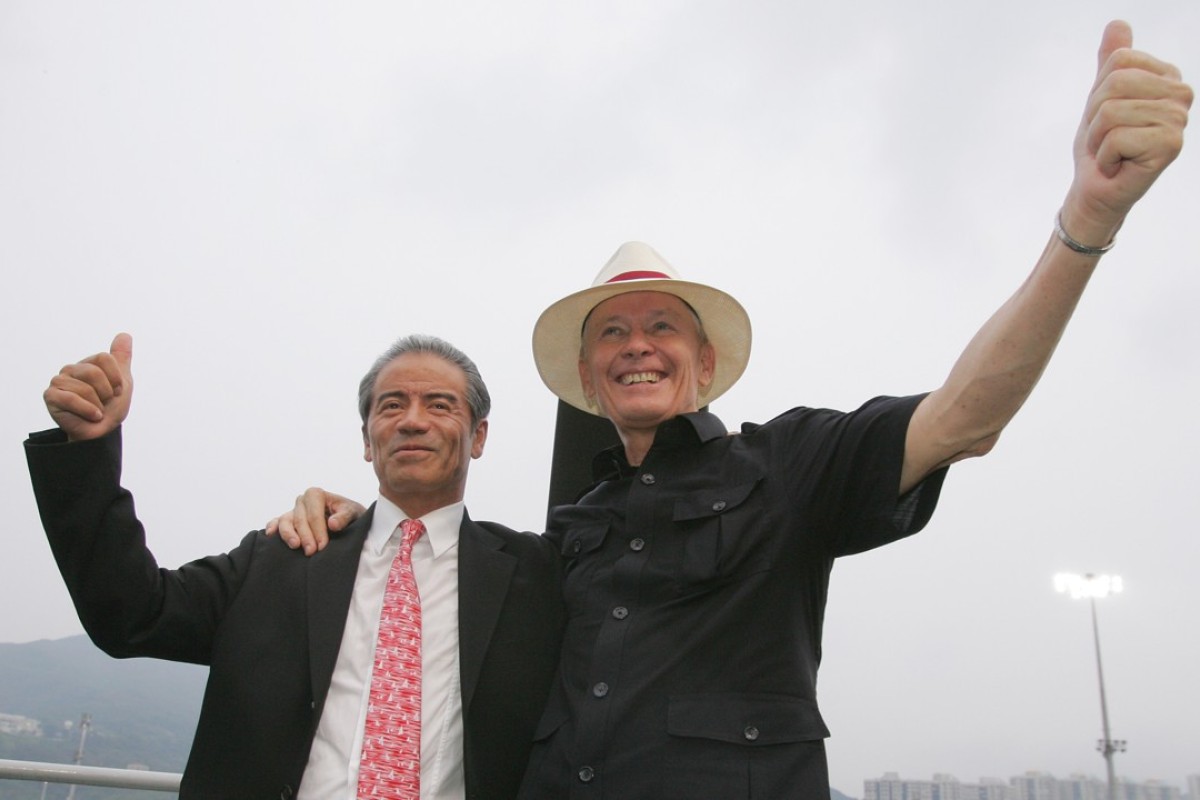 One of the greatest features of Hong Kong's relatively short racing season and long break is that it can produce wonderful, down to the wire finishes in the trainers' and jockeys' championships.
Alas, the dominance of John Size and Joao Moreira means there will be no drama at Sunday's season finale at Sha Tin, so let's relive the five most exciting final day finishes of recent times.
5. John Moore ties with David Hill, 1992-93 trainers' championship
It doesn't get any closer than this one, literally, with Moore and English trainer David Hill left tied on 40 after a thrilling season finale.
Since then the club has moved to a tie-breaker system, deciding championships on most number of seconds in the event of a tie. It doesn't seem fair that Moore gets a title for his joint 'chip, but Size doesn't get one for 2014 (that's coming ahead on the list). Then again, maybe having joint title winners would rob of us of the type of all-or-nothing contest that comes in later at number one on the list.
4. Caspar Fownes versus John Size, 2013-14 trainers' championship
Caspar Fownes produced a final day charge to run down John Moore in 2009, but when he did the same to John Size in 2014 there was added emotional charge.
This win was all about "Loz", as Caspar Fownes dedicated his third championship to his ailing father Lawrence Fownes, a stalwart of Hong Kong racing who was battling cancer.
The day itself saw Fownes not only produce a three-timer, but a crucial second that was enough to put him ahead of Size for the tie-breaker.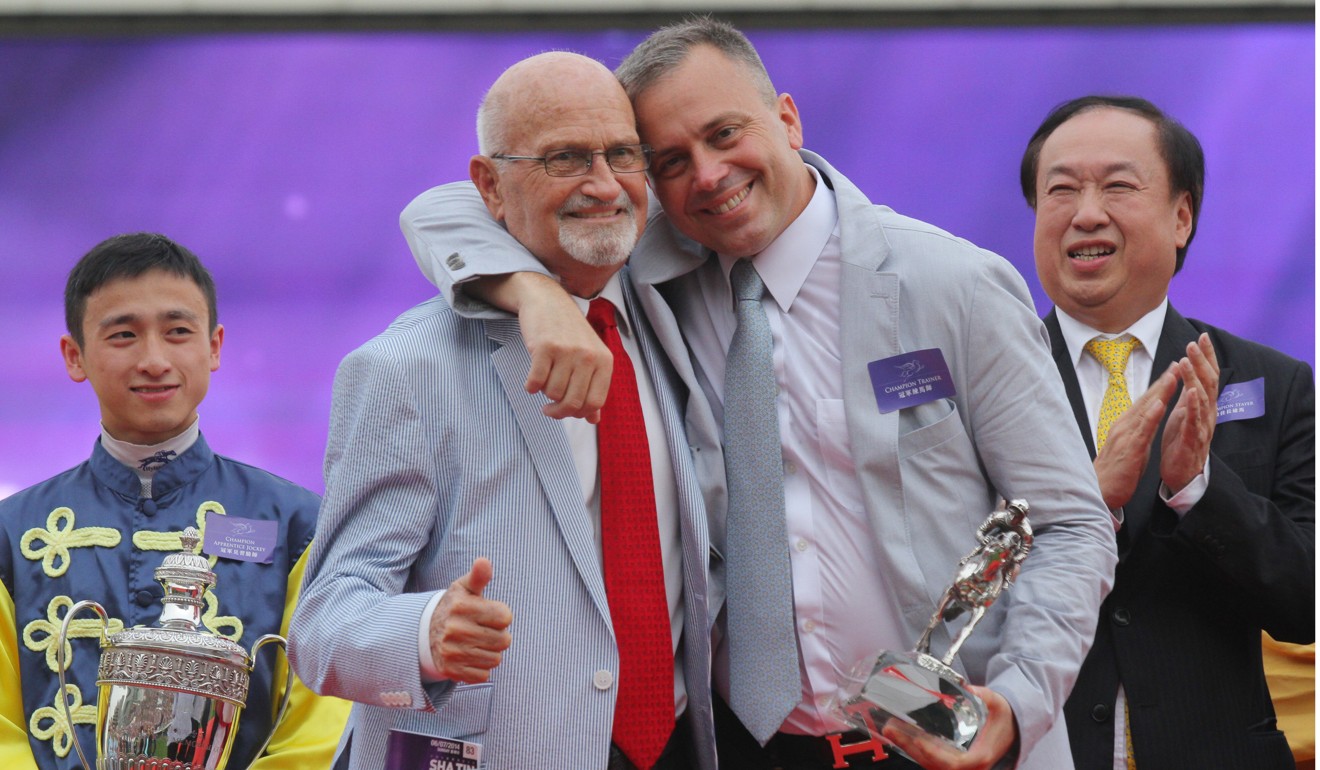 The tight knit racing community mourned the loss of Fownes' senior just nine months later, leaving fans with great memories and the iconic image of the father and son team sharing the stage at a memorable presentation.
3. John Moore v Tony Cruz, trainers' championship, 2010-11 trainers' championship
This represents both the biggest single day turnaround and late season swing on the list. Cruz led by seven with three meetings to run, and two heading into the season finale at Sha Tin. The surprise wasn't just that Moore caught Cruz, as the Australian was riding a hot streak heading into the meeting, but that he caught his rival easily – and then ran away with it.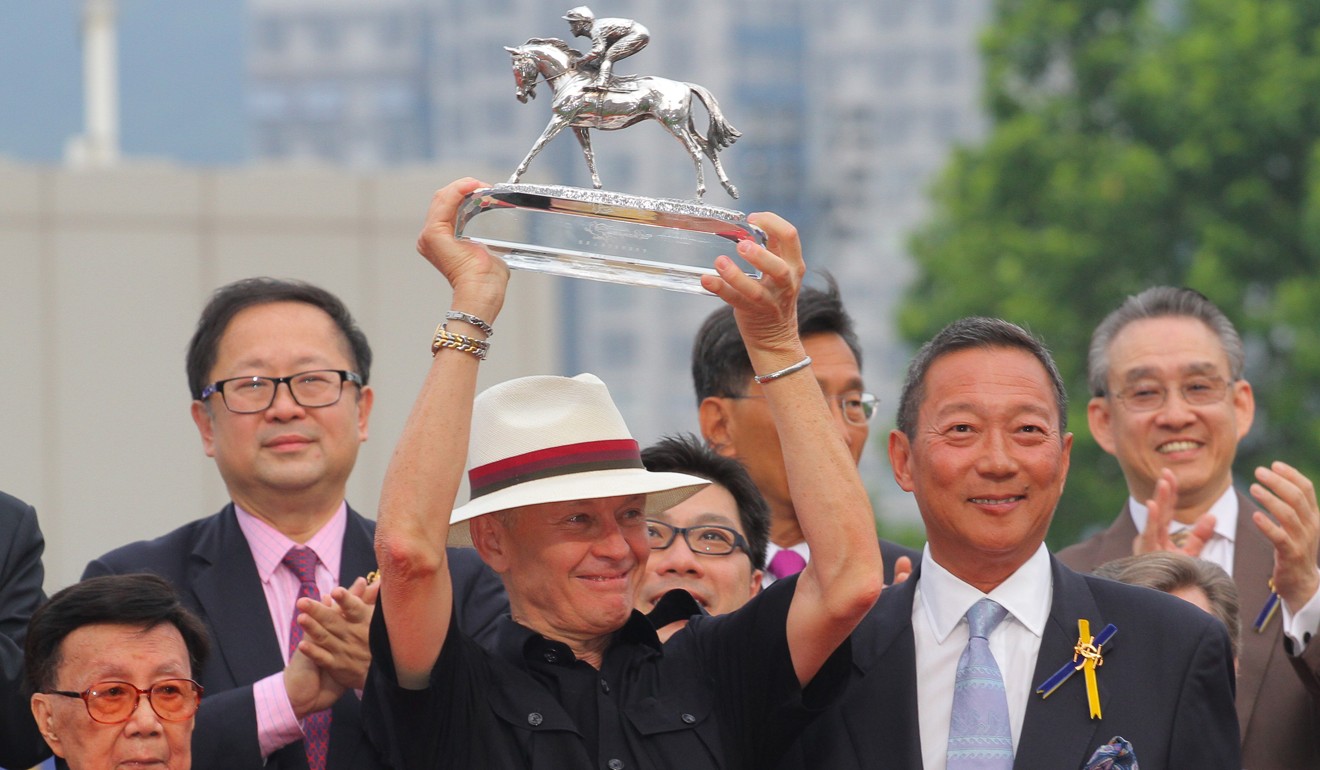 Cruz came up with no winners on the day as a stunning five-timer from Moore capped a remarkable late-season run of nine wins from his final 30 runners as he stole his sixth championship.
2. Douglas Whyte v Brett Prebble, 2009-10 jockeys' championship
After a titanic and at times bitter tussle, with words thrown around in the media like missiles between the two protagonists, it came down to the final meeting at Happy Valley in July 2010.
Prebble had led Whyte by 16 winners at one stage of the season, only to be overhauled and trail by two heading into the final fixture.
Yet even with three races to go, Prebble was still a mathematical possibility – although he did need to win all three. In the end he finished with two seconds and a win, the scorecard reading 100-99 to Whyte.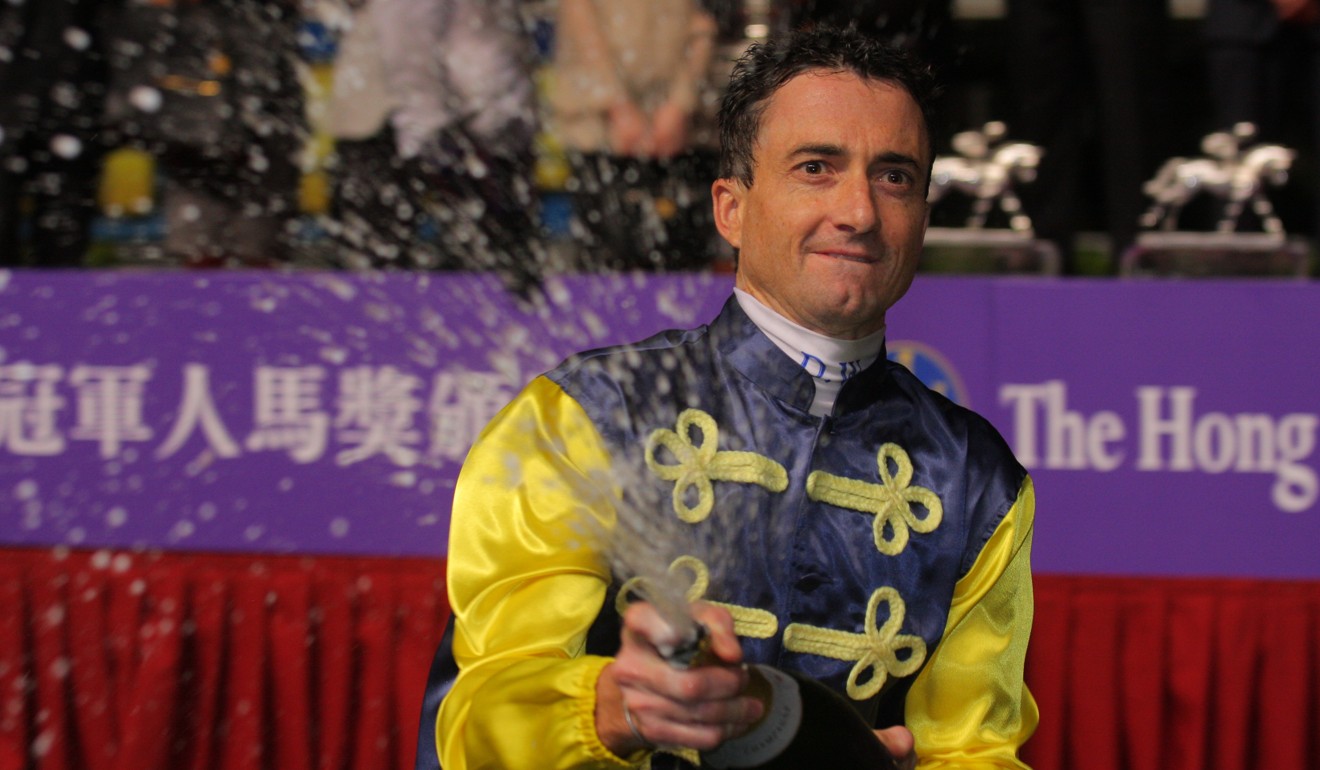 This was career defining for both jockeys, really. For Whyte, his 10th title was the most hard-fought of all of his 13 crowns. For Prebble, there is no shame in being the man who pushed the South African hardest during his unrelenting championship reign – especially given he didn't receive the same support as the South African.
At the time Whyte called it "definitely the best of my 10 championships".
"I think Brett and I really stretched each other, really put it out there and it doesn't get old winning these. It's always a thrill," he said.
1. Dennis Yip v Tony Cruz, 2012-13 trainers' championship.
Anybody who was at the 2013 season finale will tell you the atmosphere was unlike any for a race in Hong Kong before or since.
Firstly, even though Yip had led for a large portion of the season, nobody thought he could win the title. Even in the week leading up to the final meeting, most felt the traditional powerhouse stables of Cruz and John Size, who was only three wins behind heading into the meeting, would overtake the underdog.
The season finale was held at a packed Happy Valley, not Sha Tin, the crowd was decidedly pro-Yip, some sneaking in huge yellow and red flags bearing their new hero's nickname "Hong Gor".
The presence of the Yip's mentor and local hero Brian Kan Ping-chee, making a rare public appearance after his release from a recent stint behind bars, took the already electric vibe to another level.
Even though Cruz was a local legend himself, he is of Macanese decent, and Kan was the last Chinese trainer to have won and his protege Yip out to emulate that feat in 2000-01.
Again the tie-breaker rule played a part. Yip led by two heading into the final meeting, but Cruz had more seconds.
A race-to-race double for Cruz in the middle of the card made it 68 wins apiece and set things up for a grandstand finish.
Then Cruz nearly clinched the title in the second last race of the season, but it was again John Moore – two years after snatching the 2010-11 championship from Cruz's grasp ­­who again played spoiler when Destined For Glory beat Bullish Friend by a short head.
That left the final race as a winner-take-all clash; Yip's Flying Elite versus Cruz's Circuit Star.
Flying Elite was backed as if unbeatable into 1.9 favourite, leaving relatively inexperienced local jockey Ben So Tik-hung in the hot seat for the ride of his life.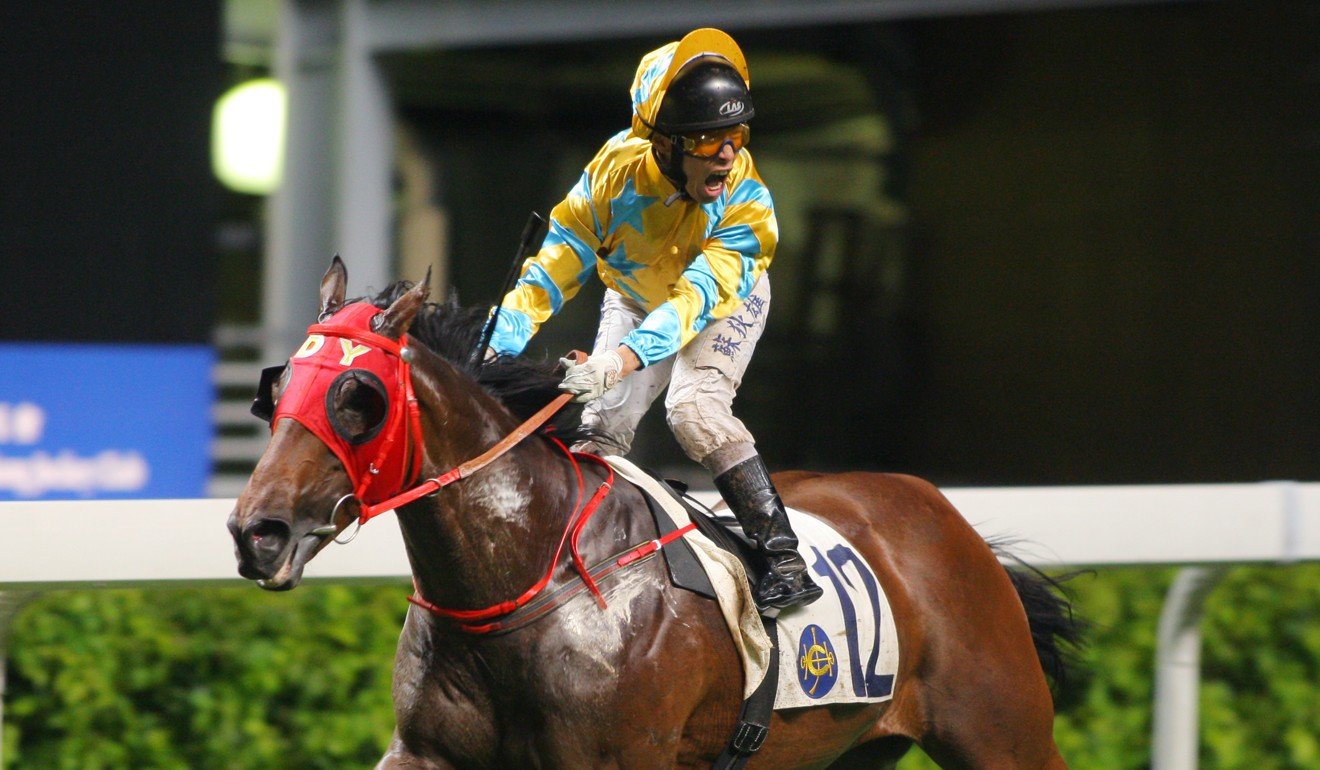 The roar of the crowd was deafening as the Class Three field jumped from the 1,650m gates in front of the Beer Garden.
So rode the perfect race, positioning Flying Elite on the rail, and then, when Matthew Chadwick and Circuit Star moved up to pocket his rival, he smoothly switched back inside to find a run at the top of the straight.
The celebrations were spectacular as scenes of jubilation more akin to English football or college sports in America awaited Yip, joined by Kan, and So as Flying Elite returned to scale.
So, just how big an upset was Dennis Yip Chor-hong's first, and possibly only, championship? Take Leicester City's 2016 English Premier League win combined with the Team USA hockey's "Miracle on Ice" over Russia for Winter Olympic gold in 1980, plus a dash of Jeff Horn's home town heroics against Manny Pacquiao and you are getting close.