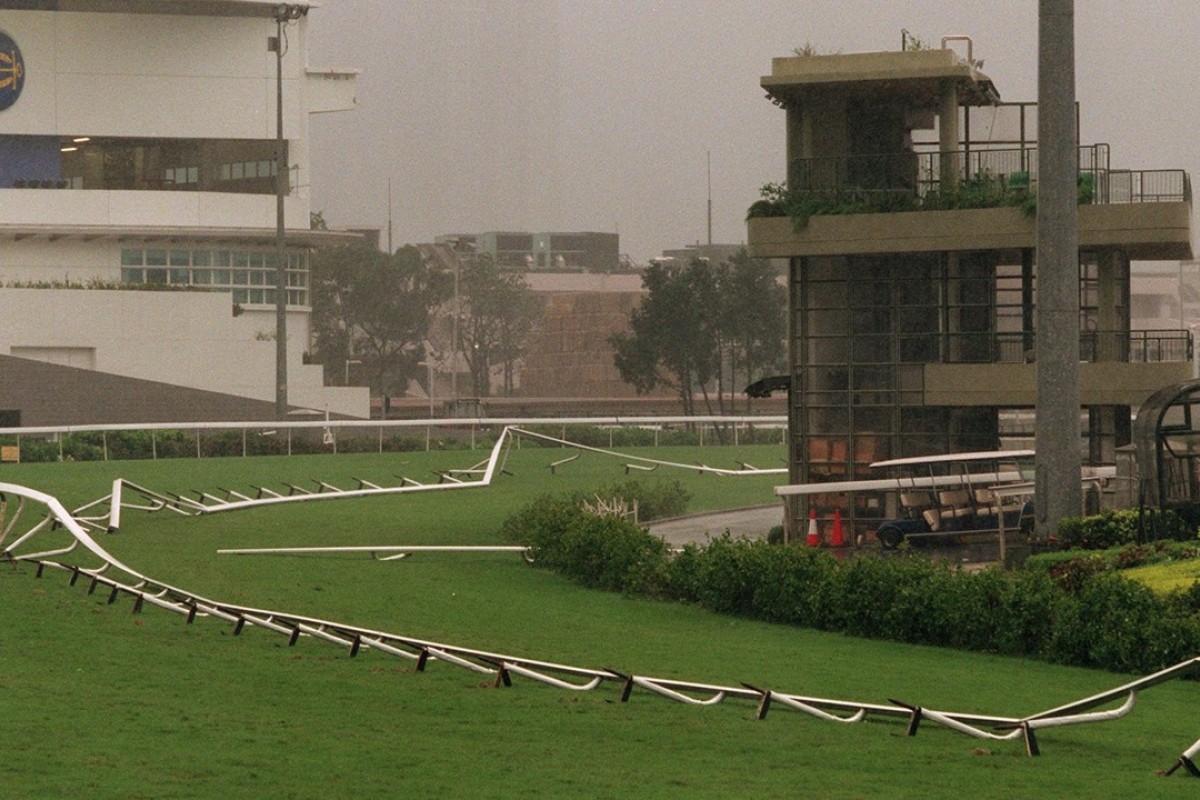 The Hong Kong Jockey Club may have to take a HK$1.2 billion revenue hit on Sunday if the weather bureau's forecast path for a burgeoning typhoon north-west of the Philippines is correct.
At 2pm on Thursday, Hong Kong Observatory issued an estimated path for a yet to be named tropical depression in the South China Sea, about 200 kilometres to the north west of Luzon.
The tropical depression is of no consequence currently but is forecast to build into a typhoon by the weekend and advance to around 50km east of Hong Kong by 2pm on Sunday, with winds of up to 120 kilometres per hour.
If that forecast proves correct, that would almost certainly require a Typhoon 8 signal to be raised some hours before the scheduled first race time of 1pm Sunday, either late Saturday night or early Sunday.
Third major storm in two weeks due to hit Hong Kong by Sunday, Chinese weather officials say
Last year's opening day race meeting held more than HK$1.2 billion in betting handle and, with turnover on an upward trend, Sunday's meeting turnover might have been expected to reach even slightly higher than that.
Jockey Club officials were busy with arrangements for the club's Annual General Meeting on Thursday but issued this statement in the afternoon: "We are closely monitoring conditions in consultation with the relevant authorities, including the Hong Kong Observatory. Club management will meet on Saturday to assess the situation and will issue a statement should the weather conditions warrant any further action."
The Jockey Club last lost a race meeting to a typhoon four years ago, when Typhoon Usagi forced the cancellation of racing on September 22, 2013.
Jockey Club cancels meeting as Typhoon Usagi bears down on Hong Kong
That was just the fifth time since 2001 that a typhoon had forced a cancellation, including, coincidentally, one previous September 3 meeting in 2003 due to Typhoon Dujuan, but that was the first Wednesday of the season, not the opening day.
And, unlike past occasions when typhoons caused the loss of race meetings but they were rescheduled for a later date, the Jockey Club now has few, if any, available dates to stage a replacement date since it moved to 88 meetings last season and filled the gaps in the calendar.
One potential window of opportunity would be for the club to apply for a replacement meeting in the first week of January, when there is a Sha Tin public holiday meeting on Monday, January 1, and then no racing until the following Sunday.