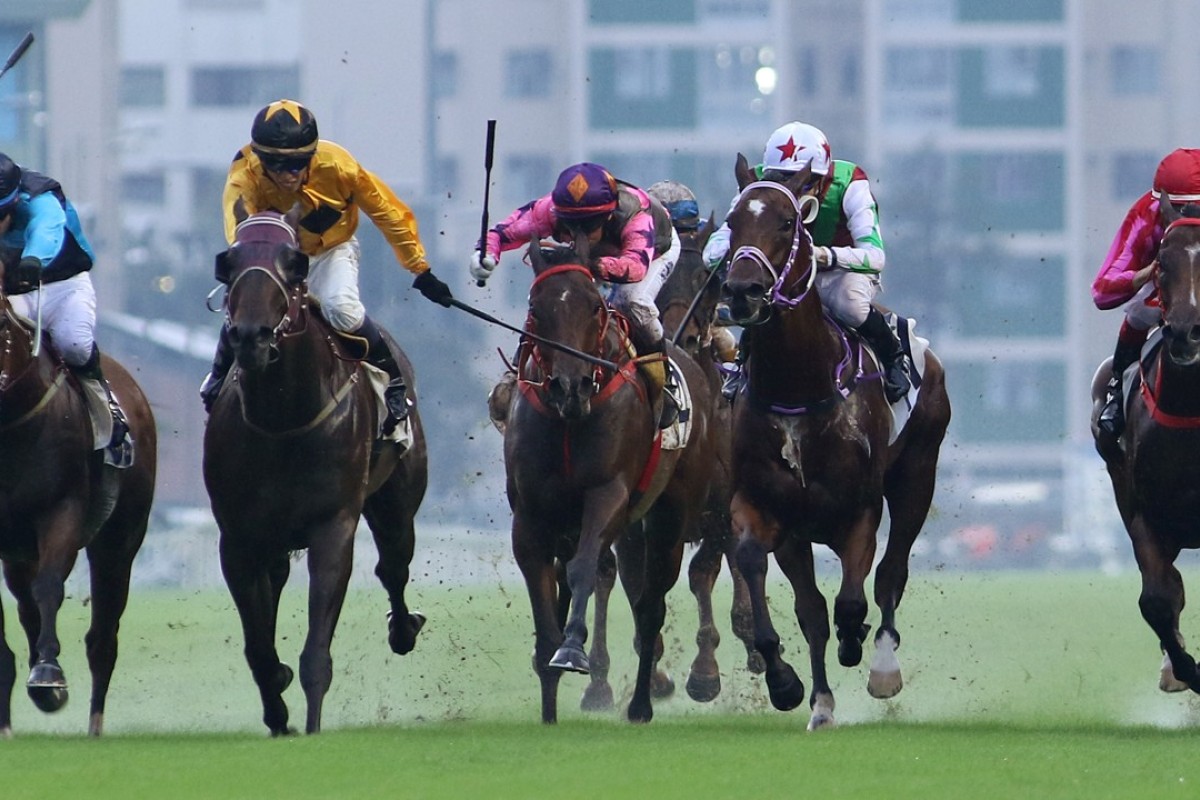 As far as benchmarks go, they don't come much better than Blizzard – Ricky Yiu Poon-fai's chestnut is tough, dependable, and as it turns out, not quite up to international Group One standard when it comes to 1,200m racing.
So when Japanese sprinter Red Falx beat Blizzard by a length-and-a-quarter in the Sprinters Stakes on Sunday – the same margin he was beaten by last time he ran to his best at Group One level at Sha Tin – it shot out a warning; the Japanese are coming and even the Hong Kong Sprint might not be safe.
In the nearly two years since Maurice claimed Able Friend's scalp in 2015, Hong Kong's top ranks have been decimated by retirements and the blowout results at Sha Tin on Sunday suggested things might get worse before they get better.
There is still more than two months before December 10, there are some stars to return and, yes, the two Group Three features were "just" handicaps that aren't always reliable guides to the future.
Still, the two upsets by horses considered fringe players previously must be some cause for concern, the races were a chance for potential stars to step up, they didn't, and the results certainly weren't scaring anybody at Nakayama.
We've been saying it for a while now, but overall the locals look shaky. Werther is probably Hong Kong's most dependable conveyance at 2,000m, but even he is considered overrated by some, unproven on the world stage and will return in three weeks along with Pakistan Star.
Now, as talented as Pakistan Star is, God love him, we might remind you that he stopped of his own accord last time he was seen at the races.
Sprint or mile? Japan's Red Falx has options ahead of his HKIR return
The mile category even looks uncharacteristically thin; was Beauty Generation's change of tactics-inspired turnaround in the Celebration Cup reminiscent of former John Moore-trained charge Military Attack's transformation, or just a sign that those behind him are struggling?
It might have been second-up syndrome for disappointing beaten favourite Seasons Bloom, but he had his chance, and it's not going to get any easier from here.
Maybe Helene Paragon offers some hope when he returns from a long break later this month.
The Vase can never be counted on for Hong Kong, but even if the Mile and Cup look weak, we've always got the Sprint, right?
Maybe not, Dashing Fellow wins an uninspiring National Day Cup and the Japanese can smell blood in the water.
Was the three lengths covering first to eighth in the National Day Cup a sign that the handicapper is doing a great job, or just bring to mind that adage about form being weak when there is a blanket finish?
By the way, Dashing Fellow is a horse Blizzard – our benchmark – beat on nearly equal terms over 1,400m on international day last year.
Hong Kong has won 12 of the past 15 Hong Kong Sprints, with Japanese champion Lord Kanaloa accounting for two of the others. With Europeans usually non-factors in the race, and no Australians this year, it looks a case of Hong Kong versus Japan. Nobody is suggesting Red Falx is another Lord Kanaloa, but he is their best and the first horse to go back-to-back in the Sprinters Stakes since the mighty champion.
Lucky Bubbles, robbed of sprinter of the year honours last season, is yet to return, but he isn't even Hong Kong's highest rated sprinter. Best credentialed sprinter, yes, but the John Size-trained stablemates Mr Stunning and Thewizardofoz were Hong Kong's two highest-rated horses domestically – sprinter or otherwise – heading into Sunday.
Hong Kong racing's changing of the guard sees Thewizardofoz and Mr Stunning front and centre ahead of new season
Mr Stunning gets a pass for his sixth after carrying top weight in a pressure race, but the real pressure will be on Thewizardofoz to live up to his billing when he returns in the Group Two Premier Bowl on October 22.
Right now, Thewizardofoz's rating looks an anomaly and it speaks volumes about the overall depth that the two top-rated horses in town have never won at Group One level.
Blizzard, it should be remembered, beat Thewizardofoz fair and square when they were coming through the ranks; conceding weight to the budding superstar, and overcoming a wide barrier when his rival had drawn gate one.
That was a long time ago, sure, but then again our old mate "Benchmark Blizzard" also dead-heated with Thewizardofoz when the pair carried level weights in the Group Two Sprint Cup late last season.
Maybe Blizzard is underrated, maybe the Thewizardofoz is overrated, or it could just be a bit of both.
Whatever the case, when Red Falx switched off the benchmark's heels and went straight past him in the Sprinters Stakes, it certainly provided some food for thought.