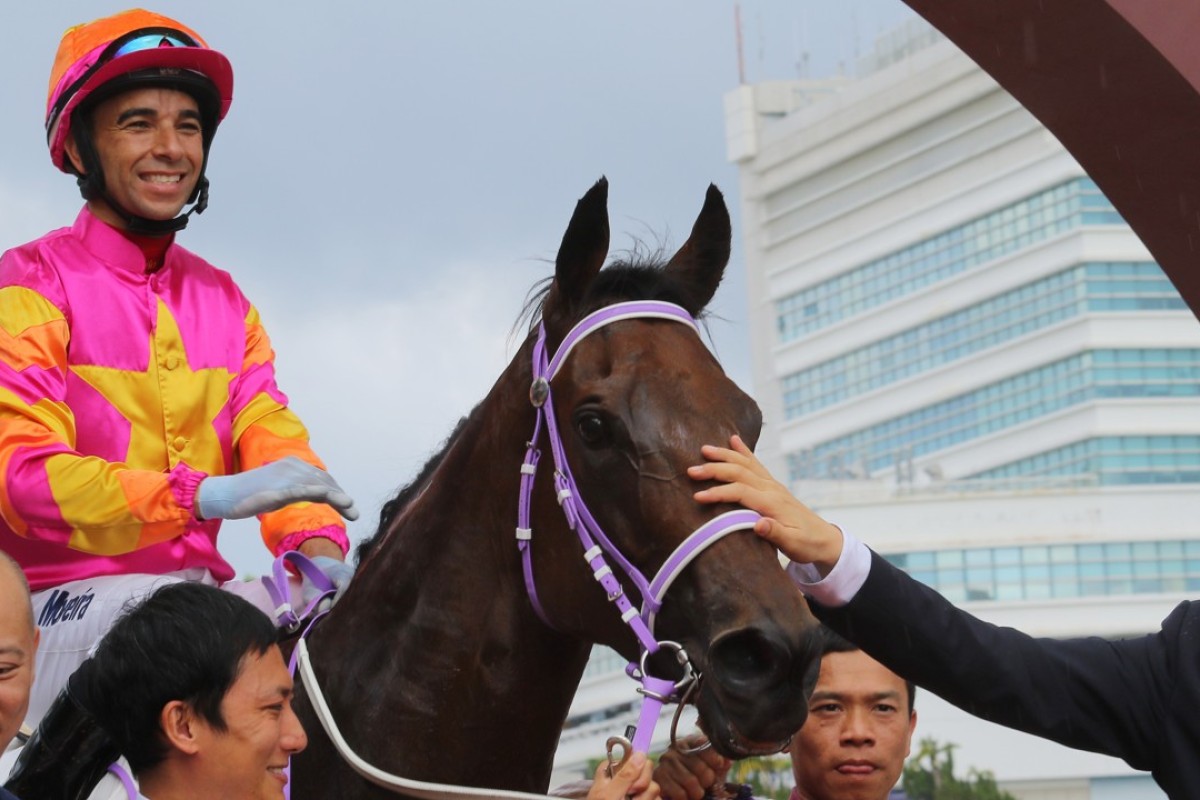 It's the form slump that every jockey dreams of having but that is where Joao "Magic" Moreira is right now, even as he hit the fastest 600 wins of all time on Sunday.
In 2004, Douglas Whyte was in the eighth season of his Hong Kong career when he hit his 600th winner at ride number 4,046 (14.83 per cent).
Zac Purton's 600th winner arrived just a couple of years ago during his ninth season and on his 4,578th ride (13.11 per cent).
That's how crazy Magic Joao's statistics are: A Beautiful gave him 600 after less than four years based here, at his 2,551st ride (23.52 per cent).
Of course, the jockey that Sydney loves to hate missed out with all 11 rides at Moonee Valley and Randwick on Friday and Saturday respectively, firing up his ever-growing band of critics.
In typical Australian fashion, fear not, they will treat him like a long-lost son and own him as their own when the drought breaks, but there's no doubting Moreira's recent figures in Sydney are as bleak as it gets for any top jockey.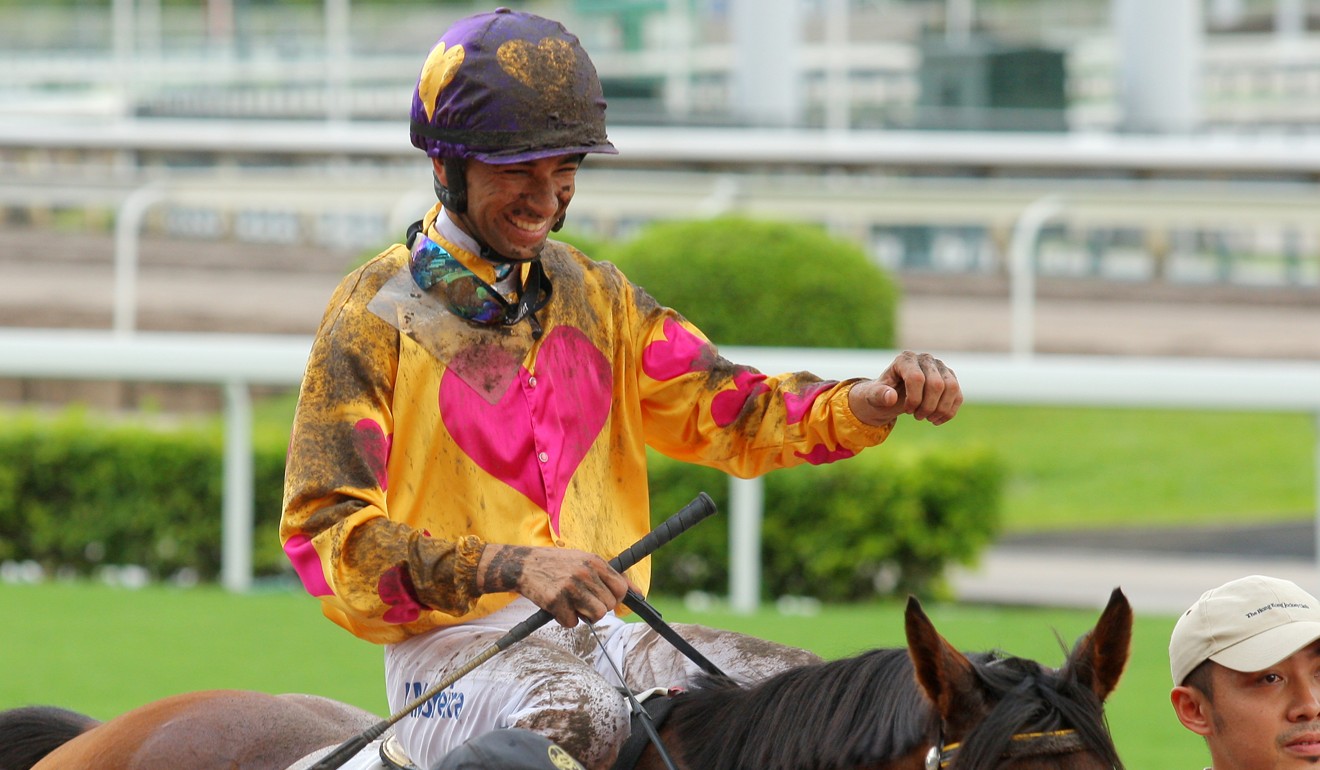 According to Ratings 2 Win, which sells statistical and form products for Australian racing, Moreira's overall career in an around Sydney is not world-beating but not terrible at 107 rides for 10 wins but only four from 63 at Randwick lifetime.
We often suspect that blame for the more egregious fly-in, flyout rides lies further up the management chain than the pilot but, hey, they get the praise when they win, they have to cop the brickbats when they don't.
But more of a concern is how the winners have dried up locally, where we have come to expect Moreira to win with the predictability of the sun coming up in the east.
Some might argue that a lone success on Sunday may have had a contributing factor in Moreira having ridden at four meetings in five days, with a couple of long-haul flights thrown in for good measure, but the 'slump' is wider than last week.
Since the Brazilian won nine of his first 19 mounts this season, he has won eight of 63 and has now had just two wins from his past 48 rides, anywhere.
Yes, that includes the 11 in Australia, but even two from 37 is still some kind of mad stat for a guy who has ridden at better than a 20 per cent strike rate from virtually the day he arrived in October, 2013. And no wins from three consecutive Happy Valley meetings? That's unthinkable.
Joao Moreira's Sha Tin five-timer brings up Hong Kong win 599
Now there are minuses to writing that Moreira's form is down, not the least being the small sample.
Another is that, soon after arriving in Hong Kong, Moreira quickly moved into the zone which characterises many a champion sportsperson, wherein they can only be compared with themselves. The problem is that slicing a tiny part off a long, successful career can seem significant when it is just part of the general ebb and flow you would expect over, say, 20 years.
And Moreira's "slump" is another rider's boom time. He is down to winning just 21 per cent of his rides this season, placing him behind ... absolutely nobody.
Sam Clipperton is the nearest, on a 20 per cent strike rate.
And another minus to revealing these kinds of numbers – which became a theme at different times in the Whyte Years – is how quickly they get swallowed up by a reversion to the mean.
Champion riders spend little time out of form and have a habit of getting fired up and back to the top of their game pretty quickly as soon as anyone suggests they might not be there at present.
Don't draw any HKIR conclusions from Sunday's racing
While Blizzard's performance in Japan was something encouraging heading towards the Longines international meeting in December, fans who wanted to draw any conclusions based on the two features at Sha Tin on the weekend probably should not.
In this column, following Blizzard's Chief Executive's Cup second to Seasons Bloom, we suggested that performance would be enough to see the Ricky Yiu Poon-fai-trained gelding run well in the Sprinters Stakes and he did.
Seasons Bloom stamps himself as A-grade with opening day victory
Blizzard did what Blizzard does – he turned up, he ran very gamely and there was nothing amiss with fifth, beaten about a length and a half. He ran well enough but not quite well enough to win and, frankly, we would expect something similar in December because that's where he sits in the pecking order here.
Apparently the winner Red Falx and the runner-up, Let's Go Donki, will be at Sha Tin in December (we can only hope that Neil Callan will get the ride on the latter, since he's big on anything to do with donkeys) and their defeat of Blizzard was encouraging in the sense that we know there are a few better sprinters here.
Sprint or mile? Japan's Red Falx has options ahead of his HKIR return
And, as far as we are concerned, that encouragement failed to evaporate in the wake of the unimpressive curtain raisers to the stakes racing season that took place later.
At this column, we still can't work out why the idiotic decision was made to rename the National Day Cup the Celebration Cup and the Sha Tin Sprint Trophy the National Day Cup and there isn't a single good argument for it. Anyway, the histories of both races under any name whatsoever would suggest that it was futile looking to them for international day success anyway.
Only Sacred Kingdom and Silent Witness have ever won on this day and completed the double international day in the Hong Kong Sprint and the 1,400m race has been an even worse stepping stone to success.
Some of the better horses haven't run since April or May, so the Group Threes on the weekend serve as much as training aids as races and when the rain arrived to soften the track, or worse, to make it a little slippery, that only compounded that view of two under-performing races. We would suggest holding off sacking any disappointments from Sunday until we see them again under more representative conditions.
John Moore was the only trainer to have the tactics right as well as having the right horses, horses looking for a winning avenue right now, horses which might not be suited when we get to terms races and December.
Dashing Fellow certainly has no designs on international Group Ones and, while Beauty Generation does have more pretensions to quality through his Australian three-year-old form, he still has a little to prove here.
John Moore to the fore with upsets galore in the National Day features at Sha Tin
Moore was quick to knock the form of Sunday's main races going forward and suggested the conclusions drawn from the October 22 meeting will be more important.
The Sha Tin Trophy that day will feature horses like his own returning stars, Werther and Helene Paragon, and the Premier Bowl will be headed up by Lucky Bubbles and quite possibly our best horse, John Size-trained Thewizardofoz, although it will still be worth remembering they will hold improvement for the future.