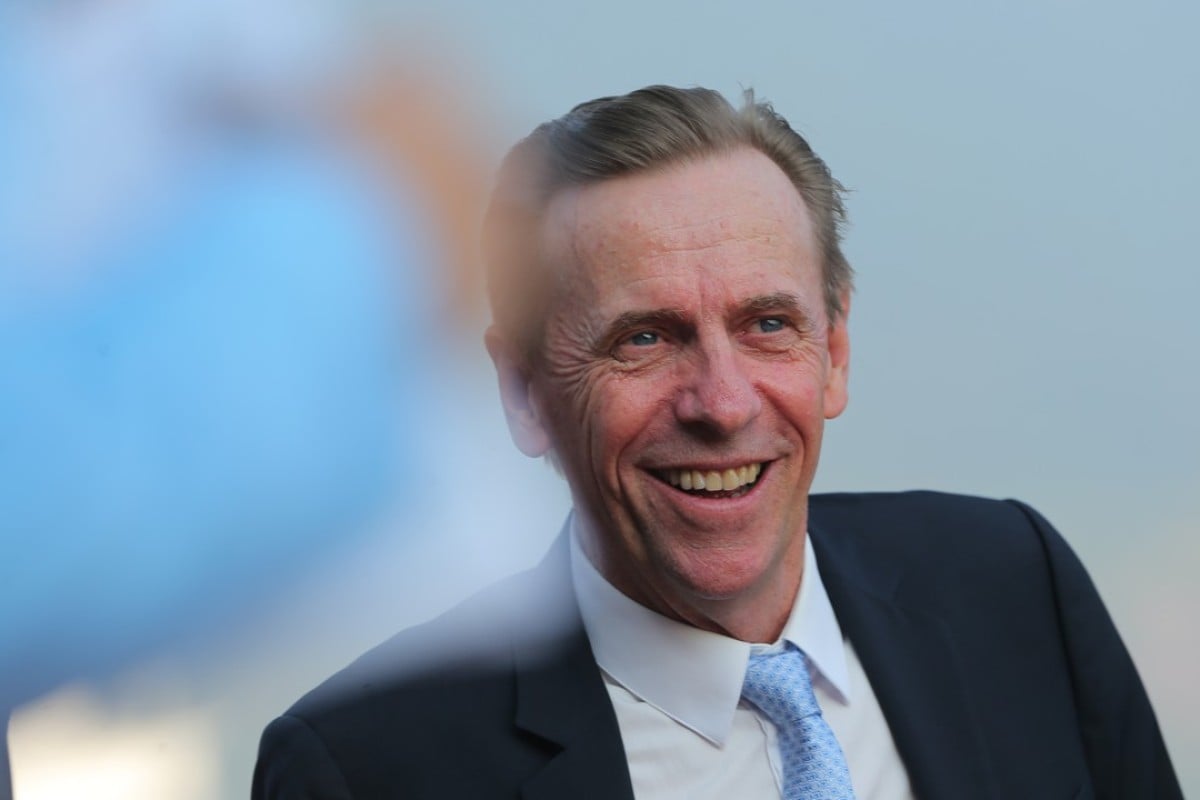 In a few words, in the space of about 90 minutes and two races, champion trainer John Size got to use both sides of some of his trademark, "don't overthink it" training philosophy – first-up, every horse has an excuse.
Enigmatic Thewizardofoz made his seasonal return in the Premier Bowl, was very heavily backed to threaten for first place on the tote board but never did the same in the race finishing eighth and drew the inevitable commentary that he was either disappointing or needs 1,400m.
"First-up, every horse has an excuse," Size said. "I thought he ran home as well as the other horses, he just didn't get himself organised to do it early enough. So we will see what that does to him – it might switch him on to racing again now that he's had a race under the belt."
John Moore and Tommy Berry were making similar sounds about Werther and Helene Paragon. With a handful of Group Ones between them, they were never a concern for lesser horses in the Sha Tin Trophy but sounded like they should have turned up after their summer holidays still with a cocktail, sunglasses and three-day growth.
"When he has won before first-up, Werther had his blinkers on and didn't today, so he was very relaxed," Berry said. "He was left flat-footed when they quickened but, all in all, a pretty good run."
Moore too was talking about dual Group One winner, Helene Paragon, getting his mind and body back to work mode.
"Well, we know it usually takes two races to switch him on," he offered.
But, when the last event came around, switching on the Size-trained Nothingilikemore first-up after six months without a race was the least of anyone's worries – quite the opposite. He could have done with some of what was in Thewizardofoz or Werther's feed bin.
As pre-race signs go for odds-on chances, paddock watchers would have seeing the horse side wind into a fence and snap off a section of it on the way out to the track pretty low on the checklist.
And that was Nothingilikemore. Bouncing out of his big, fresh, dappled skin, he was looking for a brick wall to run through before he appeared to arm wrestle Joao Moreira for half a race then cruising to a fifth straight win that cemented his status as Hong Kong's rising star, chilling out and knocking off well before the finish.
After what Size had said about always having an excuse first-up, was that a difficult one out of the way then?
"Yes. Of course it was," he agreed. "It wasn't that easy. The day he won his first race it was 1,200m, this was 1,400m and in a much higher grade. So, like all horses, he had an excuse if he was beaten first-up.
"Some horses have a break and then when they come back they don't switch on right away and others come back and they switch on too much. You don't really know what you'll get until they go to the races."
Size had given Nothingilikemore plenty of time to get over his considerable exertions in getting from Class Four to the top of Class Two in just four starts as a three-year-old but, even with his primary objectives still months away, there was some urgency to get him back to the races for the sake of his mental state.
For a horse with such a limited career, Nothingilikemore might have suspected he'd already been retired after 182 days off.
John Size and Joao Moreira try to keep a lid on the hype surrounding Nothingilikemore
"It's part of a horse's development that they understand the routine and know they're going to the races again," Size said. "So he needed to do that but I didn't want to get too involved with him in September or October. The heat, the humidity are part of it but there are plenty of other reasons too. But from November on, and we're nearly there now, it's different."
No excuses needed.