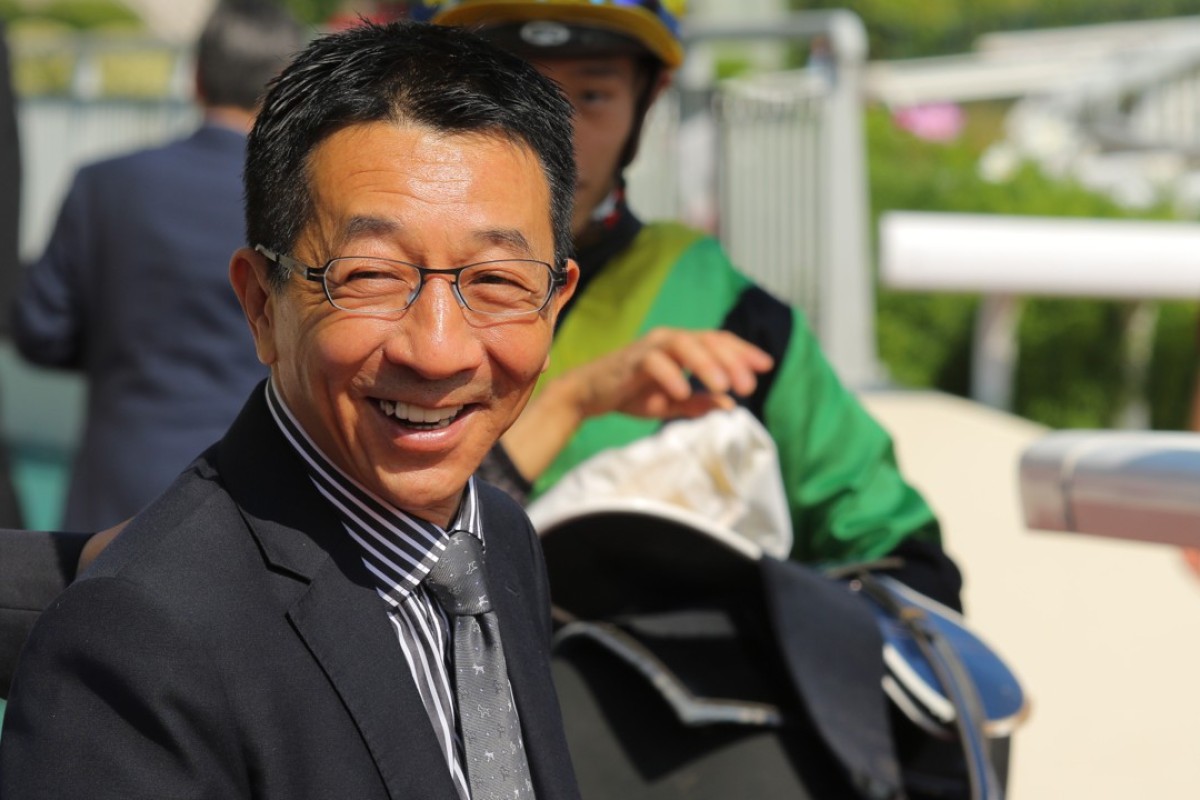 It was somehow fitting Hong Kong racing's humble quiet achiever Me Tsui Yu-sak attempted to give the waiting media the slip after a four-timer on Sunday that confirmed the popular trainer's status as "King of the Dirt".
A reluctant Tsui eventually returned to answer questions from the adoring press pack after former problem child Fight Hero capped a big day with his dramatic Class Two victory – with each of the stable's wins on the dirt.
Tsui deflected praise, as always, claiming there was "no secret" to his horses' great form in dirt contests, claiming that they are just weaker races, and that part of his overall success as a trainer could be put down to being a "lap sup" – Cantonese for rubbish – jockey.
"Honestly I don't know why I do well on dirt," Tsui said, while poking fun at the type of post-race genius trainers are prone to at times. "After you get a winner you can say anything. I could tell you that I put a little dirt in their feed and that is the secret. Write that."
Tsui's reputation as a "numbers" man, a trainer that simply throws entries at races – he has among the highest number of runners of any trainer each season – belies the fact the 57-year-old has enjoyed a long period of consistent success.
Some might knock Tsui for his relatively low win strike rate, but he has averaged 36 winners per season over 13 years, more than the career averages of expats David Ferraris, David Hall, Paul O'Sullivan and Tony Millard – trainers who enjoy a much higher profile.
Of course, Tsui has lacked the top-level success of those trainers, a 2014 Group Three Bauhinia Sprint Trophy win with Divine Ten his only black-type success out of 445 career winners.
On the dirt is where Tsui excels and seven wins on the all-weather track this season is equal most with Frankie Lor Fu-chuen.
Tsui said he doesn't do anything differently to train a horse for a dirt race, but the "secret" could be in programming, and in the case of first-starter Ugly Warrior, the dirt was simply a way to dodge a tougher option.
"If you go on turf first start with him and you run into a John Size first-starter, you know what the result will be, the dirt is much easier," he said.
Tsui's savage self-criticism of his six-year career in the saddle is backed by statistics – he had just 21 winners – but he believes his struggles made him a better trainer.
"I only got to drive the used cars, never the Ferraris," he said. "So I have to make do what with I have got."
Rival trainers admit there are few who do as much with as little in terms of purchase price than Tsui, a clearly underrated horseman who only stopped riding trackwork last year.
"I miss riding but I don't miss falling," Tsui quipped.
Ridiculed replay helps punters find Francis Lui's Diamond Dragon at Sha Tin
Getting four wins out of Fight Hero, a French import ranked as one of the worst barrier rogues of recent years, ranks as a tremendous training effort – but again the trainer deflected praise to winning jockey Umberto Rispoli and the Jockey Club starters.
"Umberto did an amazing job and the starters worked with the horse every Tuesday for a long time," he said. "The horse was terrible, I can't remember how many times he failed at the barrier trials."
After retiring as a jockey, that horsemanship was forged through 16 years as a work rider under local legend Brian Kan Ping-chee, another who favoured "the numbers game" and on-pace tactics in races, before two years with David Hayes and eight seasons as Francis Lui Kin-wai's assistant.
It is a solid grounding for a trainer, but again, perhaps it is the experience as a struggling Chinese jockey that makes Tsui so popular with current riders.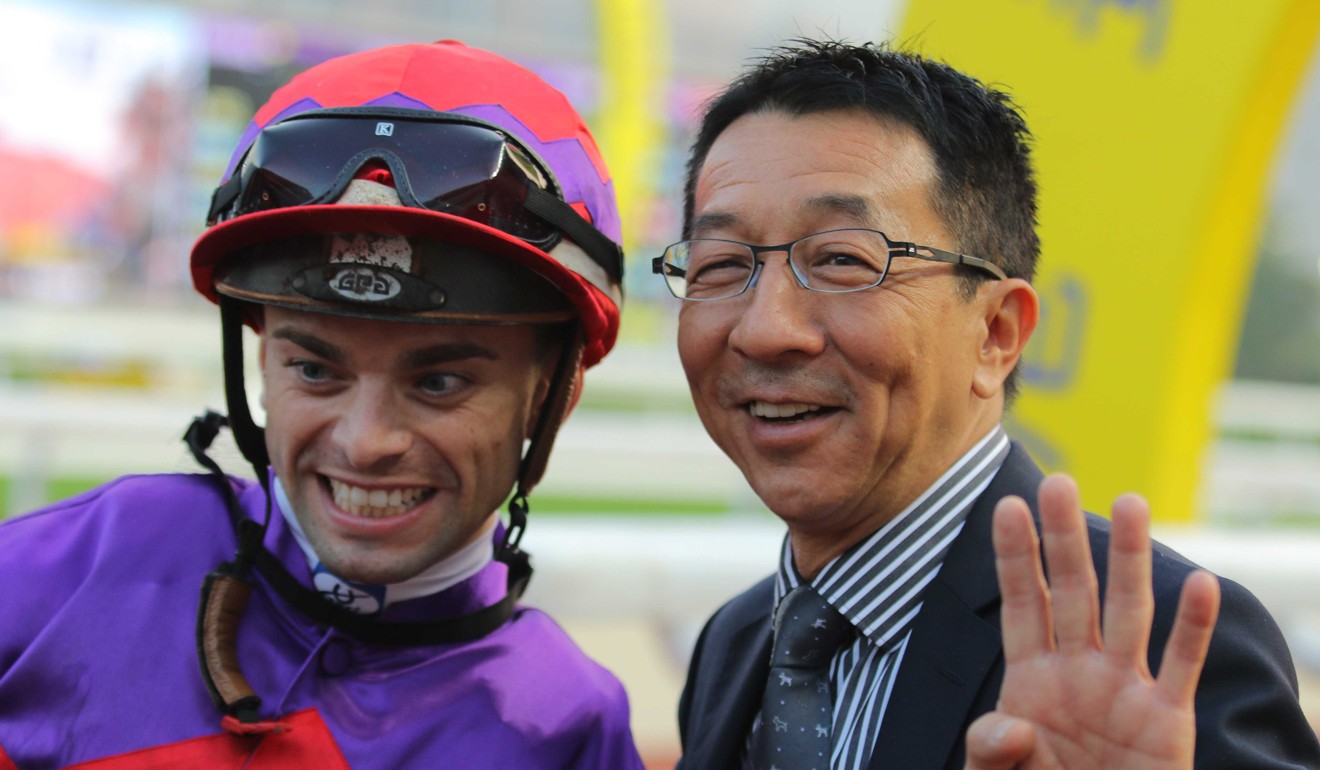 "He understands what a jockey has to go through," Rispoli said after clinching the narrow victory on Fight Hero. "He is easy to deal with, for example, he let me claim two pounds over on Fight Hero today. Some trainers wouldn't have."
Tsui is also well known for his support of local jockeys with three of the stable's four winners on Sunday and eight of his 18 victories this season ridden by locals.
"He does give us those opportunities," said Vincent Ho Chak-yiu, who rode Ugly Warrior. "He is always positive with his instructions, he is like John Size in that way."
Now there is a comparison Tsui won't accept – one with the nine-time champion Size – but, at least on the dirt, the former "rubbish jockey" is holding his own.