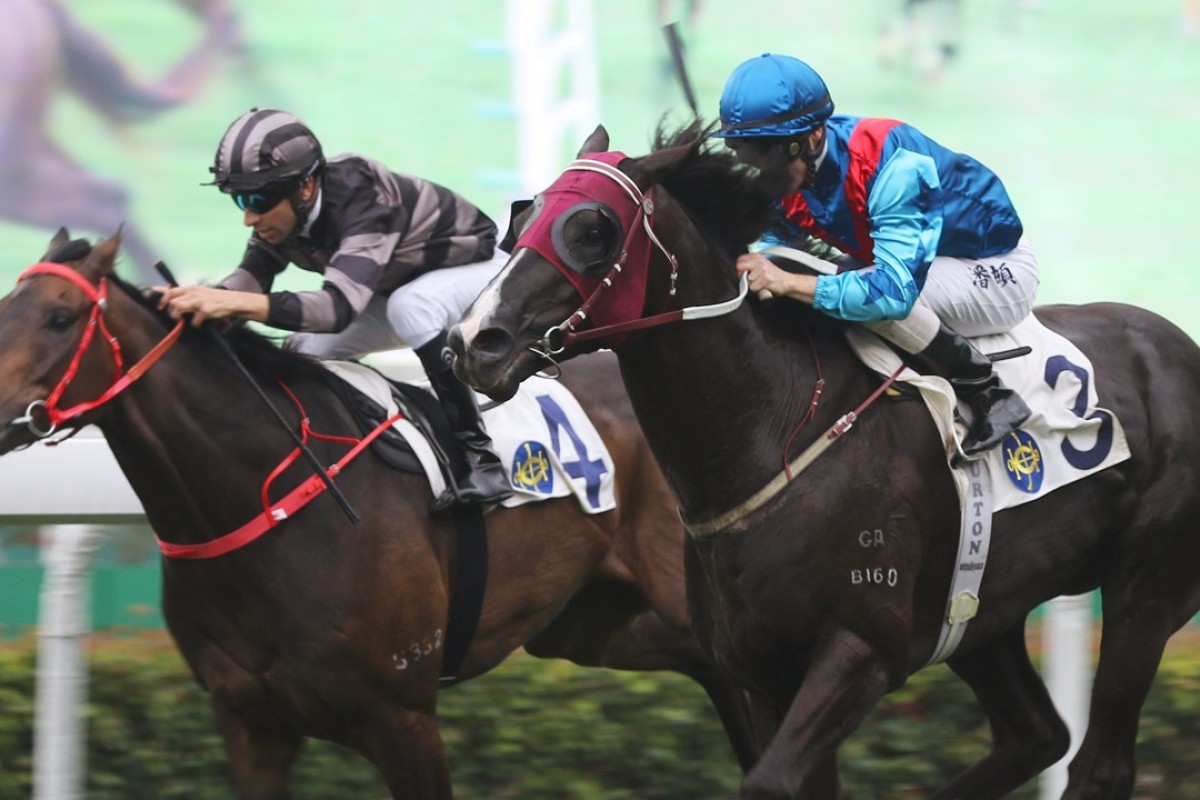 John Size will use all the time at his disposal before he makes a final decision on running Ping Hai Star in the BMW Hong Kong Derby while John Moore claimed the unofficial "Collection Stakes" with Ruthven to put him on the right path for the classic, even if it didn't save him from a gelding.
Saturday's 1,800m Class Two has been a regular Derby lead-up race since the year Moore convinced the handicapper to extend the ratings band so he could give 2009 Derby winner Collection his run and it was also the final run for Akeed Mofeed before his Derby.
Moore attacked the race with Rivet (Sam Clipperton) and Ruthven (Zac Purton) but his team was halved even before the gates opened when Rivet was scratched by the vets.
"Rivet has had a few barrier issues before but Sam said he was the best he's ever been on the way around to the start and then he got in there and got his hind leg over and that was that and he had to come out," Moore said. "We're back to the drawing board. He'll have to pass a stalls test now but he'll still be a Derby runner."
The plan is to geld both four-year-olds after the Derby as Moore believes they will blossom as racehorses when that happens, and the positive news was that former Queensland Derby winner Ruthven managed to land his first local win narrowly and without the help of the surgeon's scalpel, even if it won't change the plan.
No Complacency here: Singapore power combination of Michael Freedman and Joao Moreira renew acquaintances
"Ruthven needed the race to get more mileage into his legs no matter what, but he's pulled it off and won the race so that all looks good going into the Derby," said Moore. "He'll be better the further he goes so another 200m on Derby day is in his favour."
Purton was having his first ride on the four-year-old and said he feels "heavy" and open to improvement after gelding.
"I think you'll see a leaner, fitter horse," said Purton. "He's well muscled and quite big-boned at the moment, he feels heavy to ride and makes hard work of what he's doing. And he pulled up quite thick in the wind after the race so he feels like he can get fitter. Having said that, it was a good tough effort today. He got a nice run though the race but Sergeant Titanium has been going really well, is very fit and a hard horse to get past."
The Size-trained Ping Hai Star (Joao Moreira) would be taking a road less travelled towards the Derby if he starts after not having run beyond 1,600m and he fluffed his lines twice at that distance by over-racing, but Saturday's Class Two over 1,400m probably swung the pendulum more in the direction of running than previously.
Rumour or not, Douglas Whyte has earned the right to do what he wants
"I have until 10am Monday morning before I have to decide so that's when I'll decide," Size said. "I was always hopeful he might get to the Derby but to be honest he has been a different horse every time he has gone to the races so it wasn't possible to make clear plans for him. But today he did everything right – he jumped well, he travelled kindly and even walking around the parade yard before the race he was much more relaxed. I wasn't optimistic before but I definitely won't rule out a Derby start now after seeing that."
Moreira was also convinced that Ping Hai Star was ready for a step up in distance after a comprehensive win that ticked all boxes.
"After that, I think there's a high chance that he will switch off. It seems to be that he just needed more experience. It isn't certain and he has pulled in the past so that must still be at the back of everyone's mind but if he raced on Derby day how he raced today, he would be fine," Moreira said.
Joao Moreira harnesses Raging Storm to collect a four-timer at Sha Tin
"I didn't think they were going that fast today but I let him be where he was happy and he relaxed and his turn of foot is top class. I think if John decides to run him in the Derby he is a chance because he has a lot of quality."