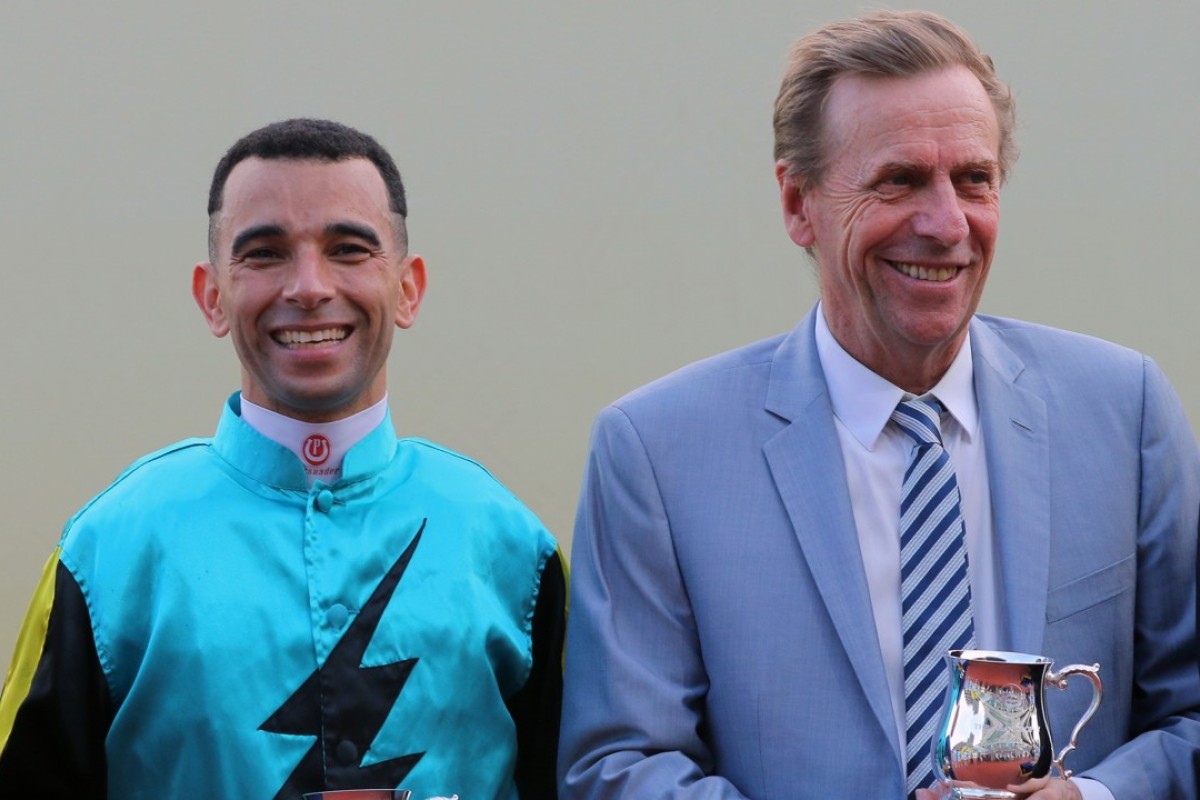 There is a school of thought that trainers win jockeys' championships in Hong Kong and Sunday's thrilling heads-up and heads-down duel between Hezthewonforus and Win Beauty Win was a microcosm of the battle between Joao Moreira and Zac Purton.
Trainers winning jockeys' championships might sound strange, but what is implied is that it is the support a jockey gets from powerful stables that makes the difference – not necessarily riding ability.
That might seem harsh, and of course any jockey in contention for a championship can flat out ride, but what tips the balance is support and there is no more powerful supporter than John Size.
The head margin between Size's Hezthewonforus and Paul O'Sullivan's Win Beauty Win – and unsuccessful protest afterwards – could be looked back on as pivotal to the already epic 2017-18 title chase.
Hezthewonforus (Joao Moreira) outguns Win Beauty Win (Zac Purton) in a thrilling finish to the closer at Sha Tin, with both 3YOs set for bigger and better things #HKRacing pic.twitter.com/FqMEShGqiM

— HKJC Racing (@HKJC_Racing) May 6, 2018
It was a classic two-win swing, Purton had already ridden a double – one of them O'Sullivan's 400th career winner – and a treble would have pulled him within seven of Moreira with 19 meetings remaining.
Instead it was Moreira with a treble that extended his championship lead to nine.
The significance of Purton's long-standing partnership with O'Sullivan is worth noting and the statistics only tell part of the story.
No final fairy tale for sprint star Aerovelocity as owner decides to take no risks and sends him to retirement
Purton has ridden a phenomenal 96 of O'Sullivan's 400 winners at a healthy strike rate of 16 per cent.
Although sprinter Aerovelocity provided 11 of those victories – four of them at Group One level – the vast majority have been handicappers, and many just when O'Sullivan needed them most.
"When Zac got here he was battling and I was battling, so we bonded. He might have gone on with it a little more than me, but it's safe to say I'm out of the battler zone," the always self-effacing O'Sullivan said after Pearl Warm Warm's Class Three victory.
As thick as Purton and O'Sullivan are, it isn't the type of partnership that will carry him past Moreira, he will need more.
Size shows incredible loyalty to his jockeys – just look at his policy when it comes to jockeys who happen to pick up the rides on superstars as they come through the ranks – Olivier Doleuze on D B Pin a prime example.
But Size has also proven in the past that he will get behind his de facto stable jockey – and shut out his main rival – if the championship is in the balance.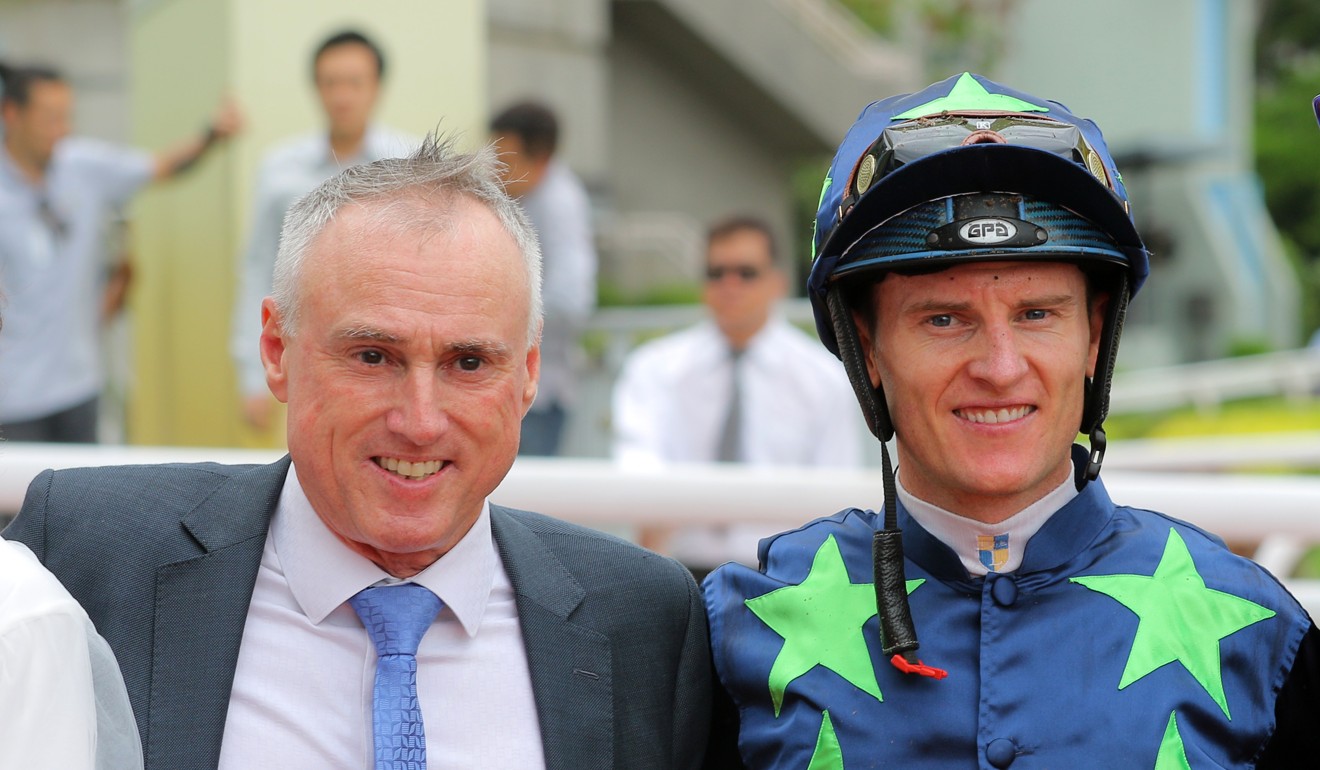 In 2009-10 Brett Prebble pushed Douglas Whyte to the limit, and Size withdrew his support from the Australian and threw it behind the South African.
Size and Whyte became known as the Dream Team, but Size and Moreira have become just as formidable.
Dream Team 2.0, Size and Moreira, have combined for 45 wins – that's nearly 60 per cent of the leading trainer's wins, and a tick over 30 per cent of the three-time champion jockey's haul.
Yet it isn't just the number of wins Moreira rides for Size that is crucial – it is the nature of the horses.
Hezthewonforus and Raging Storm are both three-year-olds with obvious upside – and are both likely to start favourite next time they step out.
Raging Storm raced right away for his second big win from four starts in R10 at Sha Tin, giving championship leaders Joao Moreira and John Size another winner #HKRacing pic.twitter.com/vocbyMrl9y

— HKJC Racing (@HKJC_Racing) May 6, 2018
Size's young horses win in bunches and he has plenty more Lamborghinis at home in the garage as well.
When Hot King Prawn, one of Purton's few regular rides for Size, steps out again this season it will be interesting to see which race and which jockey Size chooses.
Purton's horses have won more than HK$140 million this season – and he has ridden five of the 11 Group One wins – so we can't quite call him a battler, but he is up against it when it comes to total wins.
"Obviously having John Size in your corner is a huge advantage," Purton said. "It's a bit of a free kick, and a massive start. I have to earn every winner I get, and Joao can ride so much lighter. The odds are against me but let's see what happens."