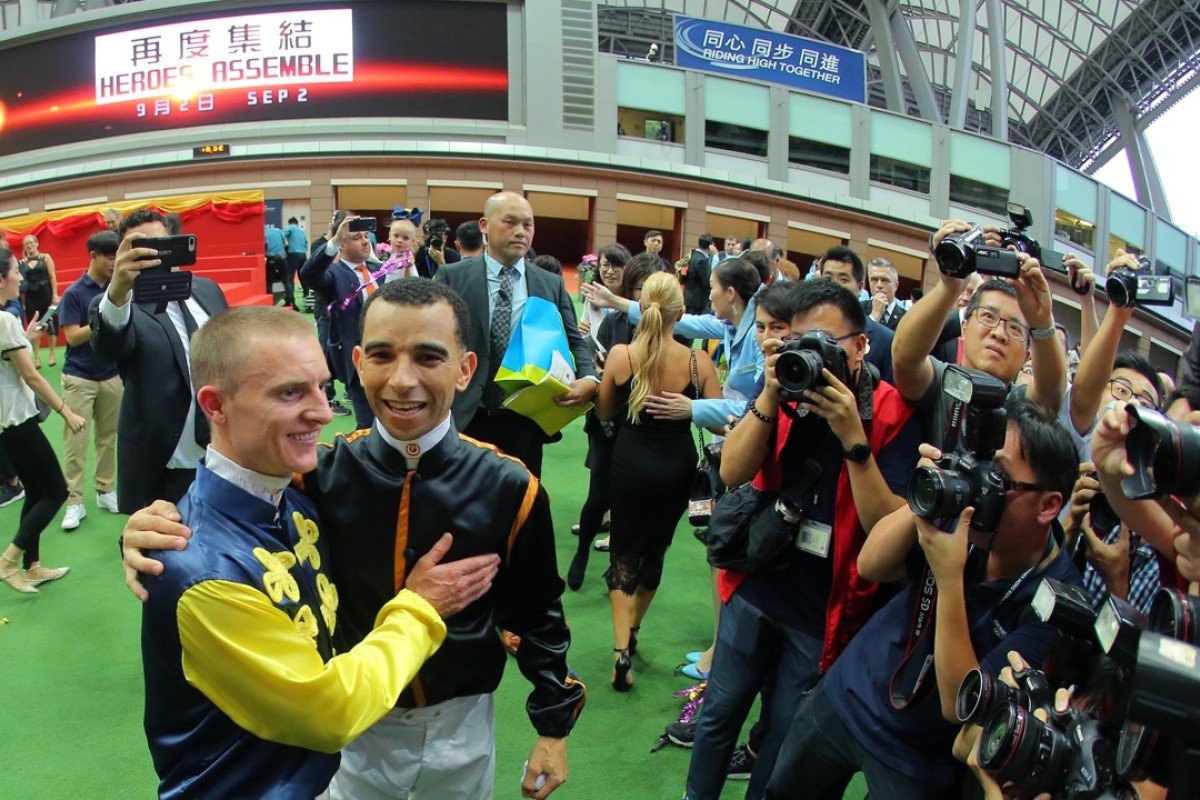 Satisfaction was the overwhelming emotion for Zac Purton as he secured the 2017-18 jockeys' championship, but his dethroned rival Joao Moreira faced a gaggle of emotional fans who wanted a moment with their departing hero as the season wound up at Sha Tin on Sunday.
The contest for the title had captured the imagination of racing fans worldwide as the tenacious Australian fought back to claim his second title and halt the Magic Man's run at three, but it was the sort of occasion when everyone was celebrated – whatever the outcome.
Purton knew the crown was his as he crossed the line aboard the Caspar Fownes-trained Rise High to take out the Class One Sha Tin Mile Trophy, finally putting an end to the battle that was alive until the fourth-last race of the term.
"That was a good feeling. It was one of satisfaction, one of relief, one of job done, it was great," said Purton, who also won the 2013-14 championship.
"I've enjoyed the battle, I think we've both enjoyed it and the racing community have enjoyed it as well – competition is always good."
While Purton's achievement was celebrated in the aftermath, there was a sense of nostalgia for Moreira's last meeting as a full-time Hong Kong jockey before heading to Japan.
On the track, it was the sort of day the Brazilian has typically produced in his incredible five-year Hong Kong stint as he collected a pretty standard three winners, but it was a different story off it.
The notoriously fickle fans in the Sha Tin parade ring showed their appreciation, clapping and cheering as Moreira headed out for the last race.
The hysteria then when to another level after the race as screaming women and a swarm of cameras jostled for photos and just to be close to him. While it might be nice, if not a bit strange, to feel like Justin Bieber for 30 minutes, it is worth noting that Moreira is not retiring and he will be back for a lot of the feature meetings.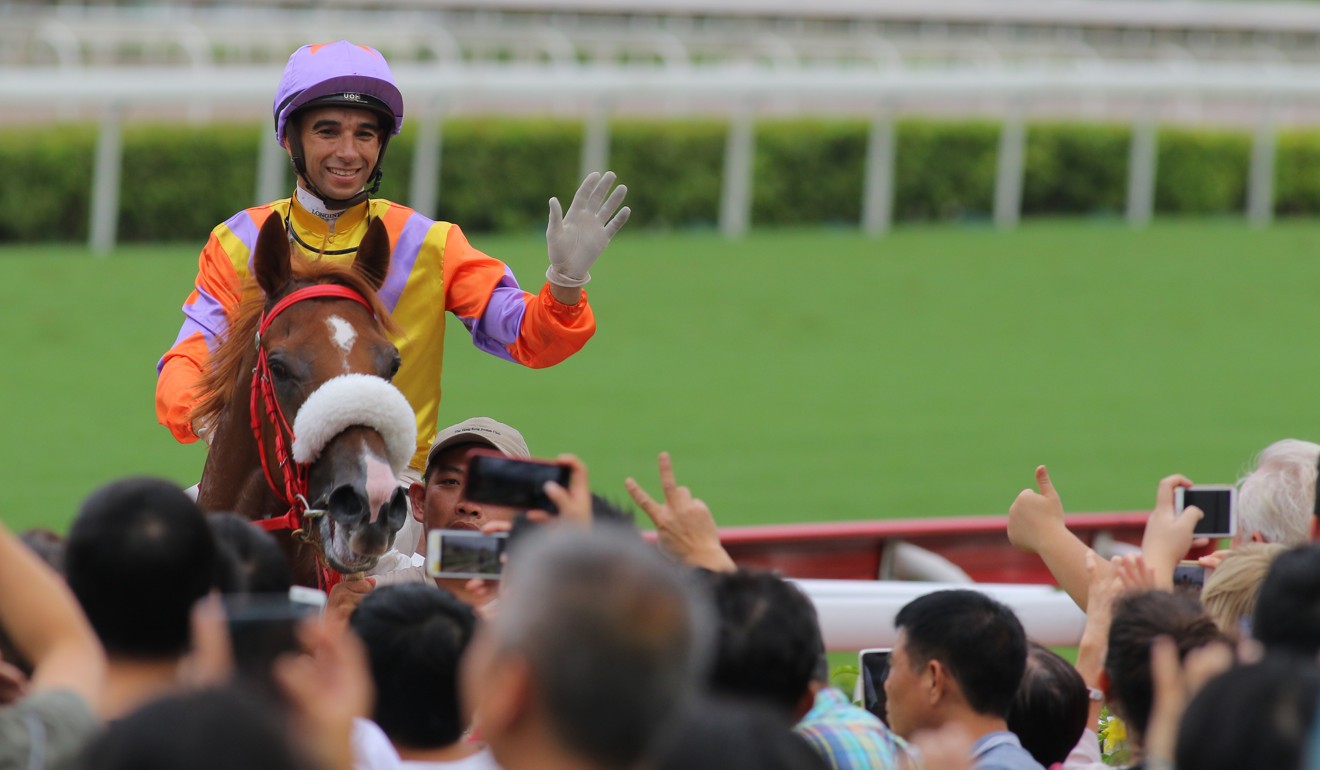 "The relationship I have with the fans here in Hong Kong is something special and I really do love them all," Moreira said.
"Zac deserved to win the premiership, I think he worked harder than me to be honest and he's also got the right support and made good use of it. But it's been an amazing season for me and I can't be disappointed.
Zac Purton breaks 'Magic Man' Joao Moreira's spell – 'nobody thought this was possible'
"Very few jockeys can ride over 130 winners in a season, so I'm very proud of what I've been able to achieve in my time here. I leave with my head held high."
Moreira wasn't the only one bidding farewell with Brett Prebble receiving a more subdued exit – signing a few autographs and posing for a few photos – while Tommy Berry snagged a winner on his way back to Australia after his season in Hong Kong failed to live up to expectations.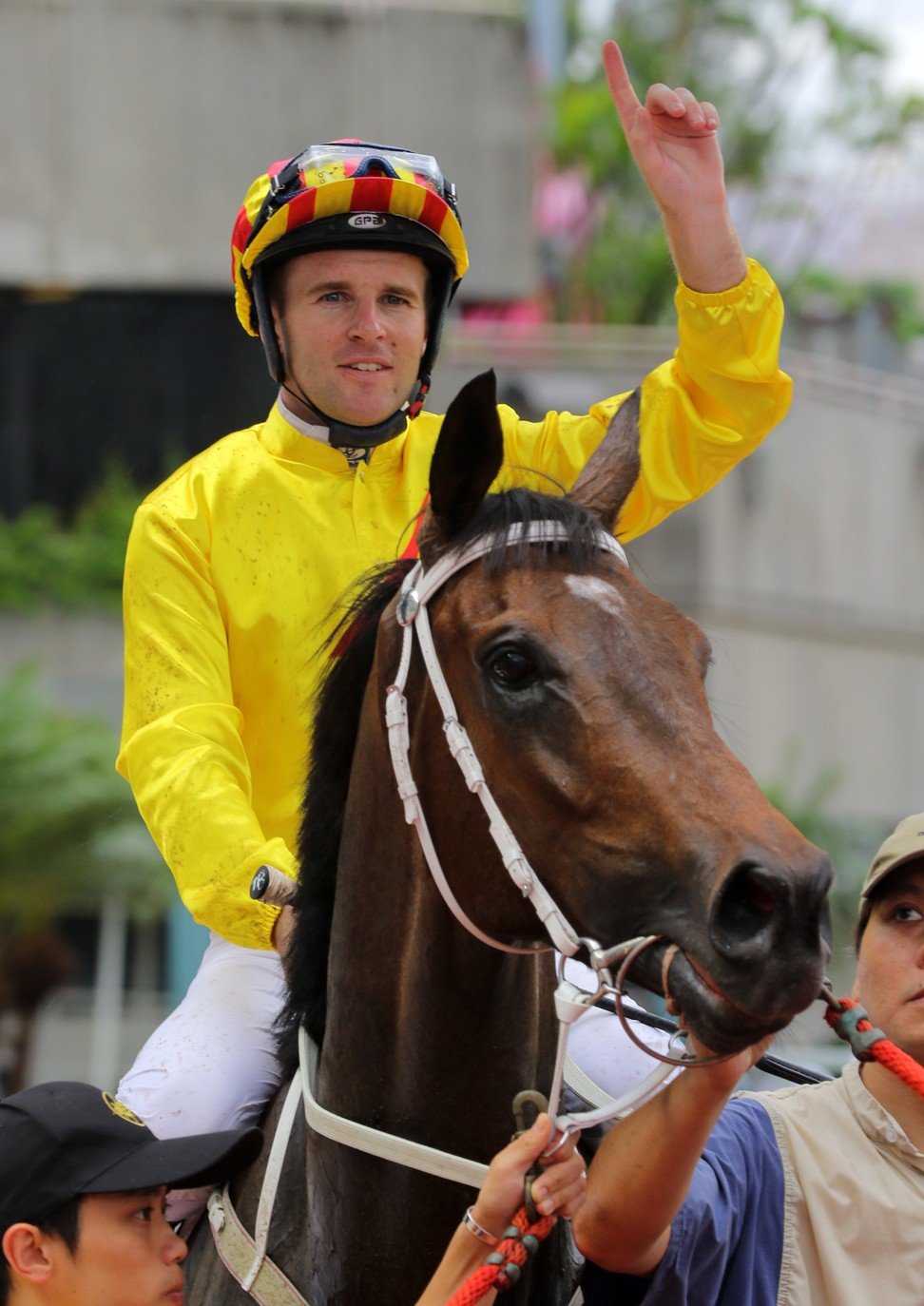 Trainer Derek Cruz also got to say goodbye on a winning note as Elusive State prevailed, but Almond Lee wasn't as lucky as he couldn't find that one victory he needed to reach the performance criteria of 16 wins for the season and is now likely to lose his licence.
Zac Purton vs Joao Moreira: how the 'friendly but fierce' rivalry captivated Hong Kong racing and made them better riders
From a Jockey Club perspective, the only dampener was the rain as turnover on the meeting was an astonishing HK$1.938 billion, taking the overall numbers to a record HK$124.282 billion for the season – an increase of 5.8 per cent on last season's total.
There was some great symbolism in the last race as the winners of the past 18 jockeys' championships went toe-to-toe with the veteran Douglas Whyte on Star Shine edging out Moreira (Hezthewonforus) and Purton (Solar Patch) with all applauded for the contest – a fitting way to finish the "Magic Man era".
But while it was a day for celebrating achievements past and present, the engine that is Hong Kong racing will keep turning when the new season kicks off on September 2 and the focus will be on finding the next set of champions.