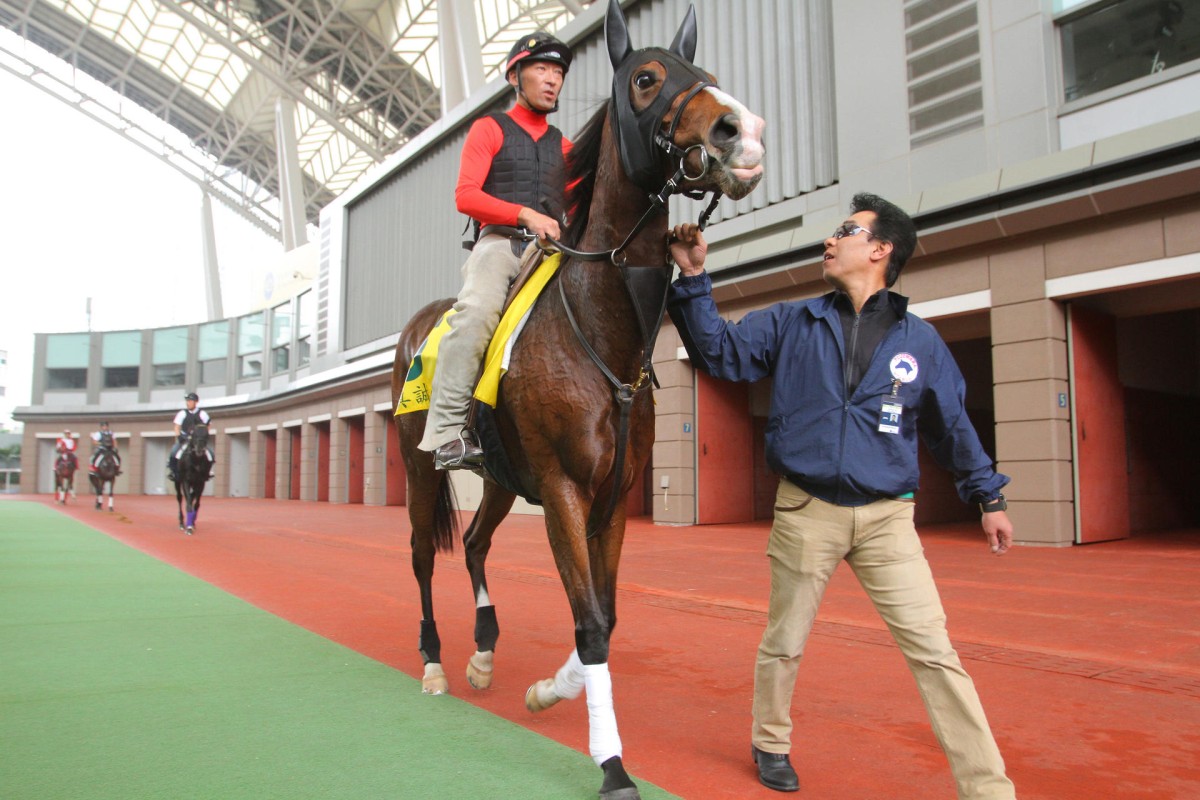 The Japanese runners on Sunday provide the core of the foreign visitors and trainer Hideaki Fujiwara is rightly proud that the backbone of that core will come from his yard.
Only infrequently has an overseas-based barn saddled runners in three of the four internationals - and those have usually been global behemoths like Godolphin or Coolmore - but Fujiwara takes his place beside them as the first Japanese trainer with three at the meeting, Archimedes (Cup), Straight Girl (Sprint) and Fiero (Mile).
"I'm very proud of this and always honoured to be selected for these types of races," Fujiwara beamed.
Of all the Japanese trainers, Sheikh Mohammed chose me when he got an owner's licence
"For Straight Girl and Fiero, it was my aim for some time to end the year here. Archimedes was selected to run in the QE II Cup in April, but was a bit tired at that time, and we gave him a break and decided to look forward to December instead. The major races at home at this time of year are too far for him and 2,000m looked just right."
The other thing Fujiwara has in common with an operation like Godolphin is the added honour of training Archimedes for the ruler of Dubai, Sheikh Mohammed bin Rashid al-Maktoum, a winner of the Hong Kong Cup with Godolphin runners Fantastic Light and Ramonti.
"I was lucky. Of all the Japanese trainers, Sheikh Mohammed chose me when he got an owner's licence from the Japan Racing Association, so it would be a dream to win a race like this for him," Fujiwara said.
"This is Archimedes' first run off a long vacation since March. He finished second to Just A Way in that race and the winner then went to Dubai and won, so the form was strong, but I felt my horse was taking time to recover from his races, so I wanted to give him a proper rest.
"I considered giving him a prep race before this, but he doesn't need it. He has won before coming in after even longer breaks, so I'm confident he will give his best."
Fiero comes off a last-start second in the Mile Championship in Kyoto in late November, a race that has often been the final lead-up for Japanese milers who have run well at Sha Tin, including Hong Kong Mile winners like Hat Trick and Eishin Preston. He is also the one of Fujiwara's trio not coming off a break and he said that was initially his concern.
"There was only a week between that and Fiero's departure for Hong Kong, so I thought he was the one to keep an eye on," the trainer said.
"However, it seems that even after a tough run there, he was relaxed on the flight and has come through it all well and I'm not concerned about his condition now. This has been his big target for the year."
Fujiwara knows that, after the achievements of Lord Kanaloa at the past two Hong Kong Sprints, there is more expectation on the Japanese sprinters these days.
Straight Girl is a different grade to the retired champion, but he still expects her to run competitively.
"She is a filly, so she is not as powerful as Lord Kanaloa, who was the top sprinter in the world, but she is high class and has run three times in Group One races up to a mile and has been placed in them all," he said.
"This is her first trip overseas, so we had that in our minds, but she did not lose too much weight on the flight and came through it better than expected. She hasn't run since the Sprinters Stakes two months ago, but performs well at any time."