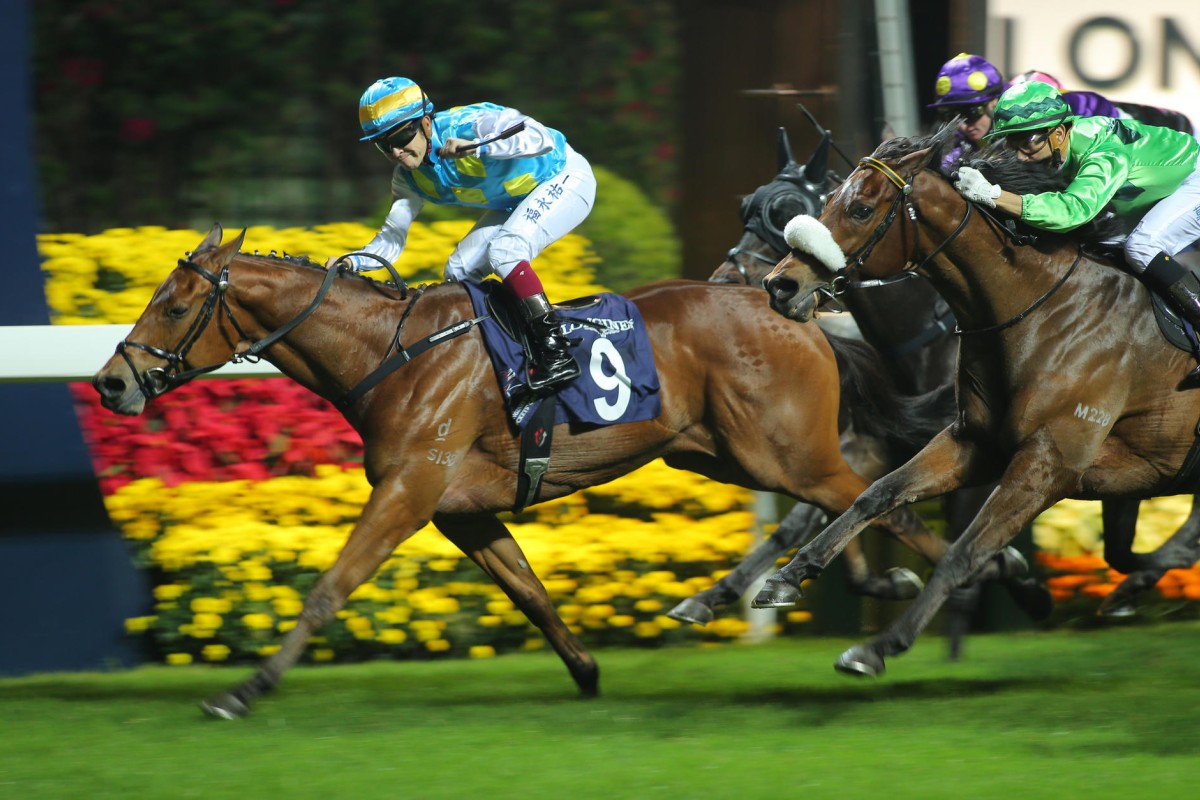 Champion Japanese rider Yuichi Fukunaga was both underrated and a quick learner in the process of perfection, as he stormed to a historic victory at Happy Valley in the Longines International Jockeys' Championship.
Ten years after Japanese riding legend, Yutaka Take, dead-heated with Christophe Soumillon for the 2004 IJC title, Fukunaga rode the tricky Valley circuit like he does it every week, claiming two of the four legs to become the first of his nation to win the prestigious series outright.
"I'm very honoured to be the first and, of course, proud to be invited to ride in the first place," said Fukunaga, who has been a regular in Hong Kong's big races, most notably on Eishin Preston, but had finished last in his only previous IJC in 2011.
He'd obviously learned the lesson pretty well from the first one, he held the box-seat position on Vara Pearl
"This is a difficult course to ride, the most important thing is to start well and tonight I was able to do that."
The first leg fell to James McDonald on Peter Ho Leung-trained Expectator, with Joao Moreira second and Zac Purton third. Fukunaga finished midfield on Tony Millard-trained Medic Swordsman, but the South African took some of the credit.
"He had two for me in the series and I thought the second one was my best chance all night, Vara Pearl, so I wanted Yuichi to get it right," Millard said.
"I didn't hold back after he rode the first one - he jumped quite well then didn't hold a forward position and they all came around him, so I impressed on him the need to hold his position around that first turn from the 1,650m start or he would get shuffled back. No wonder he's a top jockey - he's a quick learner."
The effect was instantaneous, with Fukunaga taking that lesson to his ride on Almond Lee-trained Ocean Roar in the second leg, winning the start, crossing to the front and not letting up.
"Ocean Roar was able to get the front because the others underrated the Japanese jockey on my horse," said Lee. "They probably thought he would go too fast and that my horse would fade, so they let him go, but that's how this horse likes to be ridden."
Local Vincent Ho Chak-yiu scored the first IJC points of his career as the runner-up, with Moreira lurking in third and staying in the hunt, but Fukunaga put them all on their heels when he linked again with Millard.
"He'd obviously learned the lesson pretty well from the first one, he held the box-seat position on Vara Pearl and I was very confident he would come off the leader's back and win," said the delighted trainer. "I love Japan!"
With Moreira and Ho filling the minors, there were four possible winners going to final leg.
McDonald led on Sempiternal at a strong tempo and momentarily looked like he would halve it with the Japanese rider, but he was swamped late by Ryan Moore on Amazing for David Ferraris. Moreira was once again in the third and victory, and the cheque for HK$500,000, was Fukunaga's on 24 points.
Moreira's consistency in the placings saw him snatch the HK$200,000 second prize despite failing to win a leg of the series and McDonald held on for third and the HK$100,000.
"It was a great feeling here tonight," said Fukunaga. "There were so many fans from Japan cheering and even Hong Kong fans who were calling out to me in Japanese and encouraging me, and that made me very happy."