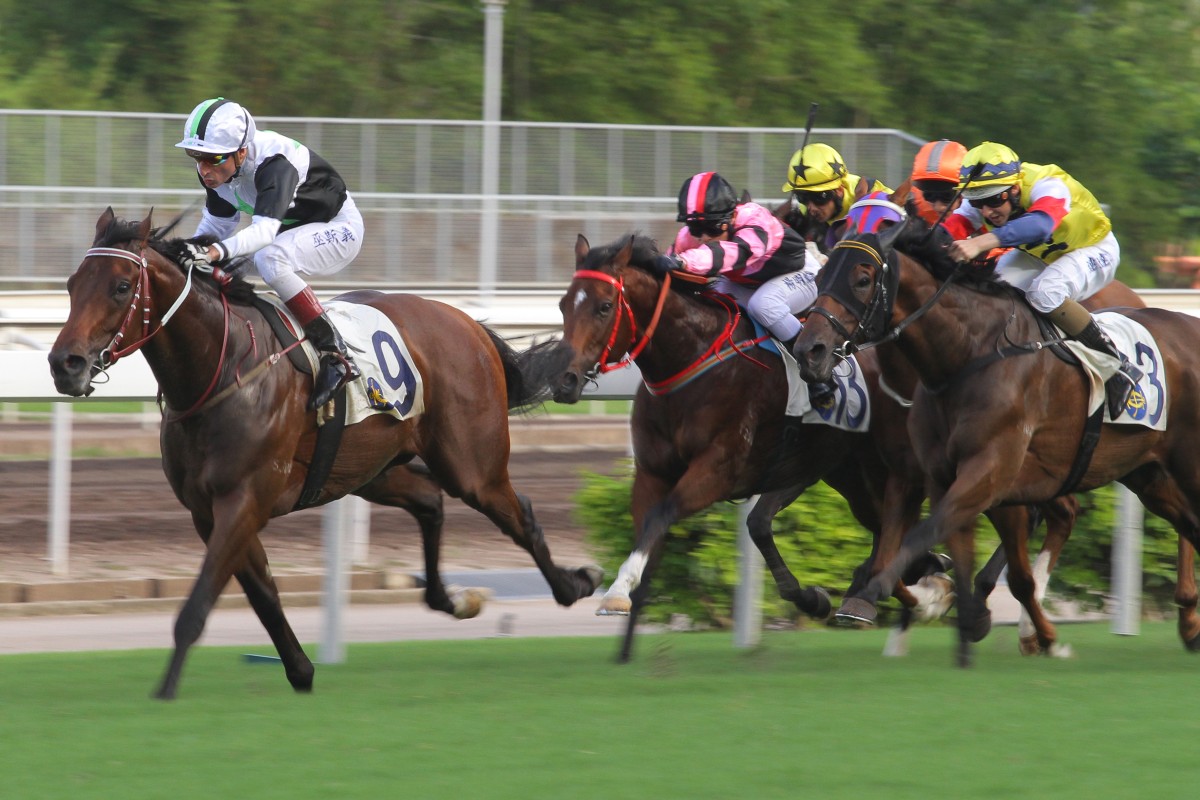 John Moore could have been forgiven if his mind was 9,600 kilometres away - with his superstar, Able Friend in England - but a humble Class Three win with Too Fast ensured the trainer's attention stayed in the here and now and a quest for a seventh handler's championship.
Moore reported that Able Friend had "travelled like a thorough professional" ahead of next Tuesday's Queen Anne Stakes at Royal Ascot, on a day where a win to the far less-heralded Too Fast kicked the trainer two clear of Caspar Fownes with 10 meetings to go in the season.
Watch: Meet the highest rated horse in the world, Hong Kong's Able Friend
"It's true we have a lot on our plate at the moment - between the world's highest rated horse, Able Friend, flying to England, and trying to win another title," Moore said.
Nice to stretch his legs after a long trip. Still looks great! #ablefriend pic.twitter.com/a7AunU8OmW

— Paul Robinson (@PaulRobHK) June 6, 2015
Able Friend arrived at the Newmarket yard of Michael Bell in the early hours of yesterday morning, Hong Kong time, after a gruelling two-flight trip from his Sha Tin stable.
Moore said the five-year-old had shed just 10 pounds off his massive frame and was tipping the scales at 1,280 pounds - which, according to the trainer, was "absolutely perfect" 10 days out from the biggest race of his career.
"The trip went off without a hitch," Moore said. "He travelled fantastic and I couldn't be happier. He is right on the weight we want, ate everything up and drank a heap of water."
Able Friend was accompanied by Jockey Club vet Paul Robinson, Moore's senior trackwork rider, Thomas Yeung Kai-tong, and the horse's regular mafoo, Allan Ng Yau-tin, on the trip that took more than 20 hours from stable to stable and stopped off in Dubai.
Just hanging out in Dubai en route to Newmarket. Wow it's warm. Lucky @EmiratesAir knows where the air con button is pic.twitter.com/97SwDz3XyA

— Paul Robinson (@PaulRobHK) June 6, 2015
The challenge of winning a championship is part of the reason Moore will not join son George at Newmarket until four days before the Queen Anne.
"It's going to be difficult, and we might have to find some more runners to send to Happy Valley," Moore said.
"That's where Caspar has a lot of success and it is a real advantage over us. There are 10 meetings to go, we have 55 wins and I think whoever can get around 65 winners will clinch the title.
"It's a meeting-by-meeting thing. If someone has a big day, with a three- or four-timer, it could just blow it wide open."
Of course, Moore traditionally lacks firepower in the lower grades, but that is something with which Too Fast can help, as he will remain in Class Three following his one-and-three-quarter length win off a rating of 69.
A Group Three winner in England as a two-year-old, when he beat well-performed The Grey Gatsby, Too Fast finally delivered on his potential in the right race, finding a suitable tempo, and the now four-year-old broke his local maiden at start 12.
"To be honest we thought this win might come a bit sooner," Moore said. "But better late than never, and we can find another race for him before the end of the term.
"Today he really knuckled down and attacked the line. When you look at him in the paddock, he is a nice style of horse and he really should go on with it now."
Jockey Gerald Mosse said the penny had dropped for Too Fast last start and now that the gelding had learned to relax in the run better he would win more races - even beyond Sunday's distance of 1,400m.