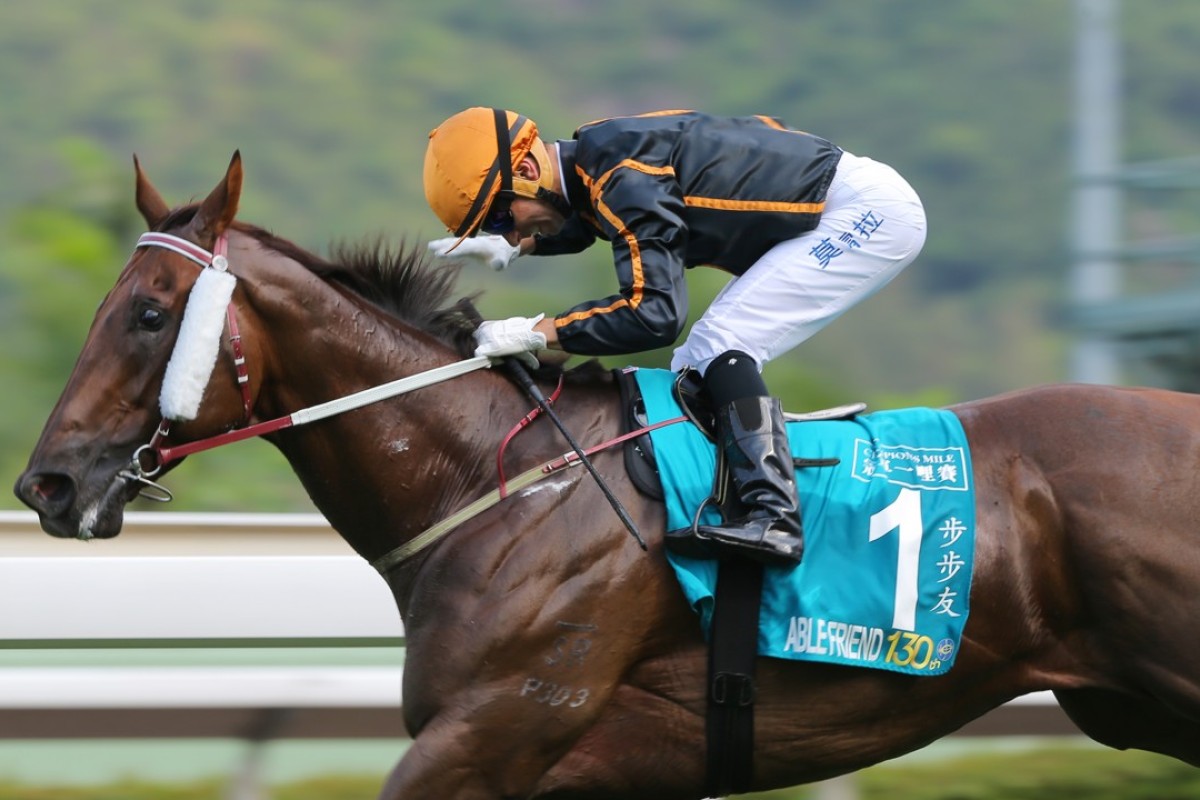 Able Friend leaves a complex legacy – utterly dominant and seemingly unbeatable at his breathtaking best, but beaten on what were arguably his three biggest days.
The colossal miler retires having once being Hong Kong's highest-rated horse, and remains its highest-rated ever, his career mirroring the meteoric rise of his star trainer John Moore and record-breaking jockey Joao Moreira.
Mild-mannered, yet as imposing as any horse at Sha Tin, towering above his rivals yet with the deft footwork of a dancer, Able Friend was too good to be labelled an enigma, but he certainly was unique.
Idolised by home fans, labelled a flat-track bully by critics abroad, Able Friend was also symbolic of the ambition, and even the inadequacies, of his jurisdiction.
Able Friend's farewell ceremony at Sha Tin on Sunday will be a tribute, but one weighed by pathos: a celebration on one hand, but also an occasion cloaked in sadness, with the horse's owner Cornel Li Fook-kwan having died in early April.
Hopefully the Li family's black and gold silks will still be seen at Sha Tin for years to come through the involvement of Cornel's daughter Charmaine Li Chi-yin, but there is still a feeling that this is the end of an era on many fronts.
Li and his late brother Alan were raised on amateur racing – their father Li Lan-sang, a prominent owner, even took the pair to early morning trackwork at Happy Valley before school.
Talk about family racing history – legend has it Li senior narrowly escaped the Happy Valley racecourse fire of 1918, and his passion for racing flowed through to the end, as he suffered a fatal heart attack at Happy Valley in 1970 cheering his horse, Predominant View over the closing stages of a race.
Alan, who passed away in 2003, would become Jockey Club Chairman from 1998-2002 and is considered the father of December's international races.
It is fitting then that Able Friend's greatest moment will remain his arrogant victory in the 2014 Group One Hong Kong Mile.
That day, when local horses won three of the four international races, and the 12 months either side of it, also represent a high point for Hong Kong on the world stage.
In March of that year, Moore's Sterling City and fellow sprinter Amber Sky won Group Ones on the world's richest race night in Dubai, both with Hong Kong's newest superstar Moreira aboard.
In Able Friend's Horse of the Year tour de force of 2014-15, he won six straight races, but it was also a season marked by possibly the two most underrated campaigns by Hong Kong-trained horses.
Rich Tapestry's extraordinary Grade One victory in the Santa Anita Sprint Championships only becomes more baffling as time goes on – the first horse from Sha Tin to win in the United States – while Aerovelocity became the first locally trained horse to win Group Ones in three different countries.
Li's decision to send Able Friend to Royal Ascot for the Queen Anne Stakes, was, and always should be, lauded as a great demonstration of sporting endeavour.
There was nothing, really, to gain but glory, the prizemoney not even equivalent to what the gelding could run for in a Group Two at home, and Li was basically paying for the supposed privilege of his horse performing in front of the Queen.
The decision to go was one of a man who truly loved racing for what it is at its core – a sport.
Able Friend's uncharacteristic meltdown in the parade ring precipitated an underwhelming performance, the gelding fading to sixth as Solow, also retired this week, powered away.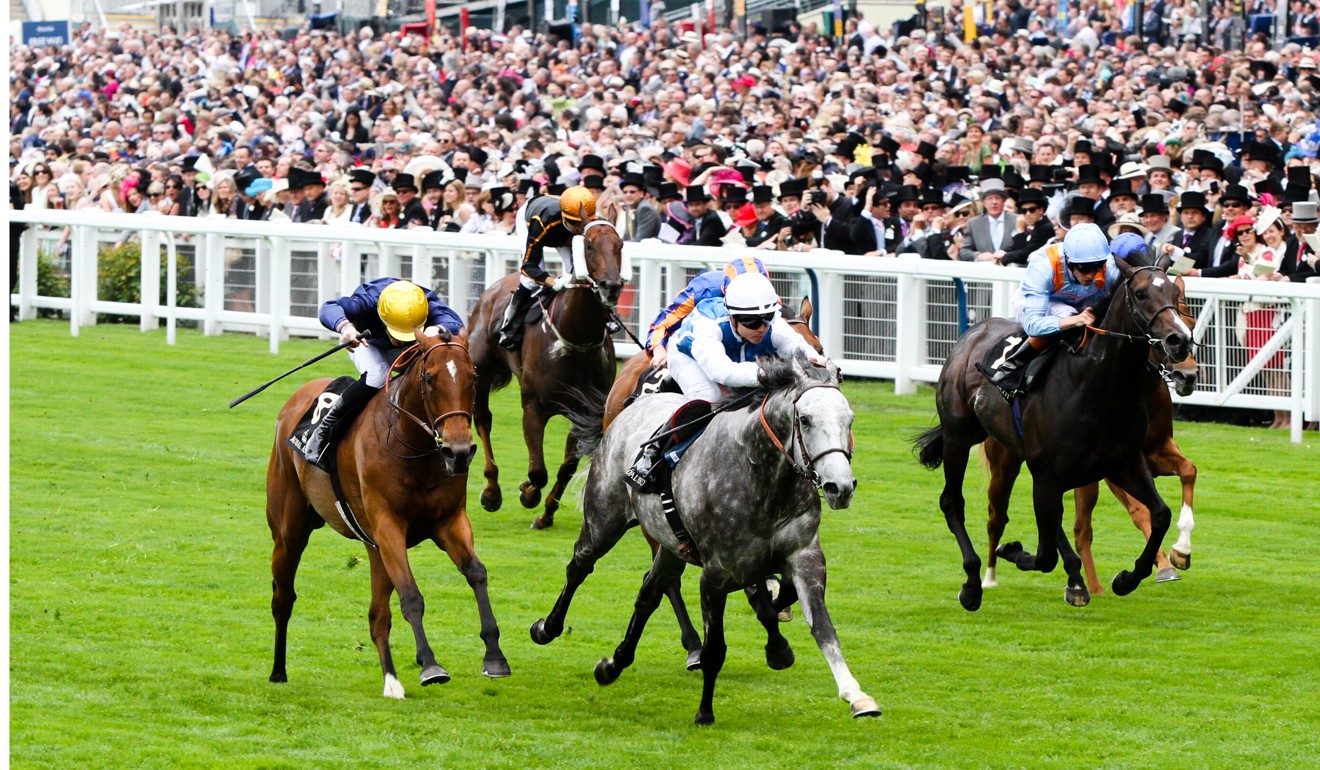 Sadly, less than two years later, it seems owners are not as imbued with the same sense of adventure as Li, or Rich Tapestry's or Aerovelocity's owners, were.
The willingness to send the best horses abroad has diminished with, it seems, the Jockey Club's blessings.
Able Friend's career-defining moment though? Even that was a defeat – albeit a brave one of the most electrifying two-horse clashes seen at Sha Tin.
Able Friend had beaten stablemate Designs On Rome comprehensively in the Hong Kong Classic Mile, but a tactical masterpiece by Tommy Berry aboard Designs On Rome turned the tables in the Hong Kong Classic Cup.
It set the stage of the 2014 Derby, and in the early part of the contest, the stablemates raced together at the rear. As Berry started Designs On Rome's trademark early run around the field, Moreira bobbed and weaved on Able Friend, as he saved ground between runners. When the two came together again with less than 200m to go it set up one of the great finishes of all time.
The 2015 Hong Kong Mile was billed as another two-horse war, Able Friend versus Japan's own monster miler, Maurice. Able Friend, his build up marred by hoof soreness, went past Maurice with such ease that jockey Ryan Moore was left to remark to Moreira, in running – "gee, he is a good horse, isn't he Joao?". That was Moreira's account of events, but it's hard to imagine Moore getting that many words out anytime, let alone in the short space of time he had when Able Friend zoomed past.
Able Friend's body gave out though; he wobbled under the enormous weight of his frame, and somehow finished third.
Six months earlier, Moore's horse had travelled to Royal Ascot billed as the Beast from the East, a nickname that changed hands when Maurice fought back and won, and is now emblazoned on Maurice's promotional posters for his burgeoning stud career.
Since that showdown, international raiders have won six of the nine invitational races at Sha Tin, and no Hong Kong horse has won a Group One away from home either.
Able Friend's final win – a last-to-first effort with top weight in the Group Two Premier Bowl, vision of which looks like it was created using special effects, gave the horse his highest-ever rating and left him as the highest-rated sprinter in the world for that year.
It showcased Able Friend's greatest attribute, the blistering turn of foot, that when unleashed in a straight line from the top of the Sha Tin straight, would make other horses look like they were standing still.
After an injury suffered in the weeks after that loss to Maurice, Able Friend was never really the same.
It was telling that Moore sent Able Friend back to Australia for rehabilitation, not for lack of suitable veterinary staff at Sha Tin, but because of a lack of facilities and space.
In that way, Able Friend's career is not only representative of so much of Hong Kong's racing's past, but its future ­­– hopefully the next time a champion horse needs that type of treatment it can be completed after a three or four hour float ride to Conghua, not a 10-hour flight to Australia.
So how will Able Friend rank when it comes time to rank the all-time greats, maybe it's most fittingly summed up with a question.
Other local horses may have had better careers overall, but could any have beaten Able Friend, at his best, straight up at Sha Tin over a mile?