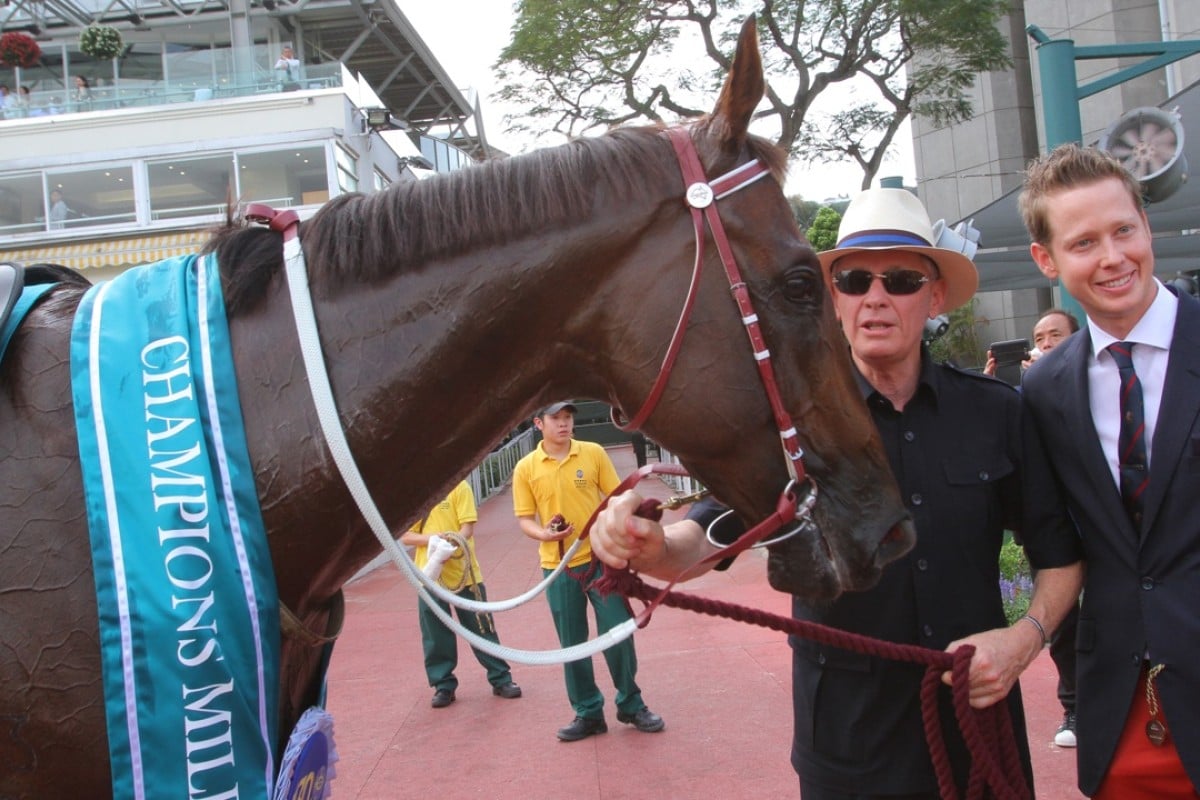 Trainer John Moore has played down his son's revelation of tentative plans to race injured champion Able Friend at the Melbourne racing carnival later this year, saying "Mother Nature has to do her part first."
In January, Able Friend was sidelined for the rest of this season with a particularly rare injury to his right front digital flexor tendon, with damage to the tendon where it joins the back of the hoof.
It was the same hoof that caused a race eve issue and appeared to hamper Able Friend when he finished third in the Longines Hong Kong Mile in December.
He has been sent to a property in Australia on the Mornington Peninsula to rehabilitate but Moore's son, George, has told the media there that his father's intention was to tackle "two or three" Group One races in Melbourne in October-November before returning the gelding to Hong Kong.
"Hopefully, we're expecting him to recover after six months. We're not going to do any operations on him. We're just going to give him a break, hopefully he'll heal himself," George Moore said during a yearling sale in Melbourne.
"Dad's targeted about two to three races over here, he's still searching for his Group One in Australia, so he can hopefully do it with Able Friend."
But John Moore yesterday said the plan was "very much up in the air" as there was no telling for certain when Able Friend might be ready to race again.
Mother Nature has to do her part first
"It's going to be a day-by-day thing, he's only recently arrived there and Mother Nature has to do her part first before we can think about racing the horse again," Moore said.
"But I would hope that by June, he might be ready to put into some light work.
"We'd see how he handles that and, if he came through that stage okay, the next step would be to see if he can handle a racing preparation."
Moore said that he didn't think it in the best interests of owner Dr Cornel Li Fook-kwan that Able Friend be returned to Hong Kong to find out whether he could stand racing again, so a preparation aimed at majors in Melbourne first made sense, whenever he is ready to try again.
"He's already there, it isn't far to go to test him, so that's what I would like to do, with Dr Li's permission," Moore said.
"Frankly, I think bringing him all the way back to Hong Kong first then finding out whether he can stand a prep or not sounds like an expensive exercise, potentially a waste of a lot of money if he can't stand training or recover his form.
"The healing process will take as long as it takes, so whether it's the Melbourne spring or later, nobody knows at this stage.
"So there are not really any concrete plans yet."