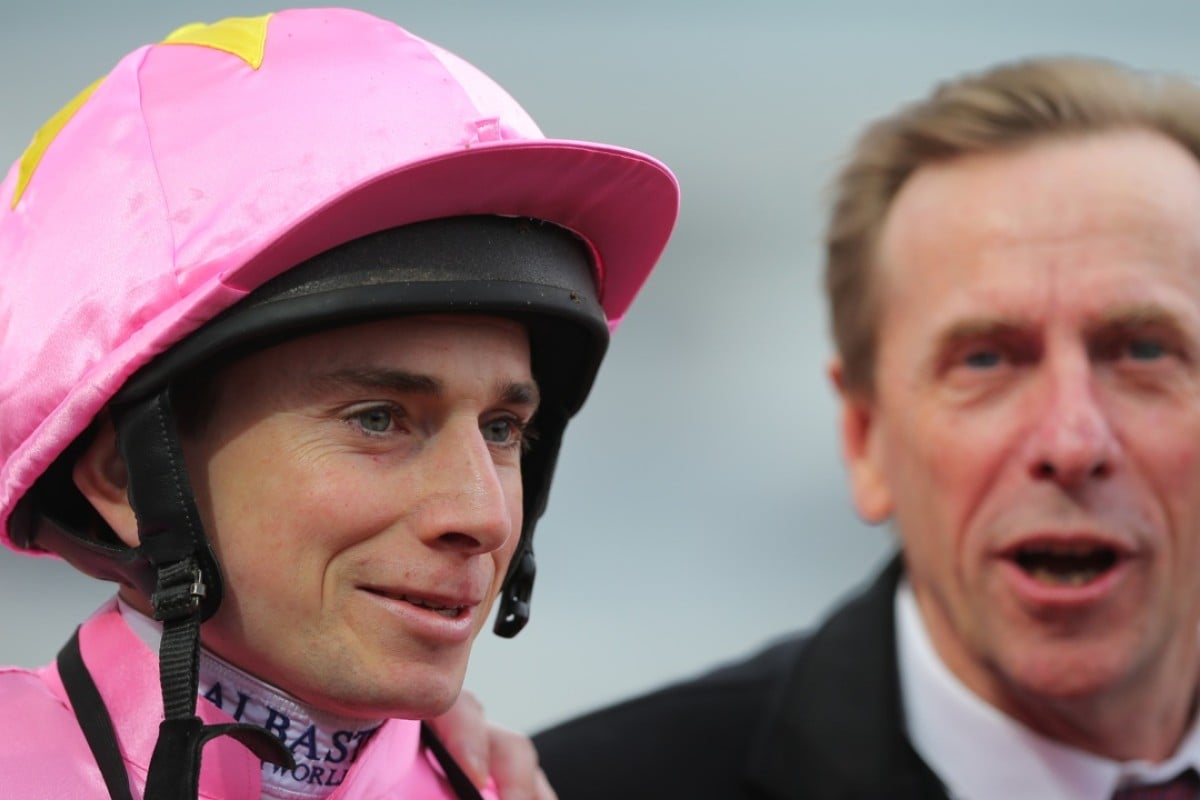 And so, with Sunday's card gone, so is Ryan Moore as a full-time fixture in the jockey colony at Sha Tin and the sun still rises in the east, but the additions of Moore and Silvestre de Sousa, who finished the week before, were clear bonuses to the overall competition.
Those who might have anticipated Moore would put a stick in the spokes of Joao Moreira were never going to be correct but both he and De Sousa performed at a level that should have everyone hoping they will return.
Fans will have to lower their expectations so as to be fair to the incoming jockeys who have replaced them, Eurico da Silva and Gavin Lerena
And perhaps the surprise for many is that De Sousa outperformed Moore, something picked up by the public and reflected by the finish in the average prices of his mounts.
Of course, the metrics used are key – Moore has made his name in the world riding big-event winners and carried that on with two Group One winners in his tally so the bottom line was juicier for him than for De Sousa.
From 96 rides – only those within his stint from January 17 – Moore won 11 races and was second or third another 21 times, while De Sousa, who commenced and finished a week earlier, had 103 rides for 15 wins and 18 seconds and thirds.
The average price of a Ryan Moore mount over his stint was slightly higher, at 16.25 against De Sousa's 14.08.
But to get a better picture of delivery versus expectations, we thought to look at both jockeys' rides at less than 11.0 – ie horses considered to have a winning chance – and we'll throw in comparisons with Moreira and Zac Purton for some context.
Looking at just the chances, Moore rode 78 times for 11 wins and those mounts had an average price of 6.00 but De Sousa again had the better of him. The Brazilian had fewer rides in that bracket, just 52, for 12 wins and his average odds slightly shorter at 5.69.
By way of comparison, from January 17, Moreira had 98 rides for 21 wins and an average price for his rides of 6.37 but that becomes 90 rides for 21 wins when you include only 11.0 and shorter, with the average odds coming down to 4.44.
And what about Purton? He was out of action from January 1 to January 24 but, from then until last weekend, he outperformed all of them.
His overall figures are 64 rides for 11 wins, an average starting price of 17.08 but, reduced to only the horses considered winning chances, Purton was the one to follow.
He had 45 rides under 11.0 at an average price of 5.82 and all 11 of his winners for the period were in that "fancied" group, giving a flat bet profit of 22 per cent.
Using the same scenario, De Sousa yielded a profit of 18 per cent but Moore and Moreira both brought a 29 per cent loss.
Having said all that, coming in cold and not knowing the horses, winning 11 from 96 rides is a very decent six-week stint for Moore, and De Sousa's figures are really excellent.
Fans will have to lower their expectations so as to be fair to the incoming jockeys who have replaced them, Eurico da Silva and Gavin Lerena, who might also need to keep their expectations in check.
Lerena suggested in an interview last week that he was hoping to ride three or four winners a week.
That closely parallels our hope to have won first prize in the Mark Six Snowball last night.
By the time you're reading this, that hasn't happened either, and the only thing that stops this writer being as good a chance as Lerena to ride three or four winners a week for the next two months is that Gavin can make the weight on more mounts. Or, OK, any.
In two months, double figures is a very solid score, anything better is excellent in nine out of 10 cases.
And, with that in mind, the big names Moore and De Sousa were every bit the successes that the Jockey Club will have been hoping to see, even if they didn't exactly knock the established riders off their perch.
Ageing Group One horses ripe to be picked off
Another Group One, another bunched finish, this time the Gold Cup.
While our ageing top horses continue to race one another and finish in clutches, there is the gnawing feeling that they are ripe for something to come along and bowl them over, as the Japanese horses did in the Hong Kong Cup in December.
Sunday's Gold Cup saw a complete failure to stay by the horse in the field who just might have been considered to have upside, Giant Treasure, and a round up the usual suspects appearance to the finish.
Designs On Rome was good sustaining that long run around the field but behind him there were a few warning sirens.
Dominant hasn't been flying but should have clearly run at least third, there was the close-up finish of Mr Gnoochi – terminally outclassed in A grade – and also Flame Hero's effort to get knocked sideways halfway down the straight, then finish only two and-a-half lengths from the winner.
All warning signals that the middle-distance ranks could do with some freshening up before the Audemars Piguet QE II Cup, especially if A Shin Hikari or Nuovo Record are coming back for more. How that will happen, though, we just don't know, as the Derby has a solid but not outstanding look about it.
On the other hand, the miler stocks here hold up for the Champions Mile, even if there isn't a superstar like Able Friend to head them.
Contentment put a hole in the 1,400m Group One, Beauty Only was excellent coming from the wrong part of the race and there is Luger waiting in the wings to fulfil his destiny, along with Giant Treasure's reversion to the shorter trip.