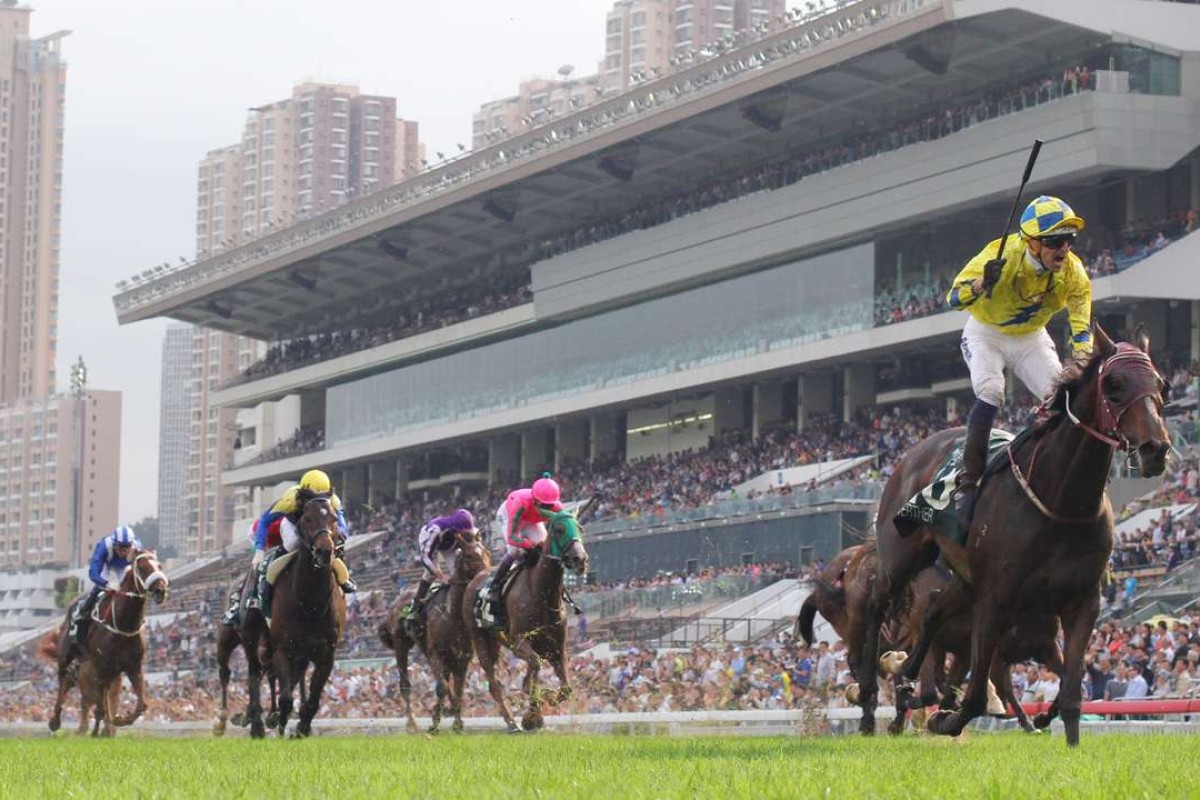 The Japanese challenge for the Audemars Piguet QE II Cup was beautiful chalk pavement art – stunning one minute, vanished the next in a swish of rain and Werther. Hey, it's horseracing. It happens.
You have hundreds of people out there doing their darnedest, seeing in trials or races what they're getting before they own it
That doesn't detract at all from the collective quality that the land of the rising sun sent this way on Sunday, a group that was unlucky enough to strike a yielding track – only 24 races at Sha Tin in the previous five and a half years had carried that rating.
And the proposition still remains that Hong Kong has a job ahead to maintain a terrific international strike rate on home soil on a Group race calendar open to the world from next season.
One of the reasons that Hong Kong racing punches above its weight in the sport of horseracing is the absence of a breeding industry – which also has massive benefits in terms of racing administration but that's a column for another time – and the ownership structure in general.
Hong Kong has more horses and races than it should in the top 50 or 100 in the world from a horse population of 1,200 because owners and trainers get to cherry pick from other places.
Owners, whatever their wealth, are restricted to a handful of horses so they try to make their purchases count.
Of course, there's a not insignificant element of probability to it and nobody is suggesting it's easy to just go out and buy good racehorses but there is real intent. You have hundreds of people out there doing their darnedest, seeing in trials or races what they're getting before they own it, using experienced, expert agents, and mostly they have good money to spend and some even have cheque books which are bottomless. All that effort and purchasing power tilts the probabilities in favour of getting a better than average horse population.
Contrast that with a jurisdiction where stocks come from a breeding industry that churns out thousands of foals a year, and some can run, some die as youngsters, some are born with terrible defects and some can barely stand. This is nature's probabilities at their most raw.
Australian racing whips itself into a frenzy with fines
Once the percentages have weeded out the ones who never get to training, then sorted out the much smaller percentage of those who are healthy enough and can gallop well enough to be proficient racehorses, along comes your Hong Kong buyer attempting to secure a horse from that much smaller group. A majority of them aren't available, for many different reasons, but the point is that the distillation process assists Hong Kong owners, collectively, to have a better starting point for its horse population choices, even if some arrive and develop problems, others fail to cope with the environment and lose their ability to perform.
Yes, all those things happen but the process even to get to that point has a reasonable element of quality control to it so the percentage of good horses here is slightly higher than in the real world.
But that only gets you so far.
It has got Hong Kong to the point of having a strong, talented horse population that punches above its weight – pound for pound – but it does place some limitations on the upper level of that population as a whole.
Pound for pound is a boxing term coined so that one might describe a 50 kilogram boxer as the better of two fighters, even if the other boxer is 100 kilos. But if you put them in the ring together, the bigger, lesser boxer should wipe the mat with the little guy.
The breeding industry jurisdiction is the big boxer, with an advantage that can take it higher overall just by its scale. Just as those thousands of foals can produce a high number of horses which won't do the job, equally it can produce large numbers, if not percentages, of high end horses.
So, when Hong Kong comes along and plucks quite a few of them, that still leaves a large group of talented horses. If there are 1,000 of them, just pick a number, the absolute that Hong Kong can take is the number of permits handed out a year – less than 400 – which still leaves behind a bigger number. And that problem of scale, which helps Hong Kong to read well in proportional terms, is where the headwind lies in opening all the Group events to the world and hoping to compete with, say, a foreign jurisdiction like Japan with almost 7,000 foals registered in 2015.
If the second-tier Japanese – and we're talking fourth, fifth, sixth from Group Ones, not mugs – do begin to decide it looks easier to land that elusive Group One in Hong Kong rather than bang heads constantly with the Deep Impacts, Orfevres, Gentildonnas, etc. of their own world, then Hong Kong's record at home could come under pressure.
Now, we hear you say, that's the same argument that was wheeled out in the first 15 years of international racing here, when many local trainers and owners thought it crazy to put on big money races only to see them consistently stolen away by foreign runners.
That was a short-sighted view as Hong Kong's own better gallopers then still had plenty of room for improvement. The competition equation did play out, people began to find better horses here and Hong Kong became a higher-level jurisdiction fully capable of fending for itself against the visitors that arrived for six international races a year. As it is, the real number is five since, Dominant's flukey success than to Zac Purton aside, the Hong Kong Vase is a foreign-owned concept.
Having climbed to a good level off a modest base, raising that to a whole new standard to constantly defend what will now be potentially 31 international Group races, 11 of them Group Ones for significant stake money, is tougher. At that point, the larger numbers win – it's when the 50kg boxer cops one flush on the jaw from the 100kg guy who doesn't have his style. Pound for pound ceases to matter.
Kudos to Kei Chiong, but don't get carried away – the young apprentice still has a lot to learn
Maybe it won't happen and the Japanese – it isn't restricted to them but, for reasons of geography, they have to be considered the major foreign force – won't take up that opportunity.
Or maybe the saviour will be a breeding industry sprouting in mainland China.
Jockey Club chief Winfried Engelbrecht-Bresges is on record saying there will be a serious breeding industry in China well before any serious racing industry, it's quite logical. There are people with silos of money burning a hole in their fleets of Lamborghinis, just looking for ways to spend it.
Since there is no gambling involved in breeding horses (aside from the blindingly-obvious conclusion that it is nothing else but gambling) then there is no legislative obstacle to going ahead, rolling the dice on a stud farm and importing expensive, top quality stallions and mares. And, unlike Hong Kong, the mainland has oodles of land on which to do it. Maybe we'll see a monster foal crop every year in China supplying top quality thoroughbreds to Hong Kong as back-up for the current processes.
But, even if that happens, it won't be for quite some time yet. In the meantime, if the open international era of Hong Kong works and there is a stream of visitors, will Hong Kong owners go the extra yard (read "bucks") required to fend them off?