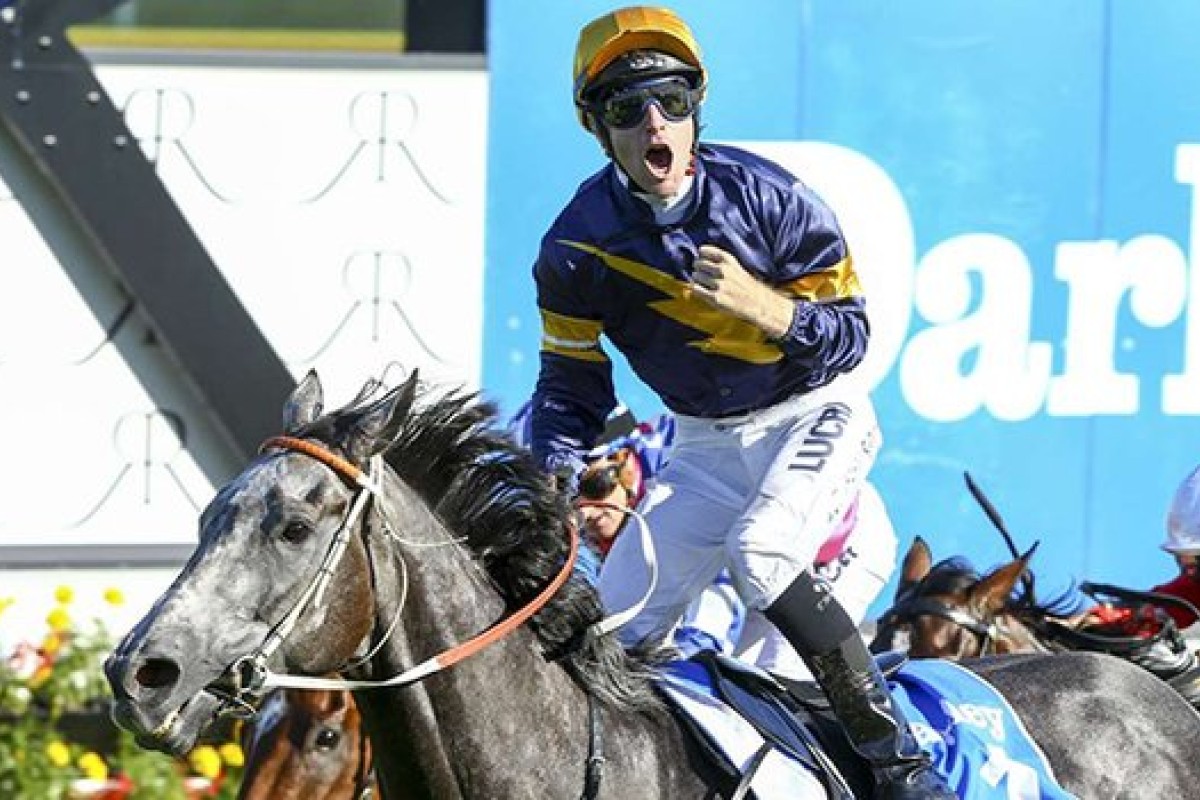 The term "World's Best Sprinter" has become a game of pass the parcel over the past few years, so much so that it has become a running joke on Twitter to be first up with the #WBS hashtag after a Group One sprint – or any old stakes race for that matter – with the claim.
It started when Terravista's trainer, Joe Pride, playfully (we think) declared his speed machine the title holder of the #WBS mantle in 2014. Want to train the world's best sprinter? Just say you do.
But what if the Global Sprint Challenge – you might have heard of it, but maybe not – actually played a meaningful role and the #GSC winner was the #WBS?
Since Pride's #WBS claim, there have been plenty of unofficial title holders, mostly declared by overly enthusiastic pressman, pundits or just blokes from the pub messing around on social media – and that's just from Australia, where racing fans seem to have a particularly strange fondness for claiming their short-course specialists "best in the world".
@PrideRacing hahaha WBS, should get the hashtag going #WBS #terravista @DreamTeamMatt

— Brent Zerafa (@brentzerafa) October 22, 2014
Lankan Rupee had a few turns, then there was Brazen Beau, and now Chautauqua is headed to Hong Kong with the boom attached to his name after an exhilarating win at Randwick on Saturday.
May 1 is when things get a little more real, though, with the Group One Chairman's Sprint Prize shaping as one of the best 1,200m races at Sha Tin in recent memory – and one where the winner could more rightly be declared #WBS.
It's also a race that highlights the inadequacies of the Global Sprint Challenge in its current incarnation. This is a series that in more than 10 years has never had a winner – it just carries a big US$1 million bonus for completing an incredibly difficult task, that of winning three Group One sprints in three different countries in the space of a calendar year.
Not only is it too hard, the bottom line is that it doesn't actually fulfill its purpose, which is – or at least should be – to incentivise the connections of top-class sprinters to travel and thus help to strengthen each of the series races.
After the demise of Singapore's KrisFlyer Sprint, the Chairman's Sprint Prize was shifted back in the calendar to fill the void as the fourth leg of the Global Sprint Challenge – a move which came after an increase in prize money to HK$10 million and elevation to international Group One status.
In less than 12 months, the Chairman's Sprint Prize has transformed from a Hong Kong Group One, restricted to locally trained gallopers, to an international Group One open to allcomers – and judging by the projected field, it sits perfectly on the calendar between Dubai and Royal Ascot.
When the field is released on Wednesday, it is possible that it will include the world's top four highest ranked sprinters for the first three months of 2016 – Aerovelocity, Not Listenin'tome, Chautauqua and Ertijaal – along with possible equal fifth Japonisme, who is set run at Randwick this weekend.
Those rankings were for races run between January 1 and March 6, so it doesn't include a standout Al Quoz Sprint win from Buffering, an underrated horse who never seems to attract a #WBS hashtag, despite having the obvious advantage of being Australian.
The folly of rankings, of course, is that they are basically just opinions – maybe based on weights and measures, but above all subjective and, at worst, highly politicised.
The highest ranked sprinter in 2015 was miler Able Friend, based on a single, admittedly jaw-dropping, run with a big weight in a Group Two at Sha Tin. A sprinter, though, he ain't.
"Series racing" hasn't worked in the past – we've been there, done that, with the quickly forgotten Asian Mile Challenge and Emirates World Series.
Before we get too far ahead of ourselves with how a rejig of the Global Sprint Challenge could help, have a quick Google of those two demised series – they were put in the "let's never talk of this again" basket by officials a decade ago.
Sprinting might be the only category where a series can work though, as the best sprinters are more likely to travel for a start, and there isn't a single sprint race that stands above all as the place to be – it's a more fluid category. If you have a 2,000m-plus horse and want to prove it is the best, all roads lead to Longchamp (or this year, Chantilly) in early October.
Sprinters don't require the same ground work to be ready and, once up and running, can be put on a plane on short notice and still compete well.
It is unlikely that Mongolian Saturday would be Sha Tin-bound, as he is, if the horse was a stayer after suffering a bout of travel sickness and missing World Cup night in Dubai.
So how do we fix the #GSC and get a proper #WBS?
Maybe it won't be ground-breaking, but there is a simple solution to making the Global Sprint Challenge more effective – declare a winner each year. Well, duh, you might say, but what about this one? Give them a prize! There you go, that wasn't so hard.
Instead of dangling a bonus that has become so out of reach that it doesn't even seem worth talking about, points could be awarded for each race, give bonus points for away wins and keep a bonus component attached for taking three races.
Between 2010 and 2013, two of the greatest sprinters of the modern era had careers run parallel in opposite hemispheres – Black Caviar in Australia and Lord Kanaloa in Japan. It's no fault of anyone, but racing missed a golden opportunity to see them matched against each other.
Singapore's Rocket Man chased the bonus money in Japan and Hong Kong in 2011 after wins in Dubai and his home town, and the greenbacks were there for Aerovelocity's taking in last year's Hong Kong Sprint before a heart irregularity in the Premier Bowl cost him his chance.
2006 was the closest a horse has come to clinching the elusive bonus when Takeover Target turned up in Hong Kong with a chance to clinch it, but was withdrawn with a positive swab. Back then, there was a point score – as there still should be – with the Hong Kong Sprint a worthy finale to 12 months of racing.
Prestige still trumps prize money in racing and if the list of GSC winners included names like Black Caviar, Lord Kanaloa and Takeover Target, maybe it would mean something more – and, heaven forbid, it could be something of which the influential breeding giants would take note.
What we could have with a more functional Global Sprint Challenge is a more concrete measure – not necessarily a definitive measure of who is best, but at least a title that conclusively ends all arguments of "who's better?" in the right place: on the track.