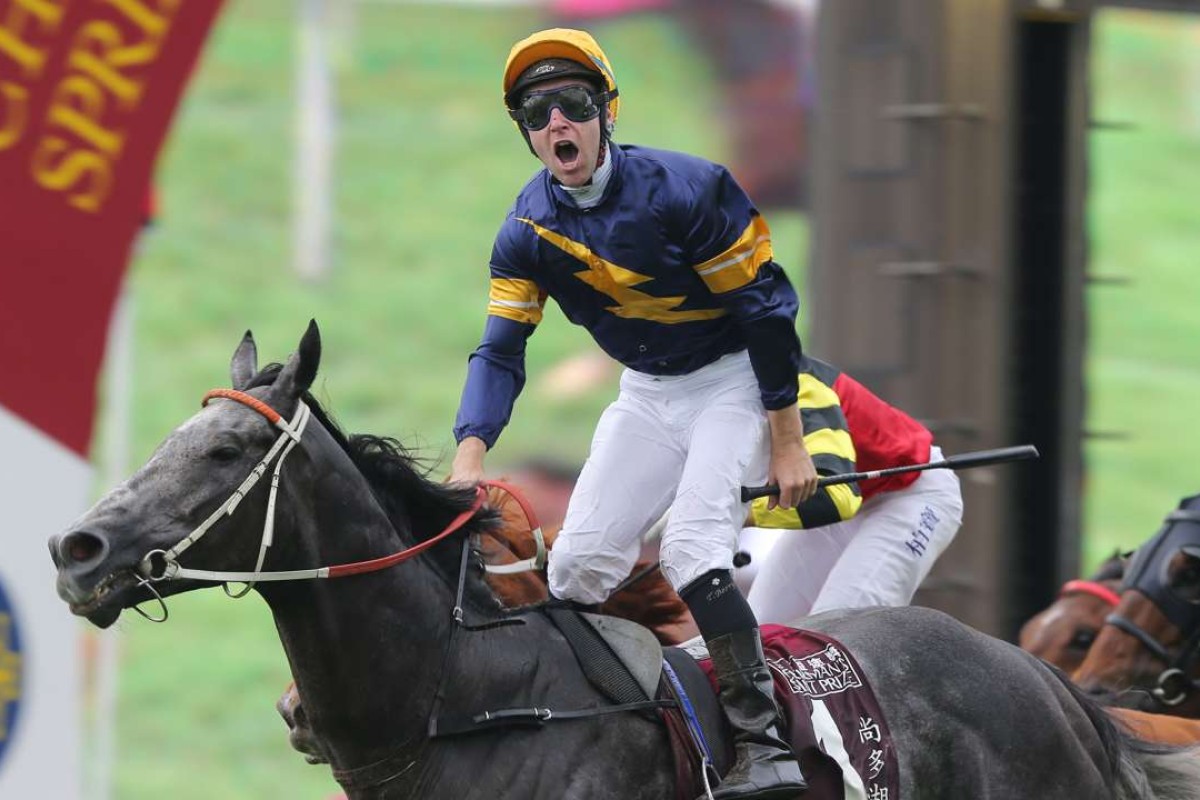 When the Aussie assault on the Chairman's Sprint Prize cleared, the world's best sprinter tag was finally hanging off Chautauqua's neck with an air of permanence but co-trainer Michael Hawkes said the grey might even be back in December in a different role.
WATCH: Chautauqua shows his class with a last-to-first victory
"We've always said he would run a mile – so you never know, you might see him back for either the Mile or the Sprint," said Hawkes, regathering himself after an unsettling preliminary when Chautauqua (Tommy Berry) twice pulled off the same shoe, then the usual unsettling wait, then more burst of lightning as the five-year-old swamped his competitors late.
"It's the way he does it – he shouldn't have won, he was off the bit chasing, but that's what champions do. To think he's only a five-year-old, and hopefully we're going have to him for a couple more years like this. This horse does ridiculous things, we've always known he was up with the best and he's proved it today."
Last to leave the gates, Chautauqua never travelled easily following a scorching pace and Berry said that was what concerned him in running.
"Horses that don't get on the bit usually don't finish races off, so I was more worried about that than how far back I was," Berry said. "We anticipated good speed but even pulling up, Brett Prebble said to me he didn't think he'd been in a race where they've gone that hard. That's where this horse is special, he still picked himself up and finished it off."
It was Prebble who had gone clear at the 200m on Lucky Bubbles, hoping to get enough of a break to hold off the inevitable finish of the grey, but the steamroller arrived at the 100m and Australia claimed its first ever Group One on Hong Kong soil.
Whether he's back for the Sprint or not seven months from now, the choices this morning were all about sprinting, with Australian quarantine regulators requiring a decision on whether Chautauqua continues to Royal Ascot now or returns to Australia.
"Because of the transport arrangements and quarantine protocols, we have until 9am Monday to declare what we're doing," Hawkes said. "We wanted to get through today before we made that decision, but I guess now that he has won we're going to have to hire a top hat and tails."
The win gives Chautauqua two legs of the Global Sprint Challenge (GSC) in two different countries, setting up the possibility that, if he can win before the Queen, the GSC might be won for the first time in its decade-plus history.
Anything on the hot pace melted but Lucky Bubbles, coming from midfield, was brave and offered promise of a competitive return bout one day if his summer spell can see him develop physically.
"I'd love to see him fill out a bit," said Prebble. "He never gave up today and the winner wasn't getting away on him, but to go to the next level, Lucky Bubbles needs to strengthen a bit more."
The Hong Kong four-year-olds largely pointed to a bright future, with Lucky Bubbles, a bold third from Strathmore and John Size-trained Amazing Kids desperately held up before his fifth. Only his stablemate Thewizardofoz disappointed.
"Maybe it came a bit soon for him, we'll see how he pulls up," Size said. "Amazing Kids was unlucky – how unlucky is hard to quantify but definitely unlucky not to be closer."
The flipside of the Aussie triumph came with the post-event report on Chautauqua's compatriot, Buffering, with trainer Rob Heathcote saying immediately after that the eight-year-old might have gone "over the top" after a tough campaign but vets later reported he had blood in his trachea and was lame in one leg.