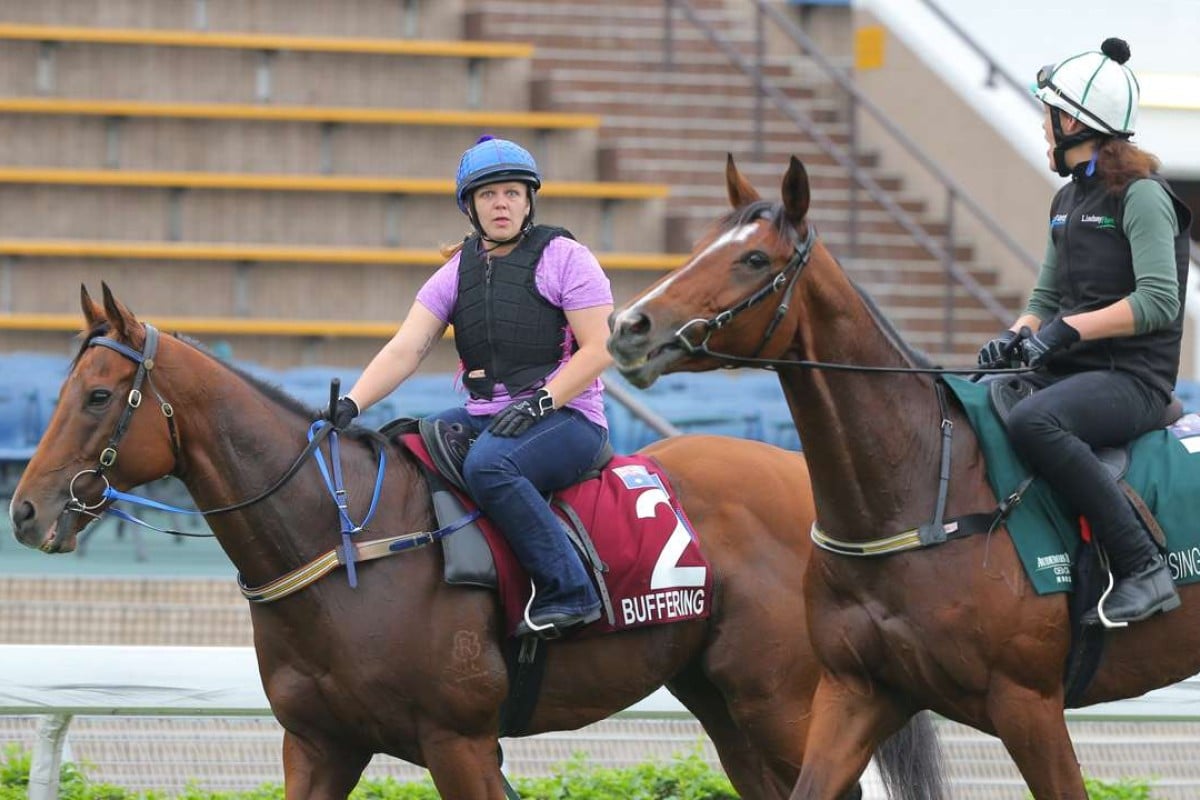 For horses used to the hustle and bustle of a busy racing stable, the Sha Tin quarantine barns can be a lonely, desolate place, an exercise in isolation.
This week, they are a hive of activity by their standards, but there is still not the same action and movement as generally occurs in a stable.
The quarantine area is the setting for one of the most unlikely stories to emerge from the build-up to Sunday's Audemars Piguet QE II Cup – the blossoming friendship between Australian QE II runner Rising Romance and Chairman's Sprint Prize contender Buffering
These barns typically would get very little airtime at all. And yet, the quarantine area – a fairly dull place at the best of times – is the setting for one of the most unlikely stories to emerge from the build-up to Sunday's Audemars Piguet QE II Cup – the blossoming friendship between Australian QE II runner Rising Romance and Chairman's Sprint Prize contender Buffering.
It's a complete odd couple in racing terms – the old veteran Buffering, finally finding his peak form at eight years of age, coupled with a younger woman in Rising Romance, a mare who looks beyond her best but arrives in top shape.
They had never raced at the same meeting, never crossed paths. Sure, they may have passed each other on the training track when both were stabled at Flemington during carnivals, but for the most part they were like ships in the night, two of hundreds of gallopers on any given morning.
Rising Romance, who began her career in New Zealand, is these days stabled at the Euroa farm of trainers David Hayes and Tom Dabernig. As for Buffering, he is based up in Brisbane, at the Eagle Farm stables of handler Rob Heathcote.
For those unfamiliar with Australian geography, it's like the distance between Los Angeles and Denver, or between London and Rome. Same country, different world.
Yet fate has brought them into the same stables, and they have hit it off instantly. The old hand Buffering has been a rock for first-time long-distance traveller Rising Romance, and both look to be thriving because of it.
It's not quite Romeo and Juliet, not Mark Antony and Cleopatra – probably for the best, given all four committed lust-filled suicide – but it is a quirky tale that has added a bit of interest to the Sha Tin spring features.
It's a romance that will never be consummated in the breeding barn – Buffering is a gelding, after all – but it is a story for the ages. And the Twittersphere has gone wild.
Buff getting friendly with he's stable mate Rising Romance#Lovers #MakingFriends #GoTheBuff pic.twitter.com/0u6i58ukc0

— Melly Sharpe (@MelanieSharpe20) April 17, 2016
The love birds walk to paddock schooling - Rising Romance & Buffering inseparable since met in Sha Tin quarantine pic.twitter.com/37NLXsf06e

— scmpRacingPost (@SCMPRacingPost) April 20, 2016
Rising Romance looking around for Buffering...she's a bit lonely by herself! pic.twitter.com/0FLP0JNNog

— Andrew Hawkins (@AndrewNJHawkins) April 21, 2016
And Buffering is an absolute dude. His fling with Rising Romance is cute. I'd love him to win just so I can shout #UpTheBuff

— Harriet (@HattieLFuller) April 20, 2016
#Buffering & #RisingRomance after some easy exercise at a wet #ShaTin today. #APQEIICup pic.twitter.com/gkv2j7utYU

— David Morgan (@TheMorganGrind) April 18, 2016
In honour of the love story between Rising Romance and Buffering, here are three other odd couples in racing that came to mind.
JARDINES LOOKOUT AND HENRY
Who could ever forget English stayer Jardines Lookout and his Shetland pony mate Henry?
When Alan Jarvis-trained Jardines Lookout arrived in Australia in 2002 to contest the Melbourne Cup, he was overshadowed by some of the big guns in world racing – but also by Henry. As SCMP racing editor Alan Aitken wrote from Melbourne in the days before the 2002 Melbourne Cup in labelling him a household name: "A raging cult of personality has grown up around Henry, a baldy-faced, eight-hands high Shetland pony and the permanent travelling companion of Jardines Lookout."
Given to Jarvis by his daughter, he became a perfect match for an already nervous Jardines Lookout, so much so that he was credited with the stayer finding form after looking a mere handicapper. So when the Melbourne Cup became a legitimate target, it only seemed natural that he would make the trip too.
It wasn't a cheap exercise, though, with connections having to pay twice to send Henry on the trip. But Jarvis went so far as to say they wouldn't have made the trip without Henry for it would have been a futile effort to send Jardines Lookout to the races without the Shetland as company.
The son of Fourstars Allstar could only manage seventh behind Media Puzzle, but the pair returned a year later, much to the delight of the Australian public. And when Jardines Lookout managed to sneak into third behind Makybe Diva, the expensive journey suddenly seemed worth it.
Up until Henry's death in 2009, they remained, in the words of Jarvis, "the firmest of friends". For the full Jardines Lookout and Henry story, read this background piece by Costa Rolfe.
CHANCE BYE AND UNNAMED ROOSTER
Ask SCMP racing reporter Michael Cox – he of Happy Lucky Dragon Win fame – who his favourite horse is, he will tell you it was the little Kembla nugget who defied the odds in Chance Bye.
A precocious two-year-old who was out of tickets by the time she turned three, she was a favourite for the Golden Slipper at one point, defying her status as a cheap buy with little in the way of a pedigree page.
There were so many elements – the colourful, knockabout trainer Mick Tubman, the underdog story, the very sudden rise and fall. But one which always comes up is the "relationship" between Chance Bye and a rooster who, as Tubman's late wife Kate attested at the time, arrived in the stables the same day as the filly.
Was there actually a relationship there? Who knows. But it was a perceived relationship and so it jumps onto this list.
By the time of the Golden Slipper, the rooster – who was unnamed, except for the highly original moniker of Rooster – had received more attention than half the thoroughbreds who made up the field. Unfortunately for Chance Bye, the rooster didn't bring luck when it counted as the Snitzel filly could only finish ninth to Crystal Lily.
She had five more starts as a three-year-old, placing once, before she was retired to stud. As for the rooster, his 15 minutes of fame came to a halt very quickly.
ELDAAFER AND GOOGLE, YAHOO
Goats are a common companion for highly strung thoroughbreds, credited with calming them down and acting as a distractor.
There is that hilarious scene in the film Seabiscuit where the galloper flings a goat out of the stable.
But for 2010 Breeders' Cup Marathon winner Eldaafer, there is no goat flinging, no intimidation. He relies on the companionship of two goats, Google and Yahoo.
They were instrumental in keeping him calm during his racing career, and it was said it would have been impossible for him to reach the heights he did if not for their presence.
In fact, they were so ingrained in his everyday routine that when he retired to Old Friends Farm in Kentucky in 2014, he was joined by Google and Yahoo. Today, all three of them are a popular part of the farm's tours.
Eldaafer Google & Yahoo strut their stuff. Rumor is Google has some serious speed. #goatderby Photo Tim Wilson pic.twitter.com/UdwAJx78Zu

— Old Friends (@Oldfriendsfarm) March 24, 2015