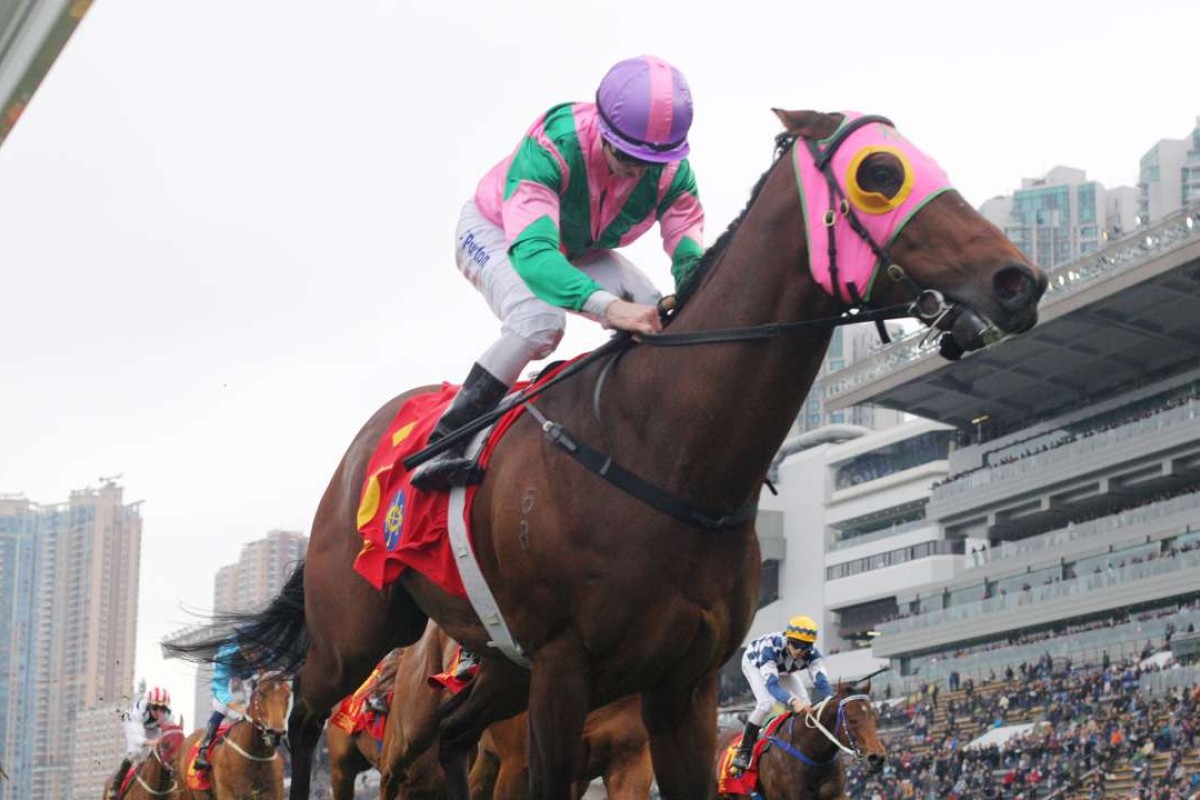 October 1 signals the start of the feature races for each season and the Group Three National Day Cup (1,000m) and Group Three Celebration Cup (1,400m) kick things off.
Plenty of nice horses will resume on National Day but it seems a growing trend that trainers keep the powder dry for later in the month, and the Group Two races – the Premier Bowl and Oriental Watch Sha Tin Trophy.
We've picked out the five most fascinating horses ahead of the first Group races of the season.
AEROVELOCITY
Trainer: Paul O'Sullivan
Rating: 126
Resumes: Group Two Premier Bowl, October 23
So often the forgotten horse when it comes to the never-ending #WBS (world's best sprinter) debate, Aerovelocity only ran three times last season due to a variety of ailments including a heart irregularity and a case of colic in Japan. Eight-year-old sprinters with his type of big-race résumé don't usually have much left to give, but has far as miles on the odometer go, Aerovelocity hasn't been over-taxed with 20 local starts. Even better those starts have been mostly well-spaced and the gelding was spared the usual crazy four-year-old campaign aimed at the Hong Kong Derby that many of his type are subjected to.
Aerovelocity's trial on Friday showed the son of Pins is back to his usual self, personality-wise at least – towing his handlers up the tunnel, like a bomb ready to explode, before trialling with his ears pinned back to his neck – out in front on the all-weather track.
As Aerovelocity showed in his sole win last season in January's Group One Centenary Cup, when on his game, few horses go toe-to-toe with this street fighter and come out on top.
RAPPER DRAGON
Trainer: John Moore
Rating: 114
Resumes: Group Two Oriental Watch Sha Tin Trophy, October 23.
Rapper Dragon finds himself in a rare situation – a Hong Kong Derby-eligible horse with a rating that puts him squarely in the feature race frame. When Moore's reigning horse of the year Werther went down with a pre-season injury, the trainer sought to fill what he felt was a void at 2,000m with Rapper Dragon and announced the Australian import would be aimed at the Group One Hong Kong Cup. The Derby is the race every owner wants to win in Hong Kong, and as such very few four-year-olds are aimed at the December showpiece. The question isn't so much whether Rapper Dragon's form stacks up against the current middle distance crop – which looks a little shallow – but what happens in the new year, when brought back against his own age group. That Derby path could prove every bit as tough with last Sunday's winners Pakistan Star and Jing Jing Win looking like stars of the future, and Moore's own imports that are yet to hit the track. They include Beauty Generation (ex-Montaigne), Queensland Derby one-two Rodrico and Eagle Way (neither of whom have been "Lucky Dragoned" and renamed as yet), plus, from Europe, beaten Britannia Stakes favourite Out And About.
LUCKY BUBBLES
Trainer: Francis Lui Kin-wai
Rating: 126
Resumes: Either Group Three National Day Cup (1,000m), October 1, or Group Two Premier Bowl (1,200m), October 23.
One of racing's well-worn cliches handed out by trainers is "this horse has come back from a spell bigger and stronger" – but in Hong Kong we get the benefit of putting them on the scales and getting a number to see if the spin is right. Physical development has been cited as key all throughout Lucky Bubbles' impressive rise through the grades – trainer Francis Lui Kin-wai and regular jockey Brett Prebble both believing that the son of Sebring could benefit from a few more pounds of muscle. Couldn't we all? Trouble is, as age advances it becomes less likely to put the right type of weight on and now five, Lucky Bubbles might just have to play with the hand he was dealt genetically.
A big win in the Group Two Sprint Cup put Lucky Bubbles on a mark of 121 before a second to Chautauqua in the Group One Chairman's Sprint Prize blew the rating sky high. A rating of 126 means handicaps are going to be no fun anymore and Lucky Bubbles will need to take the step up.
Something to watch with Lui's speed machine, if the local Group Ones become too tough: could the Group One Golden Shaheen be an option? Lucky Bubbles flies on the all-weather track so Meydan in March could become an enticing target.
THEWIZARDOFOZ
Trainer: John Size
Rating: 111
Resumes: Unknown, yet to trial this season.
Remember this guy? The one-time boom prospect, 2014-15 champion griffin and everybody's early 2016 Hong Kong Derby pick had his bubble seemingly burst last season – but he still has some big fans. First he didn't get a trip when everybody thought he would in the Hong Kong Classic Mile, then suffered another setback when brought back to sprint distances and in the end didn't make an impact when starting third favourite in the Chairman's Sprint Prize. Let's see what Joao Moreira does – it was a huge vote of confidence in Thewizardofoz's ability that the Brazilian jumped off Hong Kong Sprint winner Peniaphobia for the ride, it will be interesting to see if he stays the course whenever the now five-year-old returns. No doubt injury held this beautiful mover back from showing his best last season, but close to three months worth of rest at the end of last season should see the son of Redoute's Choice back to his best when he resumes – this time probably focussed more on sprints.
ABLE FRIEND
Trainer: John Moore
Rating: 138
Resumes: Possibly Group Two Jockey Club Sprint, November 20.
This is the real wild card – from the horse everybody was scared of 12-months ago, Able Friend could still be a spanner in the works for some high profile rivals. During the pass the parcel that was the World's Best Sprinter (#WBS) argument in 2015, it was often forgotten that the big chestnut held the official title – his rating in the 2015 Group Two Premier Bowl putting him top of the list for the category. It has already been 10 months since Able Friend last raced, it is likely to be a full year between starts when he finally gets into the starting gates – and when he does it is likely to be over 1,200m.
Able Friend fine, but new path might be needed as he heads to Hong Kong Mile
The date Moore has pencilled in is November 23 and the Group Two Jockey Club Sprint – but given the manure-truck-inspired set-back already suffered since returning to Sha Tin, that could easily become three weeks later and the Group One Hong Kong Sprint on International Day.