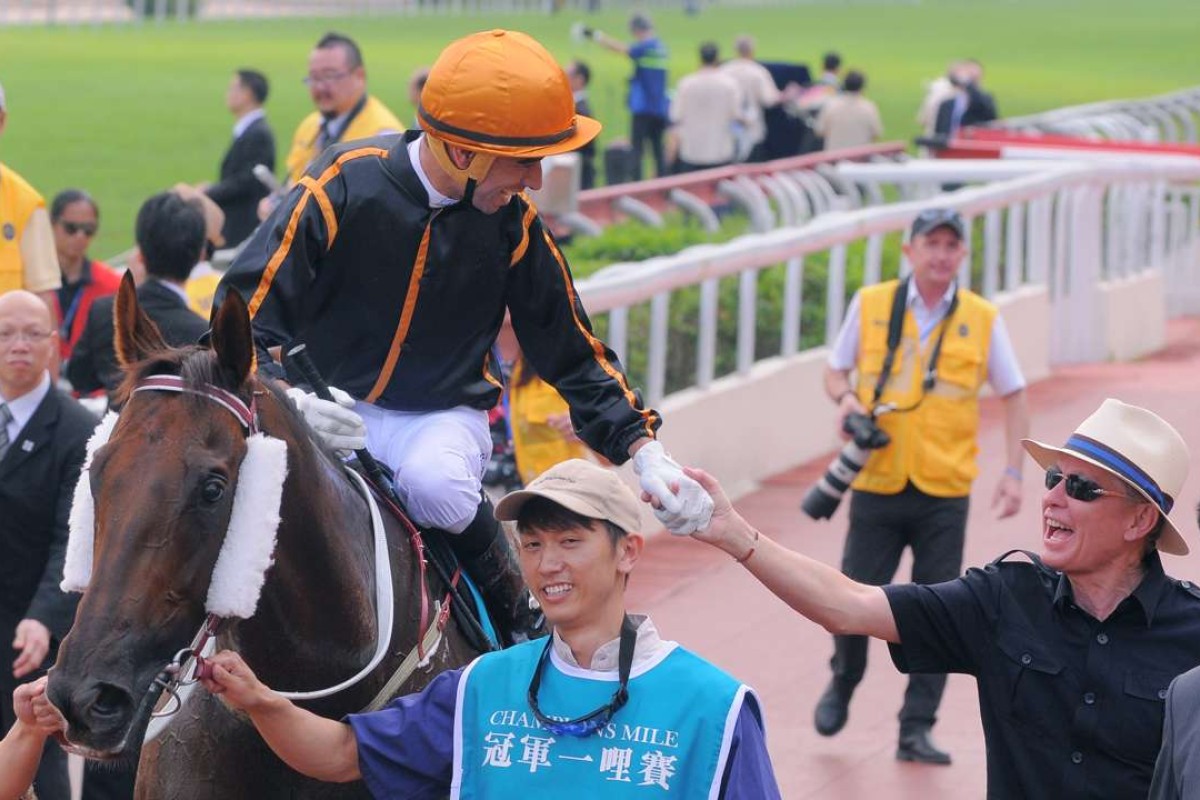 Champion galloper Able Friend's path to the HK$23 million Longines Hong Kong Mile in December has a low-key, belated start this morning when trainer John Moore will assess whether the seven-year-old is ready to start his preparation proper.
"He's walking fine, he went for a swim yesterday and I'll trot him up in the morning and see if he is ready to start working," Moore said on Friday.
The big gelding's lengthy recuperation from a serious hoof injury in Australia has kept him sidelined all of 2016 so far and he suffered his latest setback after being frightened by a truck passing near by as he trotted in quarantine earlier this month.
Able Friend ditched his rider and got loose, breaking through a plastic railing and cutting his elbow on the broken edge of the rail.
"It was no different to a footballer getting a good kick – not serious in itself however it has set me back three weeks with his preparation," Moore said. "More a nuisance than anything major but it looks like our plan to run first-up in the Premier Bowl on October 23 is now unlikely."
At each of his two tilts at the Hong Kong Mile – when successful in 2014 and when beaten last year by Maurice after his hoof injury flared up in the race – Able Friend has had a two-race programme with the Premier Bowl then the Jockey Club Mile before international day.
"I'd say now it looks more likely that he would run first-up in the Jockey Club Sprint then straight into the Hong Kong Mile three weeks later," Moore said.
Moore hopes the sole sprint lead-up would still be sufficient to have Able Friend ready for the Mile and has taken some comfort from the indications that Japanese star Maurice will this time target the Hong Kong Cup over 2,000m instead of the Mile.
Moore manure: horror day for leading trainer as Able Friend escapes major injury before string of favourites struggle
And he said he hasn't considered the option of the Hong Kong Sprint, worth HK$4.5 million less but over 1,200m, if the Mile looks to be coming up to soon. Able Friend was ranked the world's top sprinter at one stage last season after his stunning victory in last year's Premier Bowl.
"No, I haven't thought about that and whatever path we take, any changes, obviously must be approved by his owner Dr Li (Cornel Li Fook-kwan)," Moore said. "At this stage all I'm looking at is getting him back to work and then we'll know where we're going."
Moore said he is just starting to crank up the work for his other leading international aspirants, including Designs On Rome, Victory Magic and Rapper Dragon, with an eye to them resuming in the Group Two Oriental Watch Sha Tin Trophy on October 23.