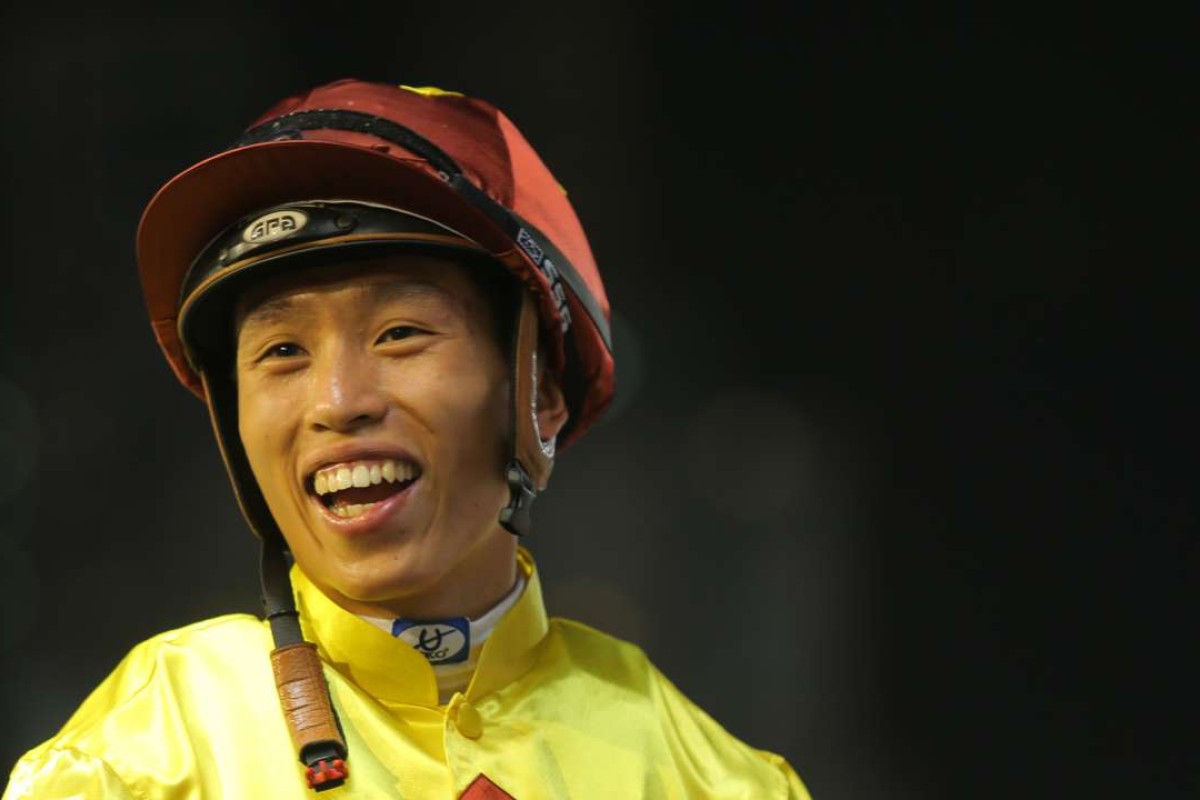 However many races and whatever awards Chinese jockeys win, the final frontier for locals is, and always has been, fending off the ever-advancing foreign legion and riding Hong Kong's best horses in the biggest races.
Make no mistake, Vincent Ho Chak-yiu gaining the ride on last season's champion sprinter Peniaphobia in next weekend's Group Two Premier Bowl is as significant a breakthrough as the 26-year-old riding in the International Jockeys' Championship two years ago or claiming the leading freelance rider award at the end of that season.
Tony Cruz grants Vincent Ho the chance to partner sprint star Peniaphobia in Premier Bowl
Most Chinese jockeys must feel like warm-up riders, Formula One practice drivers or, even worse, crash test pilots, given the standard of chances they get in some races.
It seems part of the accepted culture of Hong Kong racing that the local boy gets the hook in favour of the big gun when the Group races roll around.
The jockey Ho has replaced on Peniaphobia, Matthew Chadwick, is of course Chinese – but really he stands alone in the current group as a local rider that can keep a high profile horse; he rode California Memory to two straight international day victories and has been aboard in plenty of big races.
Still, Chadwick is a special case, and breaking through the "glass ceiling" came courtesy of a whirlwind, record-breaking apprenticeship and his support from trainer Tony Cruz – the last, and only, truly great "local" jockey.
If we are splitting hairs (albeit immaculately maintained and magnificently coiffed hairs), Cruz is actually Macanese, but forget that – six championships as jockey and two as trainer has made him a God with Hong Kong fans, and he was classed as a freelance rider.
The award for leading local rider is now named after Cruz – a fantastic initiative and all, but it's almost tokenism compared to the cold hard reality when it comes to real recognition; that is, who gets the gig when it really matters?
Usually it's a case of "step aside kiddo, it's Group One day and we are getting (insert big name jockey's name here) to ride".
It may seem odd that locals are discriminated against in their home jurisdiction – but not only are the visiting riders highly credentialed – they carry some extra cache too.
Walking into the parade ring with your race day entourage to meet your gun-for-hire rider is a big deal and taking hero selfies with Moreira, Ryan Moore or Hugh Bowman can be as much about the all-important concept of "face" as winning the race.
Also eating into the local landscape is the fact that more foreign riders can ride light, Moreira leading the way as he walks around weighing 115-pounds and eating whatever he wants; at least Chinese riders used to have the luxury of having less competition for rides down at the bottom of the weights.
Now despite that ever-increasing level of lightweight talent around them the tide could be turning with a Generation Y-led fight back.
Last weekend's Group Three National Day Cup saw the top two great chances, Peniaphobia and Amber Sky, steered by Chadwick and Keith Yeung Ming-lun respectively, and now Ho steps up to replace Chadwick in the Premier Bowl.
Add to that Derek Leung Ka-chun riding Danny Shum Chap-shing's Lucky Year in the same race and it is a respectable showing for the former classmates – whose era also includes Chadwick (26), Yeung (28) and Ben So Tik-hung (29).
The challenges Kei Chiong Ka-kei faces – not to mention a double glass ceiling, that of being Chinese and female – are well documented, but her overwhelming popularity and fighting spirit should carry her a long way, and 22-year-old Jack Wong Ho-nam seems to have made huge strides this season under the guidance of Felix Coetzee.
KK has even been given rides in a few Group races now, despite the 23-year-old's claim not allowed to be utilised in those races.
Ho's big race appointment and Howard Cheng Yue-tin's long suspension might at first glance look unrelated, but the events mark a generational shift – to put it bluntly, it could be seen as a case of out with the old and in with the new.
Career of Hong Kong's top Chinese jockey, Howard Cheng, appears doomed after latest heavy ban
Cheng's riding has been in the crosshairs of stewards and the charges laid on Friday certainly speak to a dark and hopefully ever-dimming past of racing in Hong Kong.
There are places on the jockey roster reserved for graduates of the Jockey Club apprentice school, but there was a view expressed by some not so long ago by some, albeit mostly privately, that protection for local jockeys could one day be "phased out" – that a roster should include the best riders available, regardless of race.
Hong Kong racing thrives on diversity, but it also needs its local heroes – that's the challenge laid out to the latest group of up and comers.
Moreira's arrival shook things up for locals – and there were two ways they could go, accept their lumps and be consigned to ride 100-1 shots forever more, or come out fighting.
It's an uphill battle but thankfully this group have chosen the latter.