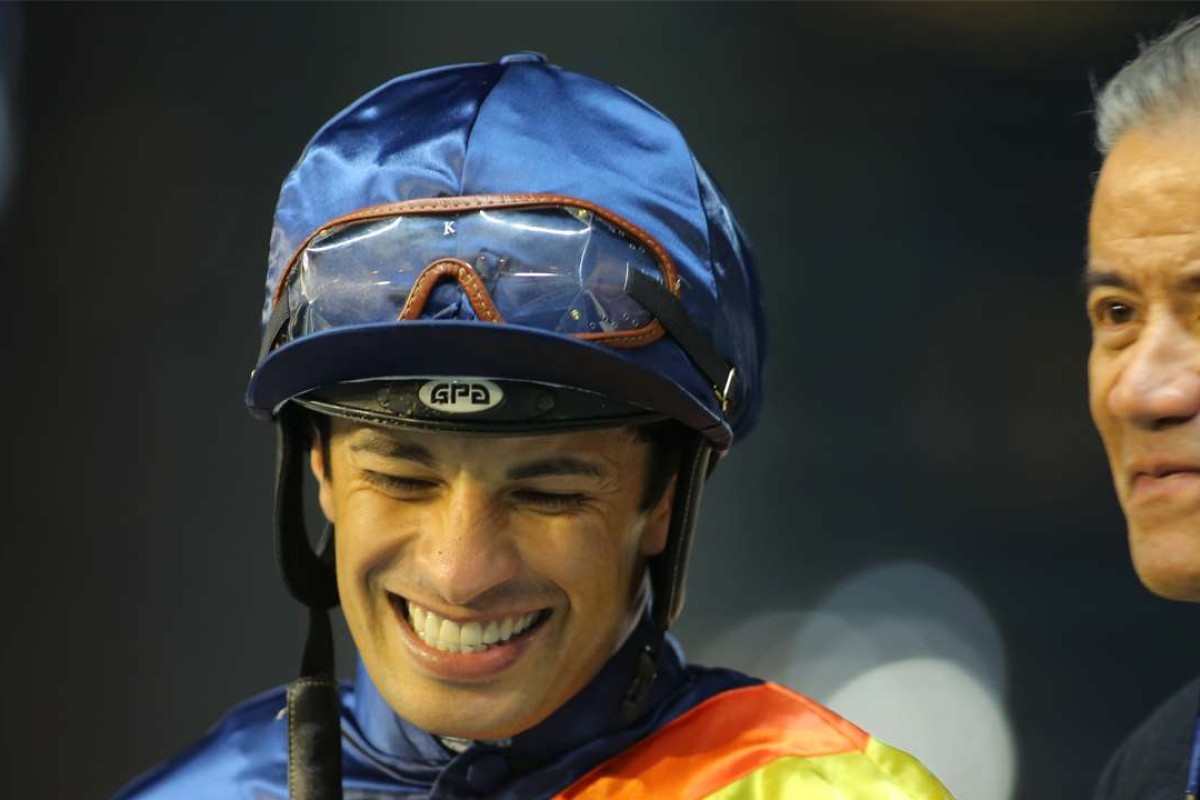 Sometimes there is just too much going on in one day or an upcoming weekend to stick to one topic or even link them tenuously, so we've leant back on that favourite sports writer past time, the "five things" template, five pretty random things, but still, here goes.
THE "GAME CHANGER" IS HERE
You may have thought Silvestre de Sousa shook things up last season but his strong book of rides on day one of his winter stay, including live chances in the features, indicate "the other Brazilian" is back for even more this time around.
Eight rides for SDS include the John Size-trained stars Sun Jewellery and Amazing Kids – not only great winning hopes under handicap conditions on Sunday at Sha Tin, but fantastic rides moving forward to the big races on international day.
De Sousa rode a phenomenal 16 from 104 rides during his last stint, which might not seem that great on paper, but it was the impression created that mattered. Also for the sake of perspective, this was at a time where the jockey roster was full and at its strongest, with Ryan Moore a visitor during much of that time period and also demanding attention from owners and trainers.
This time de Sousa is here for longer, starting more than two months earlier than last season and arriving at a time when jockey numbers are on the low end of the scale.
The support of a heavy hitter like Size says it all, de Sousa is popular with the people that matter and it's not that bold a prediction to say he will make an even bigger impact numbers-wise than last term.
IS RAPPER DRAGON THIS SEASON'S WERTHER FOR JOAO MOREIRA?
Of all the "bad decisions" Joao Moreira made last season – that is, horses he chose not to ride going on to win races, perhaps Werther is the one that stings most for the Magic Man.
Moreira had ridden Werther in two excellent trials for trainer John Moore but when it came time for the horse to debut on international day, he opted to ride Ishvara for Benno Yung Tin-pang.
Visiting Australian jockey Hugh Bowman swooped on the ride, and of course returned for two more Group One wins – including the 2016 BMW Hong Kong Derby. Werther went on to win horse of the year, Ishvara is still stuck at the bottom of Class Two.
It's not hard to draw a parallel with Werther and Rapper Dragon, another Moore horse Derby-bound and already with the rating that will see him safely in the field.
This time Moreira has already ridden Rapper Dragon at his last five starts, including three wins on the bounce at the end of 2015-16. Come Sunday, Zac Purton will ride Rapper Dragon, who will be set for the Hong Kong Cup before beginning his Derby campaign through the four-year-old series.
SPARE A THOUGHT FOR THE 'TWEENER
Plenty has been made about Pakistan Star's handicapping but it isn't just the progressive young horse that can get caught in ratings hell.
Packing Pins looks a horse that isn't just stuck in between being a sprinter and a miler, Ricky Yiu Poon-fai's six-year-old may have also missed his chance at handicap level.
To be fair, Packing Pins was beaten a head in a Group Three carrying 125-pounds but a third to Japanese monster Maurice in the Champions Mile elevated his rating to 121 and he is now giving some talented and exposed horses weight.
Packing Pins has probably also paid his way, collecting HK$8million so far – so some would say he is entitled to have a lofty rating, which was dropped one point to 120 after two unplaced runs to start the term.
Still, how is Packing Pins giving four pounds to a horse like Sun Jewellery? Sun Jewellery is twice a winner in age-restricted Group Ones and scored in a Group Three winner late last season.
The trouble for Packing Pins was the third to Maurice – he was caught in an international ratings crossfire and the handicapper was forced to bump up his rating to measure with the winner's. Now Yiu is in a tricky situation with a horse that will battle at handicaps but a long way off the best at set weights.
RAMIFICATIONS OF TYPHOON HAIMA
So Joao Moreira and Sam Clipperton had their permission to travel to Australia for Group One rides revoked, and stewards were left with little choice really, but what does this mean for the future?
Grounded: Typhoon Haima forces Joao Moreira and Sam Clipperton to abort their Aussie adventure
Even if typhoons of this nature are relatively rare, surely there is a seed of doubt in the minds of connections of horses aimed at big races in Australia. Looking further ahead, could restrictions placed on jockeys travelling aboard entice big names to look for opportunities elsewhere?
MORE TYPHOON AND WET WEATHER TRIBUTES
It has been well-documented what a fantastic job Jockey Club staff did to hold the Happy Valley meeting on Wednesday under such trying conditions. With more than 170mm of rain on race day and unbelievable scenes across the city as the black storm let loose, it was remarkable the meeting went ahead at all, let alone the racing surface end up being rated good.
Unbelievable for Happy Valley to take over 300mm in 48hrs and still race last night what great work the staff do for @HKJC_Racing

— Neil callan (@neilcallan78) October 20, 2016
Some of the vision of flash flooding was stunning, but as the Twitter tributes flowed in, there was one pic that stood out from former Jockey Club race caller David Raphael that said so much about the "show must go on" nature of racing in Hong Kong.
Talk about dedication, this bloke won't let a bit foot-deep, pesky flood water stop him from what needs to be done on a Wednesday afternoon – doing the form for Happy Valley at a Starbucks. Let's hope it was the SCMP's Racing Post he was reading and that he found a winner, he deserved to.