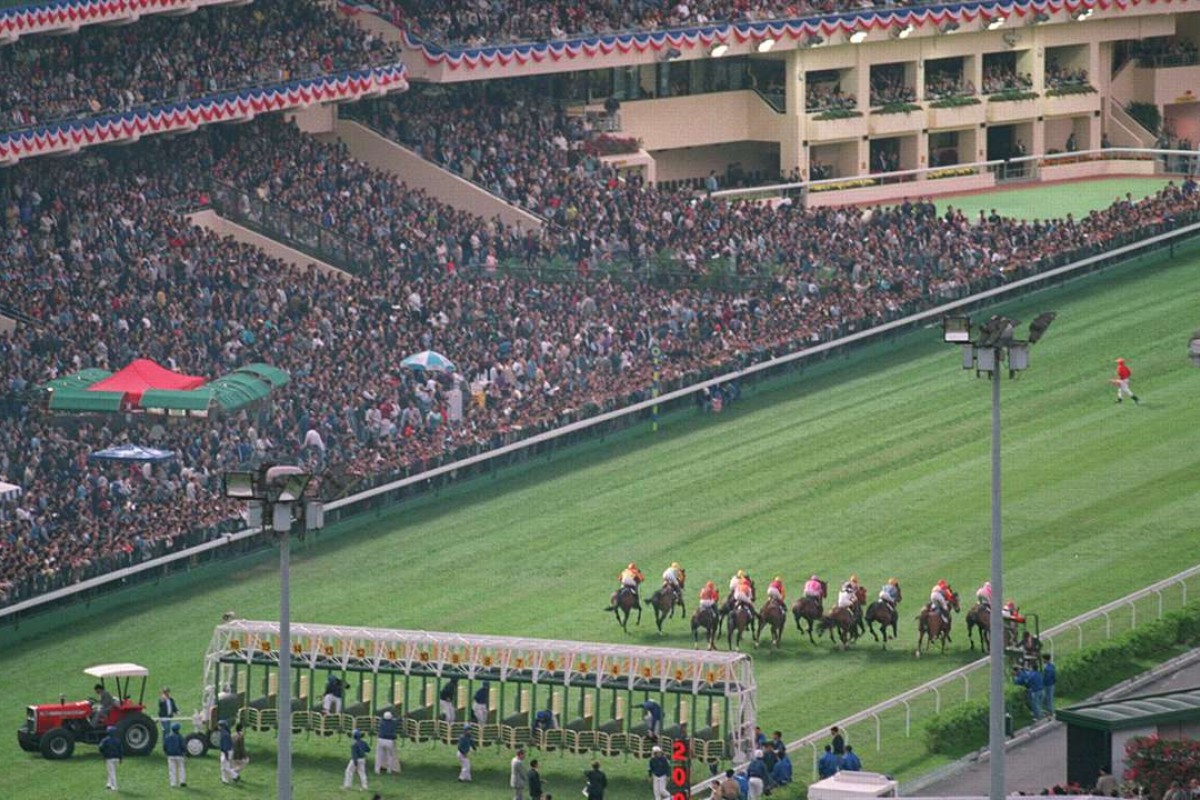 It has been a crazy month at Happy Valley racecourse, with torrential rainfall, a spate of accidents and the world's most costly garden rake causing HK$126 million worth of bets to be refunded – but that's nothing new for a course with a crazy history.
All of this "curse" talk around Happy Valley might seem a little over the top, but the area, let alone the racetrack, has a record of strange incidents dating back to early colonial settlement.
Even the name "Happy Valley" is a sarcastic reference to when a British military camp set up there in 1840, the mosquito-ridden swampland became a haven for malaria.
Six years later, what would become one of the greatest racetracks in the world was built – it's sheer faced grandstands rising magnificently among the skyscrapers of Causeway Bay and surrounding residential blocks of Happy Valley.
Why Hong Kong racing fans are beginning to think Happy Valley track is cursed
Yet despite it's amazing look and feel, in around 170 years of history, the track has faced its share of weird, wild and tragic incidents.
The track has long been said to be cursed by many punters — some racing fans citing its close proximity to Hong Kong Cemetery on Wong Nai Chung Road as a reason for their rotten luck.
1918 DERBY DAY FIRE
The fire at Happy Valley on February 26, 1918, still ranks as the worst man-made disaster in Hong Kong history — and perhaps the most infamous of all Hong Kong racedays.
More than 600 people were killed when a 90-metre long temporary masthead grandstand collapsed on around 3,000 spectators and began burning uncontrollably.
The tragedy triggered the leasing of crown land to the Jockey Club and by the following year's Chinese New Year meeting, permanent brick and concrete grandstands had been erected.
2002 DE INTEGRO DEMONSTRATION
Hong Kong racing fans are usually happy when a favourite wins, however it happens, but in March 2002, a raucous crowd voiced their disapproval when stewards granted the Kwai Chung Handicap, on protest, to Exceptional.
De Integro was first across the line for Vincent Sit Shun-keung but when Douglas Whyte's protest was upheld, all hell broke loose in what was described by those who witnessed it as the biggest punter demonstration of modern times.
First De Integro's trainer Peter Chapple-Hyam stormed from the course, before fans booed, jeered and gave "thumbs down" hand gestures for five minutes after the decision.
And just as the din began to fade, it began anew 20-minutes later when Whyte appeared for the next race to be legged aboard Exceptional's stablemate Magic Hands.
2007 POISON DARTS
In March 2007, one of the most bizarre attempts at race fixing was uncovered when ground staff discovered an elaborate poison dart system buried in the Happy Valley course proper.
A dozen metal tubes, each of them a foot long and filled with darts had been carefully positioned near the 1,200m starting point.
The tubes were wired together and linked to a wireless receiver — the plan seemingly to fire darts into the horses before the start of a race.
2016 RAKEGATE
It might not stack up against the previous events in terms of scale of tragedy or criminal ingenuity, but "Rakegate" will still long be remembered for its bizarre and "unlucky" nature.
It was a stray garden rake left sitting in the side of the starting barriers that turned out to be the trigger for $126 million in refunded pari-mutuel bets, plus the return of all Jockey Challenge bets.
HK$126 million worth of bets refunded as a stray rake wreaks havoc on Happy Valley gates
The rake caused the starting barriers to malfunction, leaving some horses to miss the start, and stewards were left with no choice but to declare the race void and robbing sprinter D B Pin of a likely maiden victory.