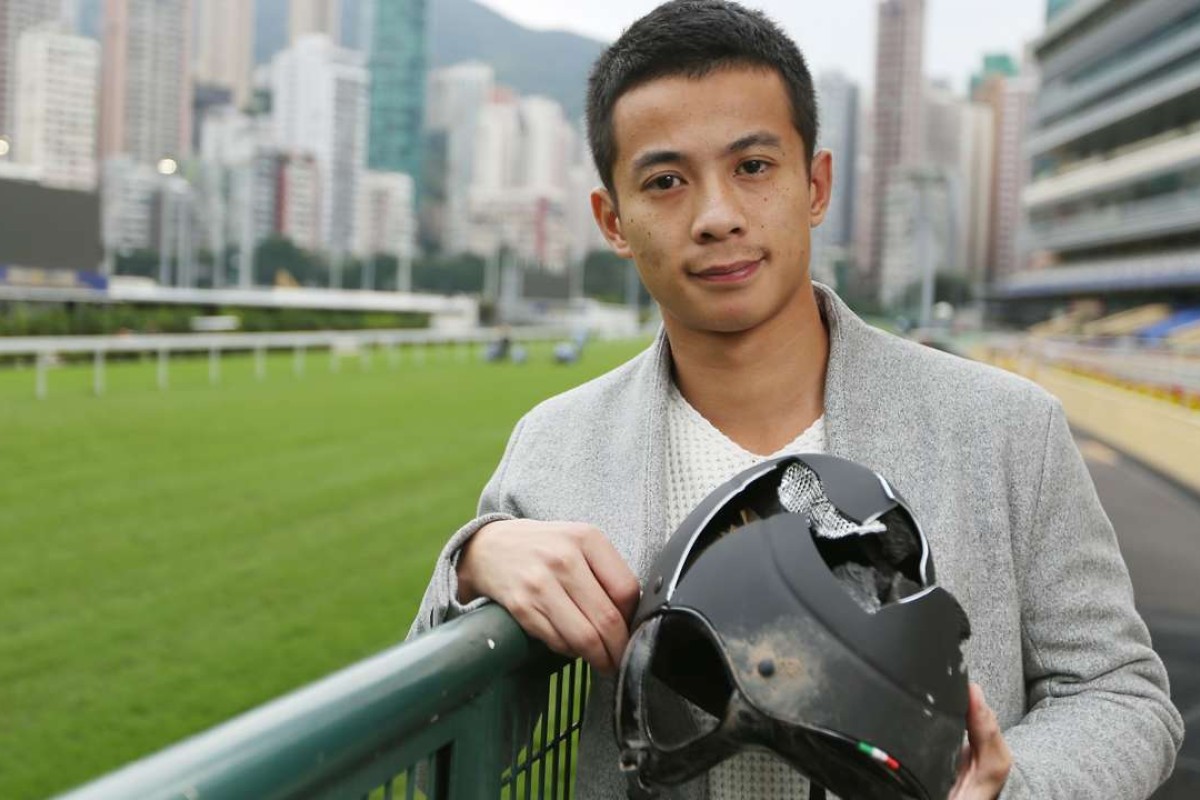 Jockey Derek Leung Ka-chun sits in the darkened stewards' room at Happy Valley putting fragments of memories back together.
He is watching, for the first time, a replay of an event that could have killed him, and an event of which he has little recollection.
The only light in the room comes from the projector, the flickering slow-motion footage from the screen reflecting on to Leung's face as he watches with the analytical and unemotional focus of a crash investigator.
Leung's mount Caga Force lurches slowly into the inside running rail, at least it appears that way on frame-by-frame.
Watch: Derek Leung Ka-chun interview
Of course the horse is hurtling at close to a full gallop, but, unbeknown to Leung at the time, is the victim of cardiac arrest.
The jockey does his best to hold his ailing mount up as long as possible, before finally leaping to the ground.
At one stage Leung's feet are in line with the saddle, his head around three metres from the ground, before he falls and tumbles in front of a horse about to do the same.
Leung remembers that part, even hitting the ground and rolling – but what happens next is what he is making sense of now: a 1,000 pound horse travelling at 60km/h tumbling and the heaviest part of its body, its rump, landing directly on the jockey's prone head.
"Freakish" is a word too often used to describe race falls, but officials with decades of race-watching experience admit they have never seen anything like this one.
Leung was incredibly unlucky – or lucky, depending on which way you look at it.
In Leung's hands is another stunning reminder of what could have been – at first glance it's a twisted piece of plastic and metal, with a chin strap attached. It looks more like some sort of abstract art piece than what it used to be; his helmet.
Moments earlier chief steward Kim Kelly had taken it from a plastic bag and handed it to Leung. Sha Tin dirt is still smeared up one side of the helmet, pieces of metal gauze sticking out at odd angles where it was split apart by the sheer force.
"Wow, I'm lucky to be alive," Leung says as he slowly moves the helmet around in his hands, again investigating, and gently brushing some of the dirt away with his thumb.
"This is the first time I have seen it, it could have been my head, and if the horse landed a few inches the other way, down on my neck more, then it could have been really bad."
It was bad enough, Leung had been knocked unconscious and rushed immediately to Prince of Wales Hospital where he was cleared of fractures, but diagnosed with concussion, nerve damage and some bleeding on the brain, staying under observation for four days.
Perhaps Leung's athleticism, his presence of mind to roll and minimise impact, had helped save his life.
Perhaps. What is absolutely certain, is that this broken and now useless object, this helmet, did save the 28-year-old's life.
Leung's injury came a week after another concussion injury to former apprentice school classmate Ben So Tik-hung – who spent a similar length of time sidelined, both jockeys suffering memory loss in the immediate aftermath of their accidents, and then dizzy spells and headaches.
Then around a month after So's fall came a spectacular multiple horse fall at Happy Valley where local apprentice Jack Wong Ho-nam broke an ankle when Dashing King broke down, causing Italian jockey Umberto Rispoli to be flung violently to the turf.
After hitting the turf, Rispoli also rolled, but his downward force was so severe that he bounced up again in a way humans are just not meant to, launching a metre into the air.
He somehow returned home that night, but the next day he was diagnosed with a hairline fracture and knee damage that required surgery.
Ironically, all of the aforementioned jockeys label themselves lucky – little more than a week after Leung's fall, 30-year-old jockey Freddy Tylicki was left paralysed from the waist down after a sickening pile-up at Kempton, in England.
As Leung leaves the stewards room, he reveals he had been cleared to return to trackwork by a neurosurgeon earlier that morning, and he will return to race riding on Sunday at Sha Tin.
Leung has returned in time to confirm his place as the Hong Kong local representative at the International Jockeys' Championship at Happy Valley on Wednesday, where he will compete against some of the best jockeys in the world.
After what has happened to him and his colleagues in the last seven weeks, does Leung feel fear?
"I know my job is dangerous, and you need to look after yourself and be safe," he says. "But even driving in your car you can be killed, you can't worry too much.
"If you do worry about that stuff then you can't be a jockey and you can't be successful. You can't keep thinking about things and worrying about clipping heels. If you do that you will be retired very soon.
"We are always careful, but if you think like that you will be too cautious in a race, you start thinking too much, you can't take the positions you need to to be competitive.
"I have confidence in myself, there will be no difference in my performance before and after my fall."