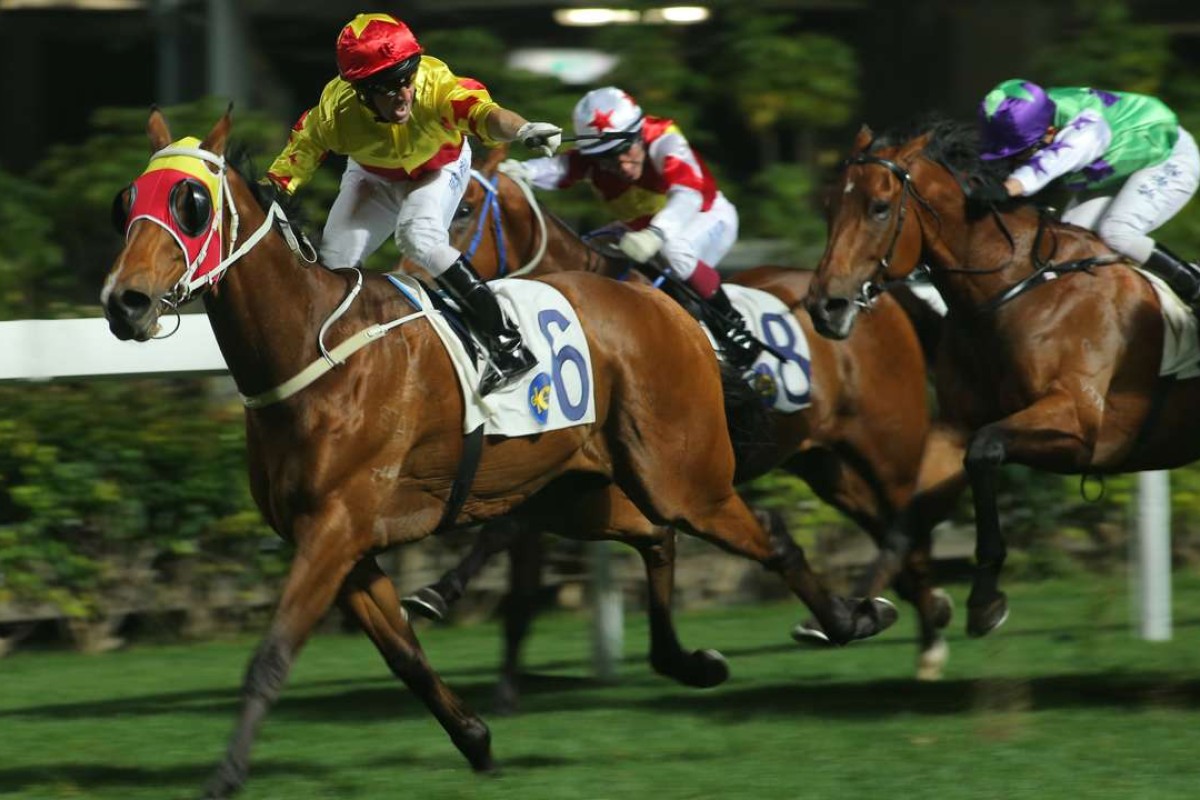 Jockey Neil Callan lit up the first half of the card at Happy Valley last night with a winning treble including a lift for embattled trainer Richard Gibson, who claimed his first success in almost three months.
Gibson's background story has emerged in the past fortnight regarding an internet scam and a missing €1 million (HK$8.1 million) but the news was better when Powermax gave the yard a boost under a sharp ride from Callan.
"I trialled him before he ran and he always showed natural speed," Callan said after the four-year-old landed outside the lead and went on with the job.
"It was my idea to run him here the first time over 1,000m, and he ran with credit and as he's got more experienced he's relaxed better and that allowed me to use his pace tonight to get a position.
Police trace HK$8m Hong Kong trainer lost in horse-buying email scam
"He surprised me how green he ran still but it shows he can still improve off this. Nice to give Richard a bit of help."
Callan also landed wins in the second race on Mr Right dropping back to Class Four and then took the fifth for Tony Cruz on California Joy, sealing the Jockey Challenge win early.
"I rode Mr Right in Class Three a few starts ago and he went great and I said to his trainer Peter Ho to keep me in mind when the horse drops back in grade again, and he remembered me," Callan said.
"He got the perfect run tonight finding the rail behind the leaders but I'd be confident he could have won coming around them from two wide as well. It was a great night all I need now is for them to attach some prizemoney to these Jockey Challenges and I'll be in business."
Champion jockey Joao Moreira wasn't about to be left behind however and posted a treble of his own with Glory Star, Premiere and Sea Jade, while Chad Schofield posted the first victory since his month-long suspension when Giant Turtle made it two in a row.
The Danny Shum Chap-shing-trained Speedy Longwah gave French rider Alexis Badel his second victory here, and the trainer the second of a double, having also won the opener with Glory Star.
Speedy Longwah also broke the long-standing hoodoo on winners of the Happy Valley Million Challenge.
Most winners have never saluted in another race after getting pushed up the ratings too far in the season when they won the contest, but Speedy Longwah was a slightly different case when he took it out last term.
Cobwebs are Neil Callan's only concern for Happy Valley specialist Speedy Longwah
Due to some confusion around the status of his owner, he was unable to race for the final two months of the Challenge so perhaps that has allowed him to break the mould.
"Actually, I think he's still short of his top form," Shum said.
"He had a heart irregularity last start and I think there's improvement in him but the jockey did a good job. I like this jockey and I think he should try to stay longer in Hong Kong."
Which is a timely expression of support for Badel, who is due to finish his contract on January 31 but has applied to stay until the end of February.
"I'm really enjoying it here and I'm just now getting a feel for the way races are run here and the way it all works," Badel said. "I had studied the videos of Speedy Longwah and knew he was a specialist here and was not surprised he ran so well."
The night wasn't all beer and skittles for Badel though, the Frenchman catching a two-day careless rising ban for his effort in the first race on Yourthewonforme.