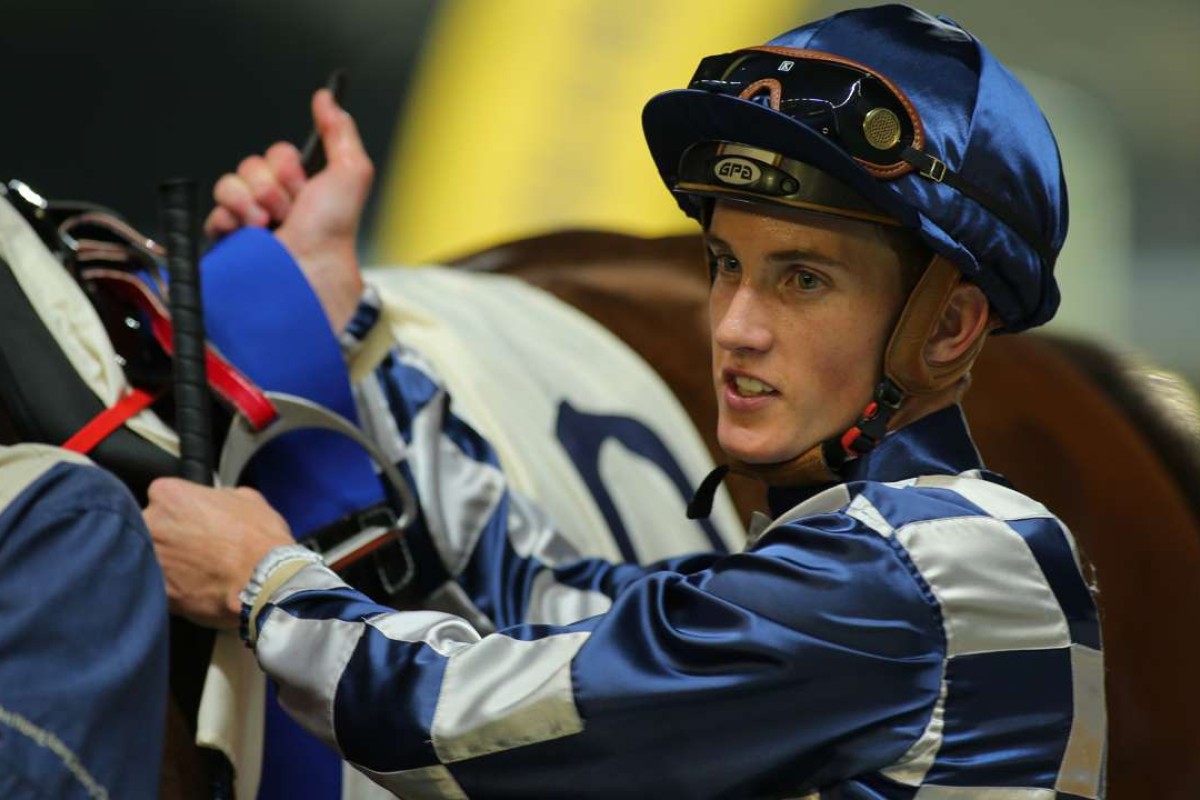 Jockey Chad Schofield's season has taken another body blow with a one-month suspension handed down by the stewards for his handling of Ambitious Pins at Happy Valley last Wednesday.
Ambitious Pins finished 10th to Rickfield in the final race at the city track and stewards interviewed Schofield before adjourning the hearing in order to take evidence from trainer Richard Gibson, who had already left the course.
At Monday's reconvened inquiry, evidence was taken from Schofield, Gibson and his assistant trainer before the rider was found guilty of breaching rule 99 (2) and (50) for failing to take all reasonable and permissible measures on Ambitious Pins to win or obtain the best possible placing. His penalty will run from March 8 to April 6, taking in nine Hong Kong meetings.
The ban is another setback for Schofield, who sits on 19 winners, in a season which has, on one hand, been a significant improvement in the stewards' room on his 2015-16 freshman year in terms of frequency but a back slide, on the other hand, in terms of the severity of his penalties.
Damian Lane to join Hong Kong's jockey ranks as Chad Schofield cops one-month suspension
Last season, Schofield was suspended seven times for careless riding and served a total of 18 days on the sidelines.
This term, he has breached the rules just twice – once for careless riding and now this running and handling charge – but those two incidents have attracted suspensions of eight days for his part in the two-horse fall at Happy Valley on November 9 and now this nine-day ban, totaling almost the same time out.
The first ban saw Schofield out for most of December and his momentum has just begun to pick again and he will miss most of next month.
This is the first charge of Schofield's career under the reasonable and permissible measures rule and his penalty is still at the lower end of the scale for a charge than can attract suspensions of twice that duration.
The last three jockeys to be charged under the rule were Gerald Mosse (15 meetings), Alex Lai Hoi-wing (14 days) and Howard Cheng Yue-tin (25 days), though all had prior breaches of the rule on their records.
Self-imposed handicap the only one Chad Schofield has to fear as he builds on promising debut
Stewards particularised the charge in three parts, claiming that, passing the 300m, Schofield directed Ambitious Pins inwards when there was uninterrupted running to the outside of the horse in front of him, Magnetism; that he directed the horse inwards again 50m later when he could have come outside Magnetism and that Ambitious Pins was unable to gain clear running thereafter as a result of those actions and could not be tested properly.
Schofield has 24 hours to notify the Jockey Club of his intention to appeal if he chooses to fight the ban.