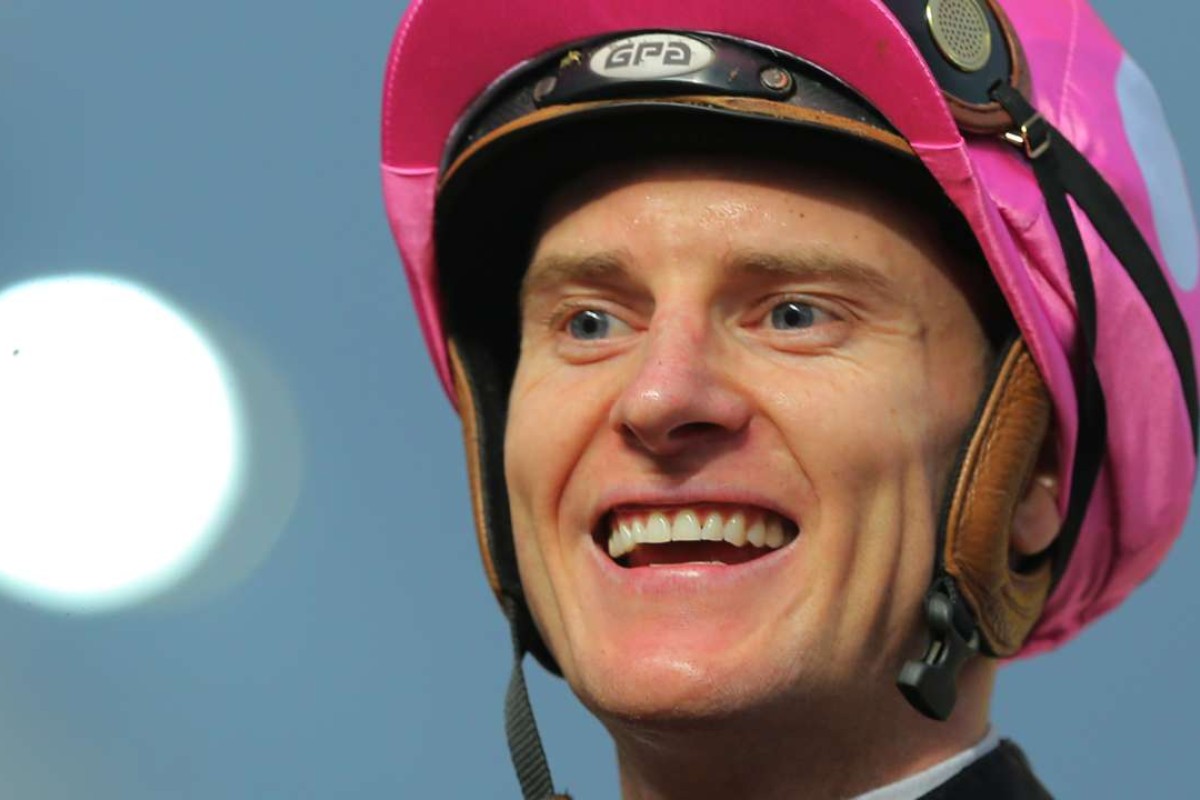 So how did the brash kid from Coffs Harbour end up here? Flying business class at the behest of the world's biggest owner to ride in Sydney and picking off plum rides for the most powerful stables in Hong Kong.
From blue collar to blue chip, Zac Purton has transformed himself over the course of nearly 10 seasons at Sha Tin, battling from the bottom to the top, breaking through for his holy grail championship in 2013-14 and finally reinventing himself as the globetrotting gun-for-hire we see today.
On Saturday, Purton rides three horses for Godolphin, including Malaise in the Group One Randwick Guineas – it's just another hit-and-run mission to his homeland in one sense, but one that could have long term significance given the famous royal blue silks he will be wearing.
Would Purton ever consider a retained rider role at Godolphin? For now it doesn't look likely, and this seems a stop gap booking necessitated by an injury to James Doyle. Yet Purton did ride Bow Creek for the "Boys in Blue" in last year's Champions Mile. At the very least it is a chance to add to what is one of the most unique and underrated resumes in world racing.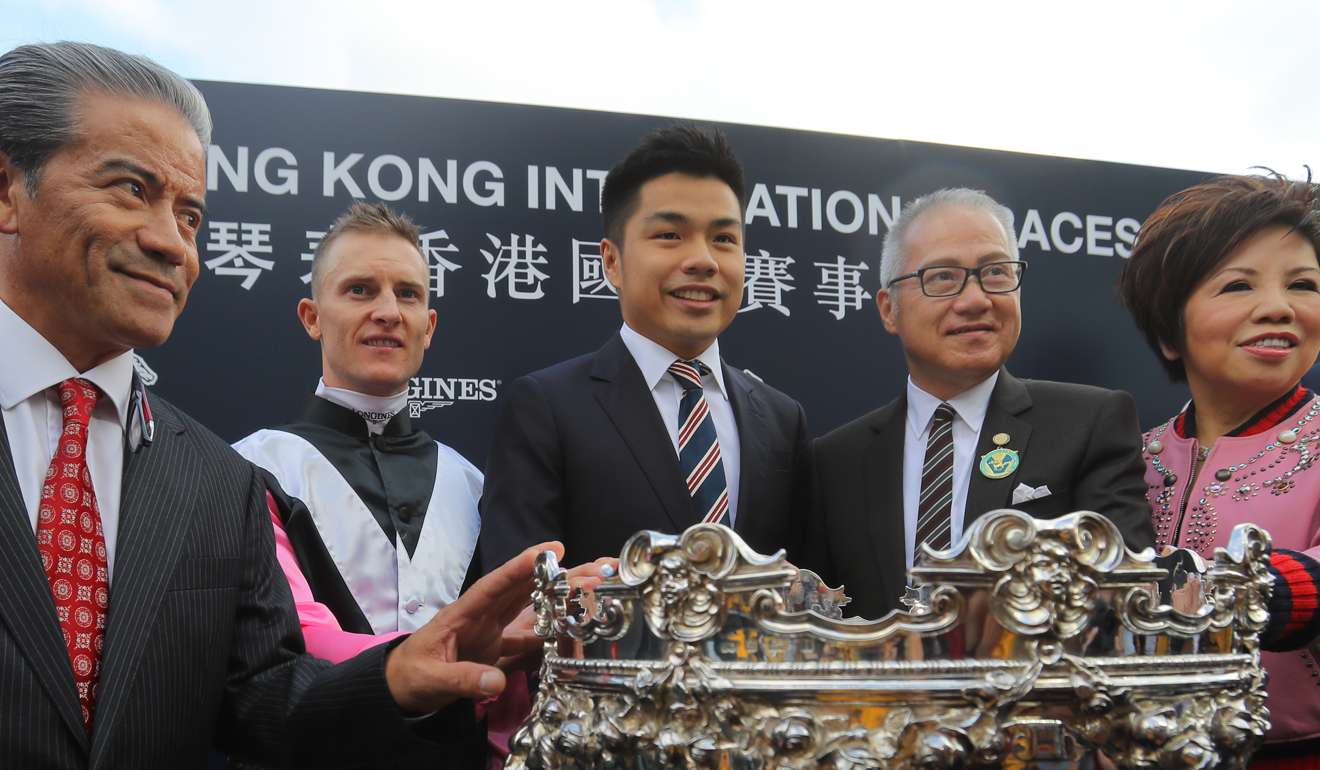 The narrative for Purton at "home" in Hong Kong has been a relatively simple one, that of the disadvantaged rider versus the establishment.
In Purton's battles with Douglas Whyte and now Joao Moreira, the Australian has always been shackled by a lack of support from the biggest three stables; John Size, John Moore and Tony Cruz.
Maybe it's time to take another look at where Purton is at though, because in the three-and-a-half season span since the start of that breakthrough championship season he has ridden at least one Group One win for each of that "big three" – cherry picking his way through the richest races on the calendar.
Purton has won the Longines Hong Kong Mile for Cruz (Beauty Only, 2016), a BMW Hong Kong Derby for Size (Luger, 2014), and went within a whisker of winning the same race for Moore on Victory Magic last year, having won two Group Ones for the trainer previously on Military Attack to go with his 2013 Hong Kong Vase triumph on Dominant.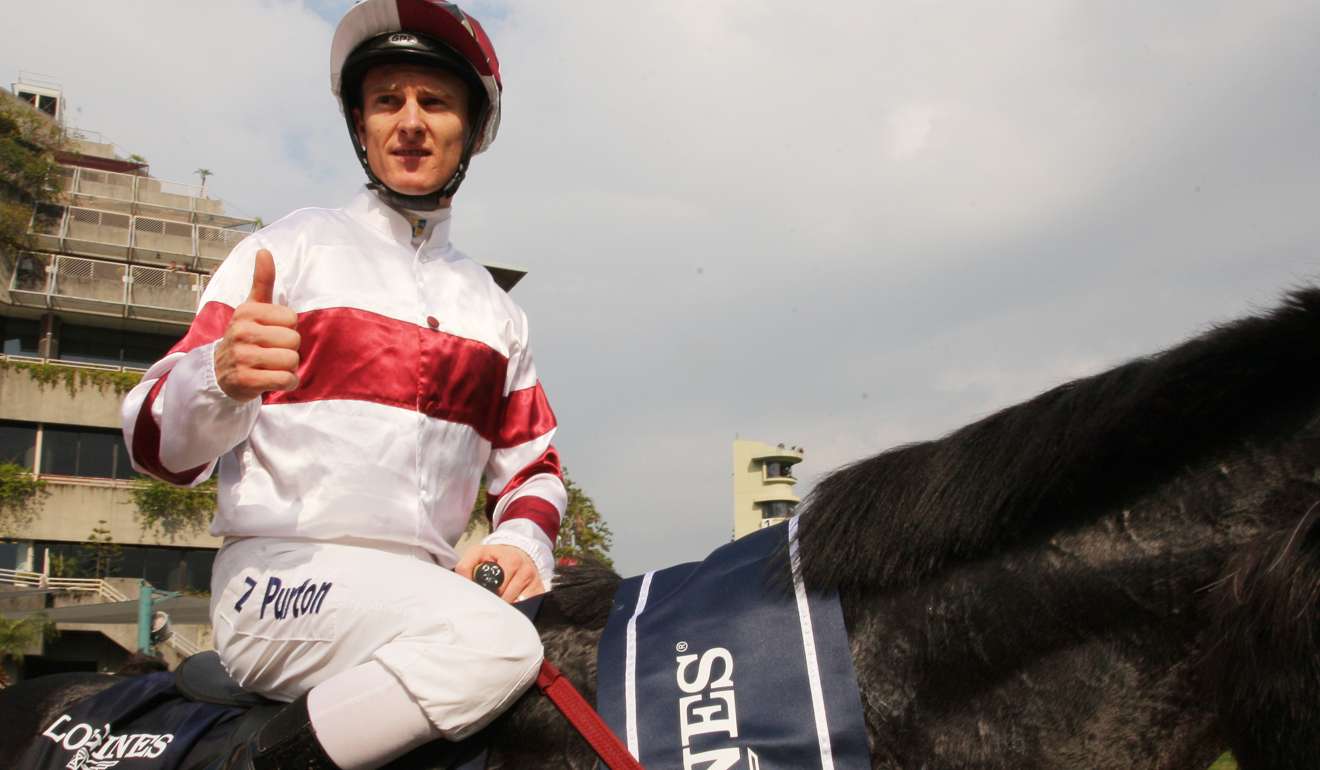 Big-stable support isn't the biggest disadvantage Purton faces up against the might of Moreira – even if having Size as a primary caregiver almost guarantees 35-40 wins per season – it is weight.
Moreira rode more than twice as many wins as second-placed Purton last term, 168-80, and has ridden almost twice as many this season, 102-56, after 50 meetings.
It's not because Moreira is twice as good a rider, everybody knows that, and for many experts there is nothing between the top half a dozen riders in terms of ability. It's just a simple case of Moreira's ability to ride 115 pounds and Purton struggling to get below 120.
Ryan Moore, Joao Moreira, Hugh Bowman, but what about Zac Purton? The trouble with naming a 'world's best jockey'
A two-to-one win ratio looks stark on paper, but in terms of prizemoney won, the ratio isn't anywhere near as severe, indicating that Purton punches way above his weight, pardon the pun, in Group One races at level weights.
Moreira still leads the way in prizemoney earned, his mounts collecting HK$118,039,853 this season, but Purton is a clear standout in second on HK$87,055,065 – nearly three-quarters of what Moreira's mounts have won.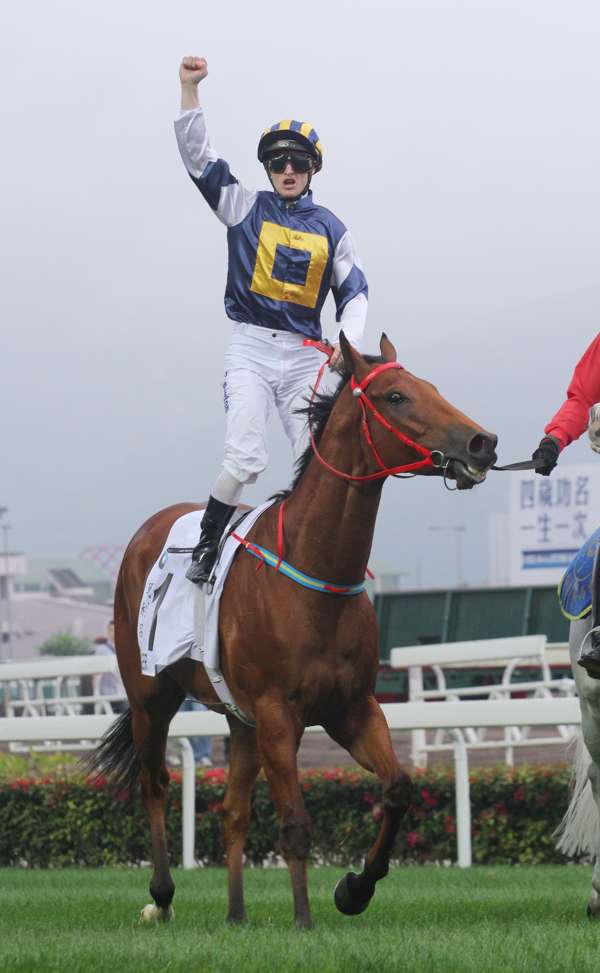 It's almost like Purton has taken a leaf out of "big money" Moore's book, carefully targeting feature races and prioritising Group Ones, and even if "the John Moore of jockeys" has a certain ring to it we can't see Purton wearing a safari suit just yet.
One of the ways Purton has helped position himself as the big-race specialist is aligning himself closely with big spending owners, primarily Simon Kwok Siu-ming and his family's massive team of "Beauty" horses.
Purton gets first option on Kwok's horses and it has helped him get back into the power stables almost by stealth, winning big races on Beauty Only for Cruz and unearthing Derby contender Beauty Generation with Moore
It's a smart play, siding with connections willing to splash the type of cash required to win bidding wars for the most sought after imports, especially with the balance seemingly tipping more in favour of the few who spend that kind of money.
Zac Purton celebrates a four-timer by forging strong relationships with key players in the Hong Kong racing scene
It has also resulted in more support in the lower grades, and this season Purton has ridden 18 winners for the Moore-Size-Cruz triumvirate, nearly one third of his total, and equal to the number of winners he had ridden for the trio over the past three seasons combined.
There is absolutely no doubt Purton is calmer and less confrontational these days, winning the championship and quickly realising beating Moreira was impossible over the course of a season helped that way, but there seems to be nothing like children to take the edge off a personality.
Purton can still be chippy, when he needs to be, and sometimes the combative nature of Hong Kong racing calls for it. You can't be a pushover on or off track, lest be left to one side and be labelled weak.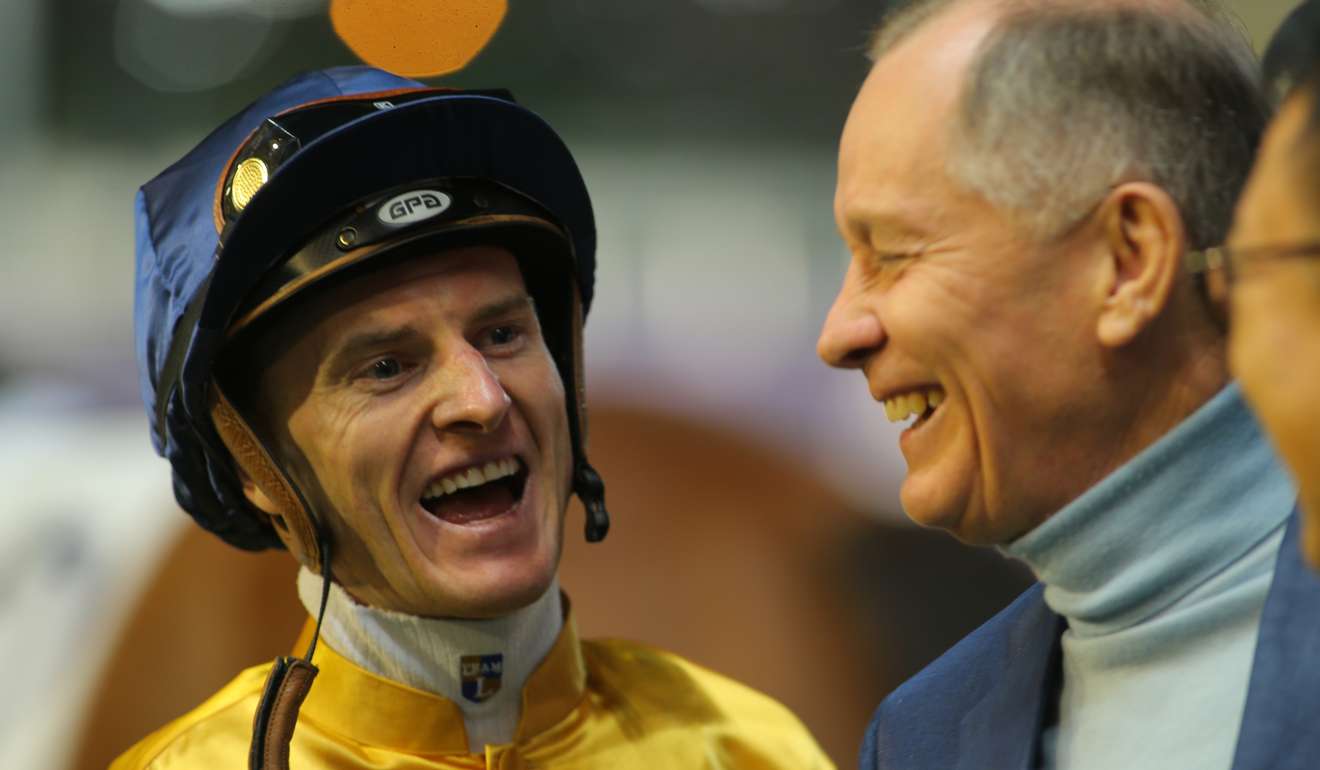 Maybe the 34-year-old snuck off to etiquette night school in his spare time, maybe he just grew up or perhaps he saw the way arch nemesis Whyte conducted his business away from the racetrack, but Purton has become a master of wining and dining, or "champagning and campaigning", as some call it, and speaking more eloquently to owners, officials and trainers.
Of course, children seem to have a grounding effect on many a prickly personality and marriage to Nicole, and kids Roxy and now the newest arrival Cash, have gifted the jockey an air of contentment he never had before.
There's now more of a balance and a more sensible approach to dieting has helped, although it must be said that Purton still speaks his mind, and finds time to provide rather direct and "constructive" feedback to journalists from time to time.
Maybe one day Purton might even find himself in the media, he would certainly be good at picking apart a race tactically and he seems to think he can write a good column.
An even better fit would probably be the Godolphin job, and far be it for this blog to give advice to Sheikh Mohammed, but Purton would be perfect; not overawed by big occasions and a rider that can adapt quickly to new situations.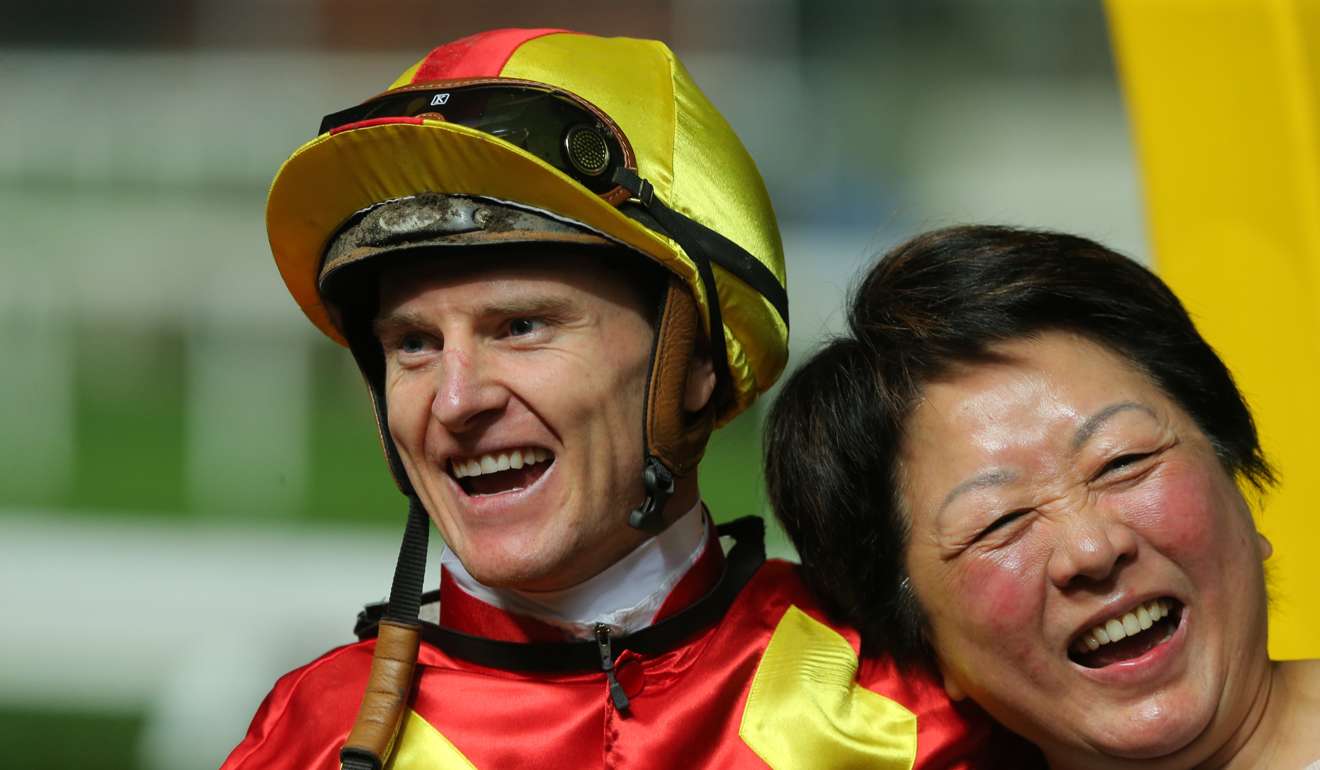 On Sunday, it will be back to the grind and 11 races at Sha Tin, as it was last Wednesday when Purton recorded another winner with what might have been, on face value, the "worst" winning ride of the season.
Purton admits he didn't even attempt to "ride a race" on Best Reward, just circled the field five and six wide and kept the momentum on the "skunk", as he not-so-eloquently, but absolutely accurately, described the Class Five horse.
Still, there was element of thought to it, and it was the only way the horse would have won.
Winning ugly is still winning, it's just something Purton doesn't have to do as much of these days with the support he is getting.