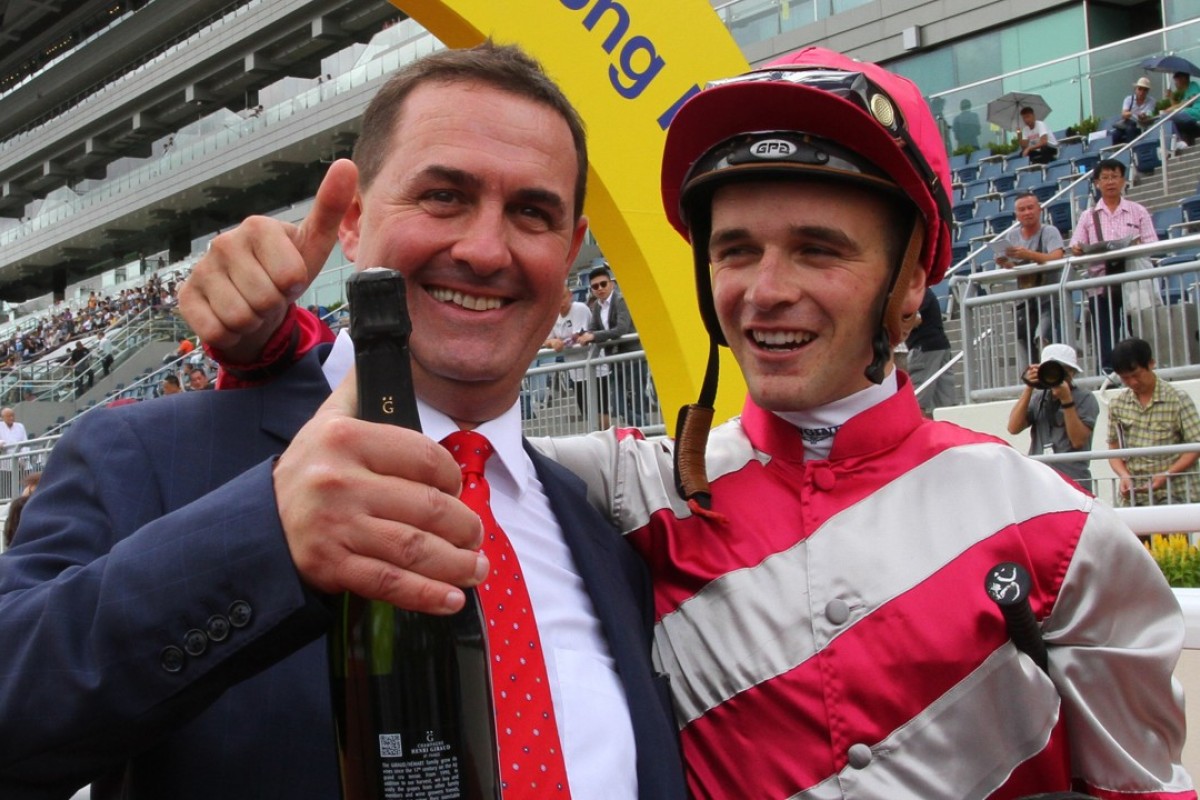 A trainer's licence in Hong Kong might be the holy grail to many but nobody said it was easy and Michael Freedman could attest to that after landing his first and then second winners on Sunday at Sha Tin.
Endearing (Sam Clipperton) was just his fifth runner when he made the breakthrough but it felt like Freedman had been through so much more on the way to the victory.
Freedman had warned he would start slowly but, before he had even had a runner, his freshman season had kicked off with a bizarre horse walker accident in the stables that killed one horse and left several others injured or distressed.
"What a difference a couple of weeks makes, but I guess what doesn't kill you makes you stronger," Freedman said after Endearing was quickly followed by Silverfield (Chad Schofield) two races later.
"Let's say, I got to know a lot of people very quickly. I've been thrilled with how the staff have coped with it more than anything. They obviously read a lot more about what has been said in the local media than I did but they've been great, just heads down and getting stuck into doing things the way we want them done.
"It's a big thrill for them to get these results today. I haven't had to deal with something like that in my 30 years involved in racing – it was a bizarre incident and certainly not something I want have to experience again."
There was nearly a follow-up late Wednesday night, when the Freedman-trained Smart Union was almost home from stamping himself a coming winner at Happy Valley when he was involved in a mishap, trying to clamber from the horse section of the truck into the area where the mafoos sit.
"I got a call from my assistant, Carol Wu [Wing-sze] and you can imagine what I thought and, when I turned up to see how the horse was, one of the vets turned around and said 'is this you again?'," Freedman said.
It's better to be lucky than good – the importance of feng shui in Hong Kong racing
The stewards reported on Sunday that Smart Union "had sustained superficial abrasions in all legs and wounds over the right fetlock and head" but Freedman said the injuries were, fortunately, not too serious.
"He'll be back working this week and I wasn't planning to run him again for three weeks, which now might be four weeks depending on the programme, but I could just have done without it," he said.
"I have tried to be very patient, the temptation is there to try and get going too early, but I've taken my time to get to know these horses from other stables. I'm feeling more comfortable now."
Smart Union ready to be one of Michael Freedman's first Hong Kong winners
But not as comfortable as Endearing, who was never going to be beaten in the run after a perfect Clipperton ride.
"I've been doing a bit for Michael since we all got back and he said to have a look at his list and see if there was a horse I liked. I'd won on Endearing in Australia and liked him, so I picked him," Clipperton said.
"He just took that season to settle in, Michael went back to basics with him and the way he trialled against Thewizardofoz and Nothingilikemore the other day, we were confident he had to run well if he brought that today."
Season scorecard reads well for Chad Schofield after a treble at Sha Tin
Part of a treble for Schofield, Silverfield was all the better for his first start for Freedman two weeks ago and the one-time French Group One runner-up won softly.
"Silverfield hadn't trialled before the first run and went well but flattened out halfway down the straight," Schofield said. "With a better draw he was closer today and he was fitter and strong to the line. He looks like Class Three with a light weight won't bother him."