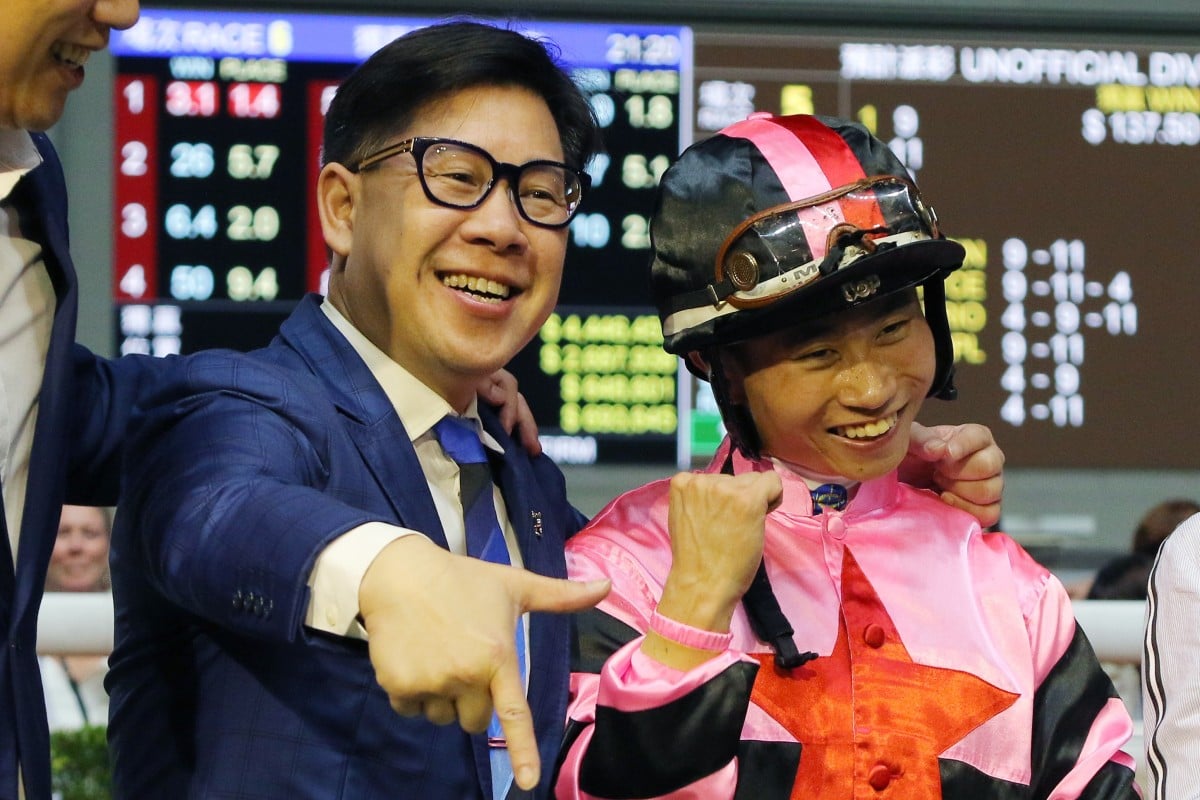 In a remarkable piece of timing, Dylan Mo Hin-tung and Dennis Yip Chor-hong celebrated significant career milestones together after combining to salute with The Show at Happy Valley on Wednesday night.
From a real perspective, Mo's accomplishment will have the biggest immediate impact as it was his 70th Hong Kong winner, which signifies the end of his apprenticeship.
The 25-year-old loses his five-pound claim (it now goes to three) and gets all the benefits and responsibilities of being a senior jockey.
In terms of pure numbers, Mo's achievement is just a tenth of Yip's, who notched up his 700th winner as a trainer.
In any case, both milestones should be celebrated, but it is a minor miracle they did it together given how infrequently they work together.
It was just the eighth time they have combined this season – and their first win since My Blessing prevailed on June 14, 2017.
But for Mo, it didn't matter which horse or trainer his 70th winner came with.
Dylan Mo eyes graduation with 'great' book of rides at favourite Happy Valley track
"After the win I just saluted to the crowd," a beaming Mo said afterwards. "I'm very happy, it's very exciting. I will keep going, keep working hard and try my best. I want to continue my racing career."
It was a tough initiation for Mo, who began his Hong Kong career on September 3, 2016 but had to wait until New Year's Day 2017 (his 57th ride) to record his first winner.
Things have ticked along slowly – he had to watch Matthew Poon Ming-fai start his apprenticeship eight months after he did and complete it five months earlier – but he has finished with a flurry.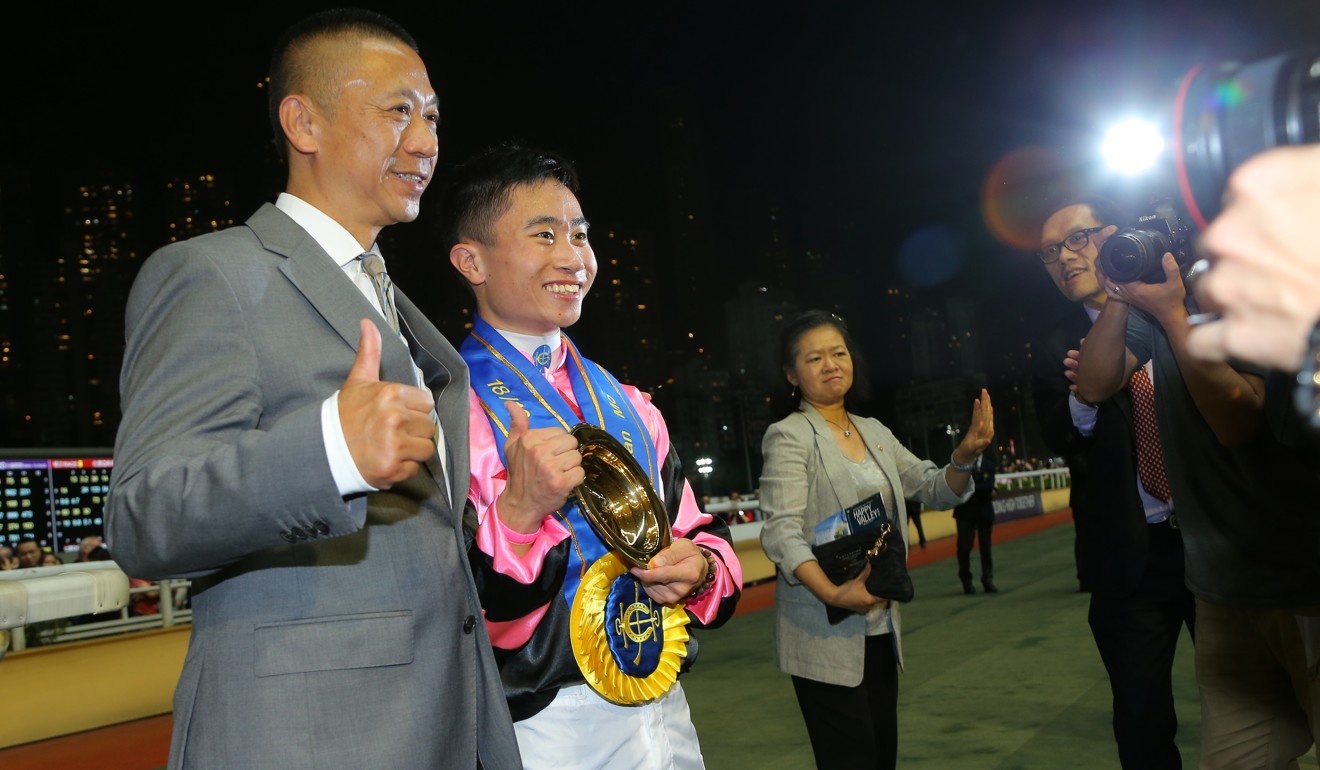 Since the start of February, he has collected nine winners, and was so confident his 70th was coming on Wednesday night, he made sure his family was in attendance so they could be part of the occasion.
"I'm really happy for him. He's worked hard and he deserves to have graduated," Mo's master Danny Shum Chap-shing said.
The Show has been racing in good form this season, so it was no surprise to see him get home, but the 13-1 price was.
Dylan Mo wants to keep his good form going and shed seven-pound claim with new rival arriving soon
"I was just riding the horse and I could feel he was going to come home strong. I was hoping he would win," Mo said.
Yip believes the claim was crucial in the result.
"The draw was a little bit wide but the horse is in very good condition," he said. "So I used the kid to take off the five pounds. I told him to jump fast, find cover, wait for the straight and then try your best.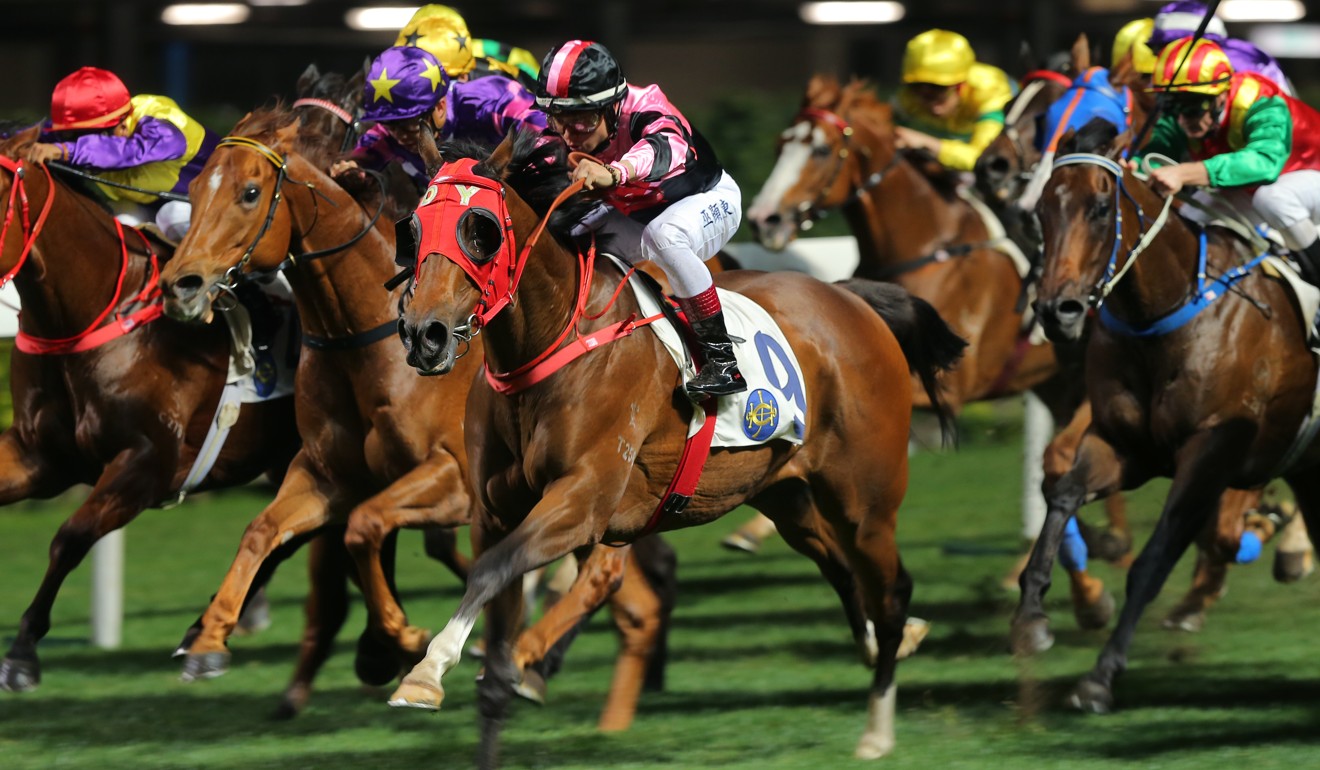 "Congratulations to Dylan, he's done a very good job. I think he'll become a good jockey and I'll try to support him."
For Yip, who won the trainers' championship in 2012-13, it is another acknowledgement of his success over the journey.
"It's another step but every winner is hard in Hong Kong," he said. "This is my 17th season training so hopefully I can keep on going – I want to keep getting better. I try hard."
From no wins to Mo wins – how apprentice Dylan Mo found his groove
Outside the milestone men, the highlight of the night was the Class One Happy Valley Vase, which was won by Ricky Yiu Poon-fai's ever-consistent Citron Spirit.
Pre-race, punters launched into Turin Redstar, who was sensationally backed into $2.50 late, but his chances were shot when jockey Silvestre de Sousa had to pull the persuader down the back straight.
That left things open for the others and Poon took full advantage, swooping down the outside to beat Victory Boys and Insayshable.
The win was the first of a double for trainer and jockey, with the former also tasting success with Speedy King (Derek Leung Ka-chun), while the latter took out the final race with the David Hall-trained Penang Hall.
The other person to walk away with multiple winners on the night was Karis Teetan, who guided Tony Millard's Righteous Mate to victory in the opener, before prevailing on the Tony Cruz-trained Waldorf in the seventh event.