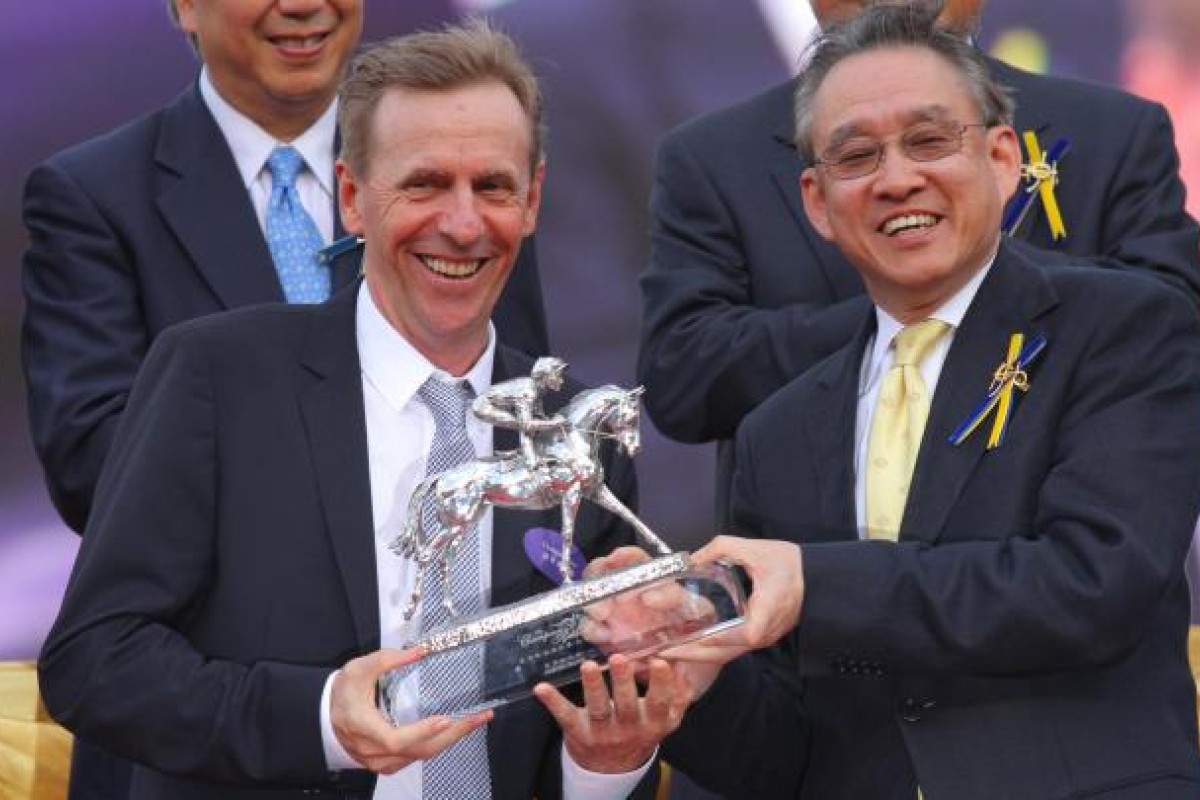 The cyclical nature of Hong Kong racing means it will be difficult for John Size to replicate his 2011-12 dominance, but the master trainer's yard still has a surprisingly fresh look about it for the new term.
Size ran away with last season's championship with progressive newcomers providing the platform for success; previously unraced horses accounting for 25 of his 70 wins - six of those Private Purchase Griffins winning more than once.
Many of the multiple winners are now approaching their ratings peak and even Size will have trouble squeezing more from them. Prime examples are G-One Winning and Mentor, who won three and four races respectively last season, but they are now rated in the 80s and approaching their true marks.
Perhaps it is a function of this dynamic that since Size won the championship in his first three seasons, he has since clinched the title every second year, as his win total oscillated with the tide of incoming and outgoing stock.
In recent seasons the lows haven't been as severe, as Size has not only mastered the art of producing a newcomer ready to race, he has become expert at cutting dead wood from his stable and quickly rejuvenating his team.
What is scary for opposition trainers is that Size has 17 horses in his care that are yet to race, plus renewed strength at the top end, too, with heavyweight contenders Fay Fay and Real Specialist.
John Moore seems set for a big season, but he cares more about securing the most prize money, not wins, and he should do that with an amazing array of Class One or above horses.
Tony Cruz will remain part of the leading group, but Caspar Fownes' place in the "big four" looked less secure as he dropped out of the top quartet for the first time since 2005; he is looking to rebuild through some PPGs of his own.
One of the fascinating subplots is where Richard Gibson fits in as a trainer: will he be more Size - aiming for total wins specialising with PPGs - or Moore - targeting big races with expensive Private Purchases? Last season Gibson had the most impact of a rookie since Size's arrival, but the second-hand "Mr Fix It" projects have dried up and now the real work begins - that of acquiring new overseas talent.
Gibson has a knack of attracting big-spending owners, as shown by his record International Sales splurge last season, but he appears to have gone for a mix: he has a solid basis of southern hemisphere PPGs, but also import Akeed Mofeed, a Listed winner with a rumoured record price tag.
Olympic stables tenants David Ferraris and Sean Woods vowed their results would turn around once construction ceased at the nearby Sports Institute. It has been completed and now it is their rivals who may get a taste of noise pollution. Renovation has begun on Sha Tin's older stables and Dennis Yip Chor-hong, who is coming off a career-best season, will be the first to be tested.
David Hall will look to a French Derby runner-up - the 97-rated Bubble Chic - to spark an improved season after a lean trot and this term will be Andy Leung Ting-wah's last - pending another miraculous change of his date of birth on his identity card.