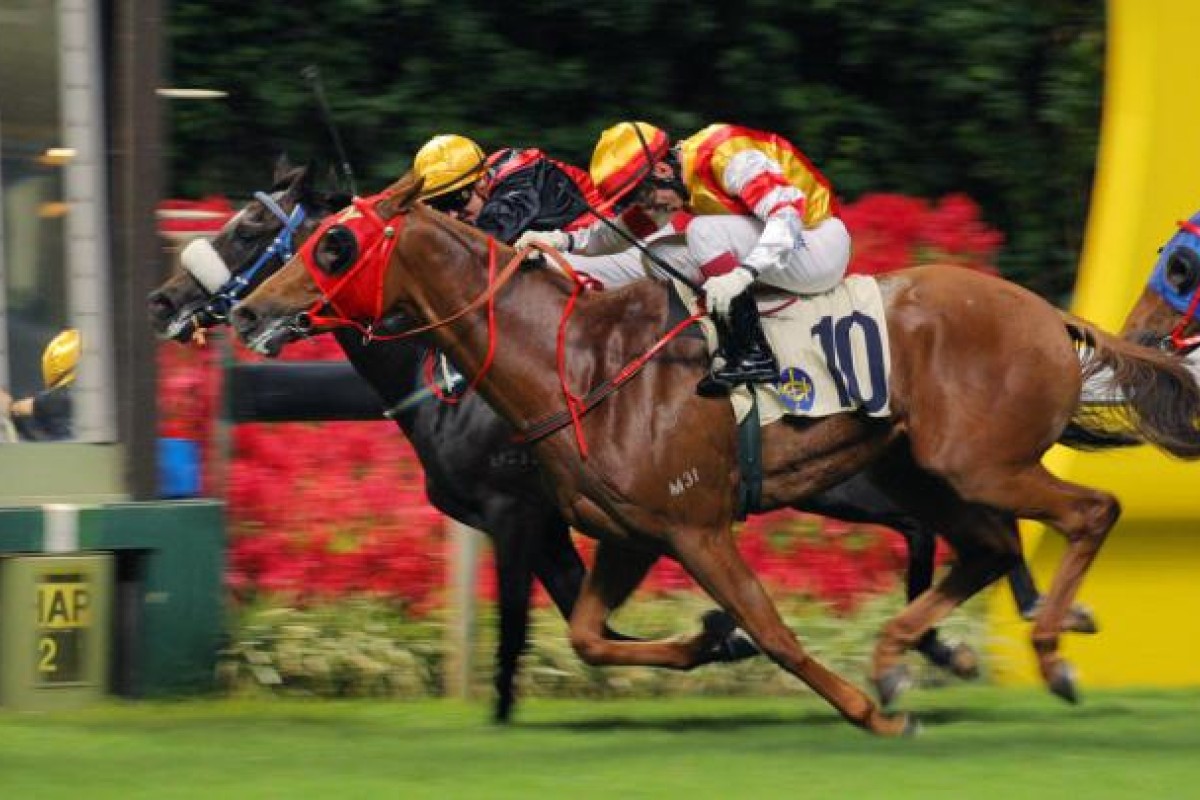 A crucial fitness edge over his Class Five rivals makes Treasure Glitter the best banker in a super tough – but extremely lucrative – Triple Trio at Sha Tin on Sunday.
The Jockey Club seem determined to revive the flagging TT, starting by tipping extra funds into both the Sha Tin and Happy Valley pools at the start of the season, and then selecting the most difficult races on the programme to ensure the jackpot grows and the honey pot becomes all the more alluring.
Sunday's carryover is $32.8 million, but it would not be surprising to see it go unclaimed, given the befuddling nature of the three selected events. Good news is, if you can get a piece of the prize, it will pay out big time, with an estimated $47 million dividend on offer.
Dennis Yip Chor-hong's Treasure Glitter is the only horse in the first leg's 14-horse field to have had a run this season. The six-year-old's runner-up effort over 1,400m behind Caga Spirit was meritorious. He got a long way back, spotting the winner plenty in the run, and closed off quickly at the finish – with his last 100m particularly eye-catching. The strong pace up front flattered the backmarkers running on, but back to a distance (1,600m) where he has been successful, and with the ideal lead-up run under his belt, he should go close.
Olivier Doleuze retains the ride, and only needs to tuck into the two-wide line, or even just find some cover, to be a good chance of filling a place.
What looks a lack of pace is a worry, but there's not much depth in this contest, and most of the other chances are also horses that get back.
Drawn one and a last-start winner over the course and distance at the end of last term is Precision Magic, who has attracted the services of Douglas Whyte and looms as a possible double-banking option.
Michael Chang Chun-wai turned the subscription griffin around at the end of last season, and a light off-season will have benefitted a seven-year-old who has battled severe lameness issues since his arrival.
Others to throw in are Humungous (Andreas Suborics), Full Value (Tim Clark) and Noble Flier (Keith Yeung Ming-lun).
This is where things gets really tough, race five (Class Four, 1,400m) represents the middle leg of the TT, and Doleuze climbs aboard leading hope Danzulu, coming off a disappointing first-up performance last week.
Danzulu sat three-deep with a trail for the trip and copped a few bumps in the straight, but he should have overcome them. The runner-up in the race, Glory Of India, came from behind him in the run. Blinkers going on for the first time in a while and barrier three are enough to give the Tony Millard-trained eight-year-old another chance as a banker.
Double Dragon (Vincent Ho Chak-yiu) drops back in grade – his only two wins have been in Class Four and his status as the only genuine leader make him a can't-leave-out selection. Empire City (Suborics), Notus (Yeung) and Bespoke Master (Alvin Ng Ka-chun) can also be included.
Making it as far as the final leg, a dirt-track Class Four with the usual suspects, should earn a healthy consolation, so play narrow there and "front end" your ticket.
The best banker is Perfect Joy (Waichong Marwing), coming off solid runs on the surface at the end of last term and is drawn in gate one.
Expedite (Zac Purton) comes off a solid griffin campaign, but must be a risk with 133 pounds. Lean towards the proven all-weather track performers instead – O'Halo (Whyte) and Brothers In Arms (Tim Clark) must go in – while Honey Fortune (Ho) is a chance thanks to gate four.
---
TRACK STARS
RACE 1:
(4) Happy Ceramibo, (5) Nightlign, (6) Twin Turbo, (10) China Angel.
RACE 2:
(1) I Smell Money, (5) Champagne Days, (6) Shifachi Tradition, (7) Chancellor.
RACE 3:
(3) Grand Elite, (6) Matsukaze, (7) Spectacular Award, (9) Riyadh.
RACE 4:
(1) Able Dragon, (2) Danesouth, (8) Precision Magic, (11) Treasure Glitter.
RACE 5:
(1) Danzulu, (3) Notus, (6) Empire City, (12) Shining Treasures.
RACE 6:
Expedite, (2) Halo, (5) Fortune Together, (9) Honey Fortune.
RACE 7:
(1) Familists, (6) Dan Excel, (7) Silver Grecian, (9) Fulfil A Wish.
RACE 8:
(4) City Power, (5) Bundle Of Love, (6) Green Zone, (12) Turin Champion.
RACE 9:
(2) Helene Fun Star, (5) Be-Fabulous, (6) Dance For Gold, (7) Galaxy Prancer.
RACE 10:
(2) Vaugirard, (3) Longwah Supreme, (10) Cheers Joy, (11) Fionn's Treasure.