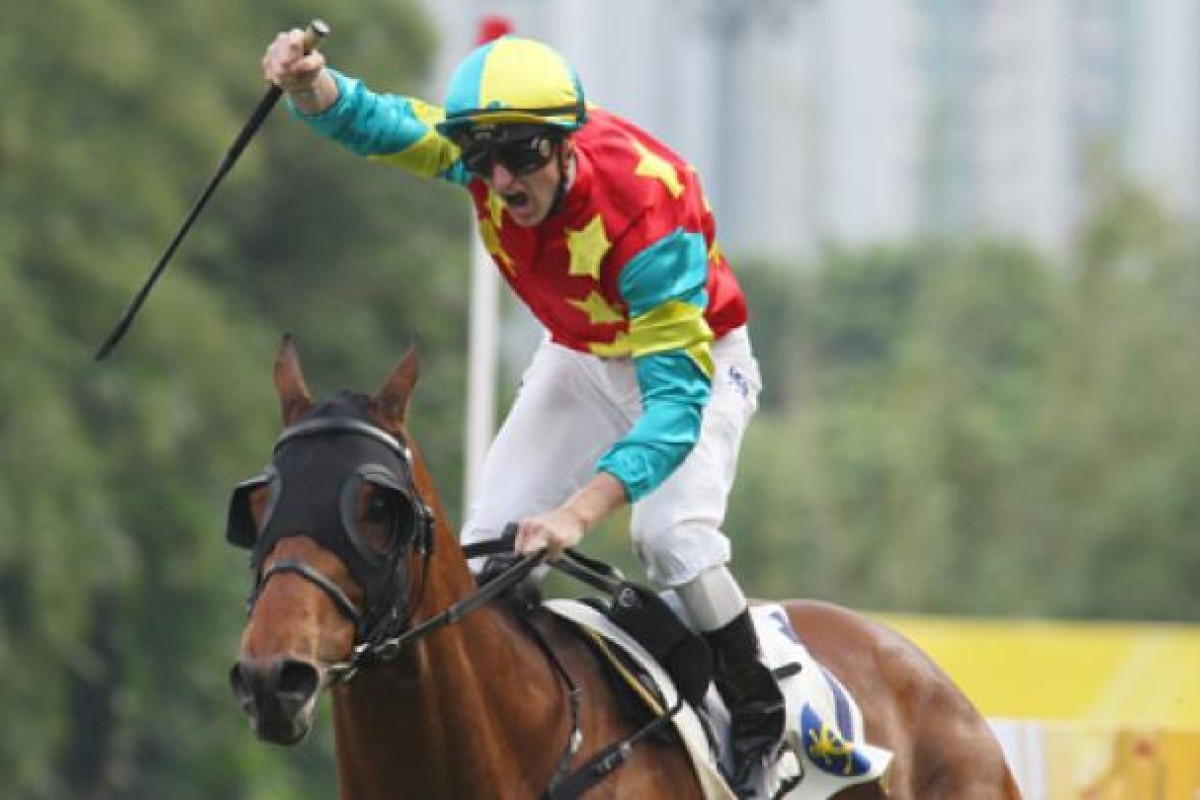 Forget blinkers, side-winkers, shadow rolls and tongue-ties, perhaps the most important "gear change" on a racehorse is permanent, physical and one which the mere mention of makes males cringe: castration.
Some old-time trainers will tell you there isn't a colt or stallion who wouldn't be better off as a racehorse after being made "two-stone lighter", and there are plenty of women who would concur their human counterparts would benefit greatly from a gelding operation.
Seven-year-old Cerise Cherry hadn't won for 18 months going into yesterday's Premier Bowl Handicap at Sha Tin and trainer Derek Cruz credited a relatively late-in-life gelding operation last November as the key to his rejuvenated spark.
A recent South Korean study of eunuchs from the Chosun Dynasty (1300s-1800s) revealed that they lived on average 20 years longer than other men. However, in racehorses, it's not longevity the operation is aimed at, but better behaviour, increased concentration and a lighter physical frame.
A muscular colt can quickly become the equine equivalent of a Venice Beach body builder, or worse still, an aggressive and ego-fuelled nightclub bouncer, with attention deficit disorder and a bad case of roid rage.
Physically, ungelded colts can become too heavy and be more easily injured as the "beach muscles" around their neck weigh down on joints. Mentally, they can become more interested in posing in the parade ring than in performing on the track, with an overblown libido making life difficult for everyone around them.
The most expensive yearling purchases are bought with a view that, in a best-case scenario, the sometimes multi-million-dollar buy will retire from the racetrack to an even more lucrative life as a stud farm lothario. And when the potential sires are owned by a stud farm, it's even worse – the two most important bits of their assets will not be removed, no matter what.
The vast majority of Hong Kong horses are geldings – there's no breeding industry here – saving us from the insufferable and interminable sales speak of trainers trying to boost the stud value of their colts. A stallion's worth rises and falls with every high-profile win or loss, and often they start out worth plenty.
Take Cox Plate runner-up All Too Hard, part of a colt's and stallion's trifecta in that race, he is the little brother to champion sprinter Black Caviar and cost A$1 million (HK$8 million) before he'd even seen a racetrack. Up until the Caulfield Guineas earlier this month, his performances had been a tad underwhelming. Yet, if you listen to his trainers talk about his morning exercise efforts it's as if he is the second coming of Secretariat and some sort of mythical beast that sprouts wings under the cover of trackwork's morning darkness.
It's all about creating a reputation, and making excuses for the disappointing losses can help maintain that aura. After a recent big-race failure by a major stud farm's potential sire, the horse allegedly came down with what must be the most suspicious case of colic since the Americans poisoned Aussie champ Phar Lap.
The Japanese have a strong, but insular, breeding industry and a cultural obsession with not "losing face" that makes them loathe to geld horses for fear that a gelded horse might embarrass them by eventully becoming a champion but have no stud value. Therefore, gelding is a last resort measure.
In Japan, most of the horses look half mad anyway, maybe due to a training regime that seems to involve running really fast under the whip, then stopping – and nothing else. So when a horse is gelded there, it has to have the psychotic tendencies of a serial killer.
If you believe some people's opinion on jockey Zac Purton when he was an upstart coming through the ranks – he would have been a prime candidate for an attitude readjustment through corrective surgery.
But listening to trainer Tony Millard after the jockey's exquisite tactical effort on Ambitious Dragon on Sunday, the fact that Purton has remained an entire was key to the ride. "No jockey has ever had the balls to hold on to Ambitious Dragon that long before they pushed the button," he said.
So maybe we can leave the gelding operations for the horses, but never underestimate the strength of the almighty snip.