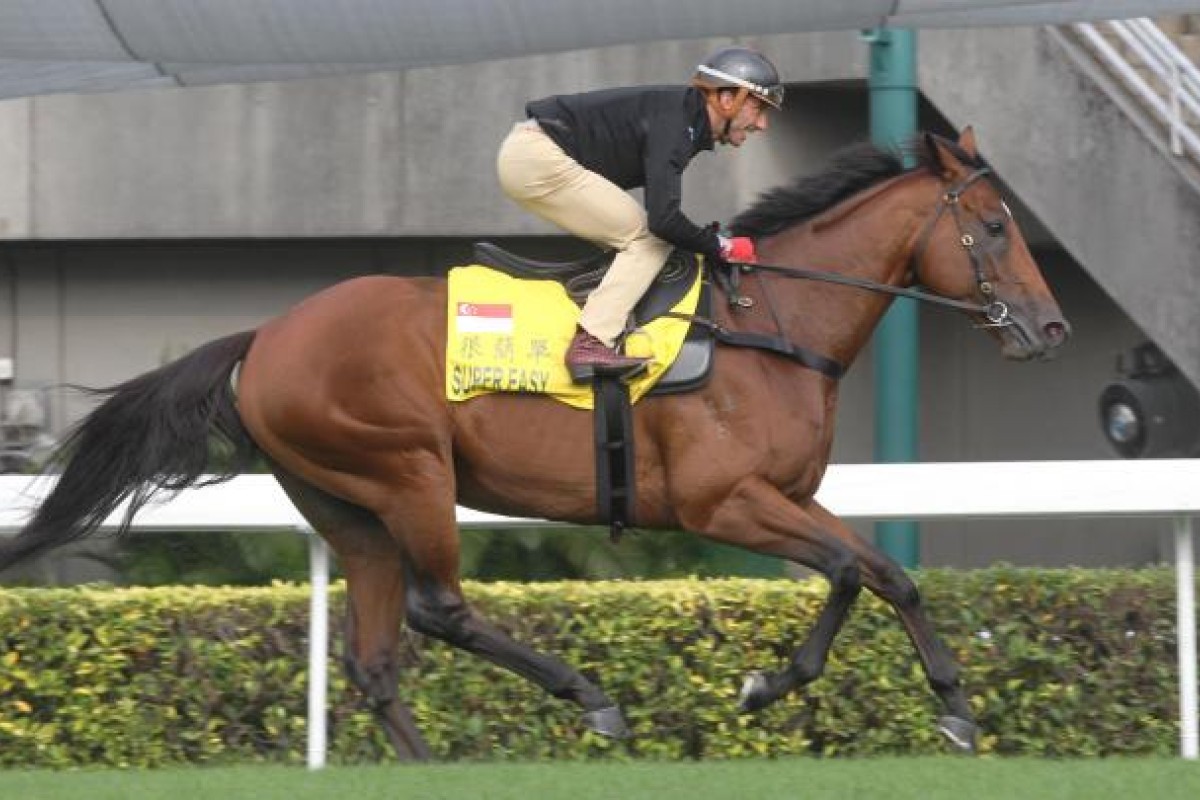 Sunday's Jockey Club Sprint shapes as a test of Super Easy's international credentials, with Singapore's star sprinter having outgrown his home territory and his trainer, Michael Freedman, intent on bolstering the budding stallion's stud value with overseas success.
Super Easy has torn through his domestic competition with a 12-from-13 record, having only tasted defeat at a mile last start, and while he has the looks and pedigree to stand at stud, a record that includes victories on foreign soil would increase exposure and value as a sire exponentially.
"We've got more overseas options for him if he can measure up, but we need to see where he sits against the elite and away from Singapore first," Freedman said after watching his horse complete a relaxed "familiarisation" gallop at the Sha Tin track yesterday.
"He has done everything back at home, but commercially it would be a much better result to achieve some stuff away from home. I've got a lot of confidence in him, but until you see them do it you're still guessing.
"We are in a very closed environment there, and there's so few options for horses like him. When their ratings get up that high it almost becomes a necessity to take them elsewhere."
Freedman also foresees a trip - all being well - to Dubai next year, where the trainer's first overseas Group One runner, Better Be The One, was narrowly beaten by JJ The Jet Plane in the 2011 Al Quoz Sprint.
The first step, though, is Sunday's Group Two contest, where he will face a seemingly vulnerable local contingent. "Ideally, he'll settle somewhere in the first half dozen. I know they run along in pretty fast sections in 1,200m races here, but barriers will be quite important. We'll have to deal with what we are given," Freedman said.
Jockey Olivier Doleuze added: "This is a serious race and we don't want to draw 14."
He partnered Super Easy for the first time in a turf gallop yesterday and it fulfilled its purpose of the horse taking in his new surroundings and a right-hand turn.
"He moved well, he changed his legs and had no problems with the turn - and he had a good blow," Doleuze said.
"He is very laid back and that's the right way to be, but he is not a horse that is going to show you a lot in the mornings. I'm excited to be on him. When you have a horse who is an unknown, then you have hope."
Meanwhile, Australian stayer Alcopop will be entered in the Longines Hong Kong Cup. Trainer Jake Stephens said Craig Williams would ride the eight-year-old, who won the Group One Mackinnon Stakes 12 days ago.