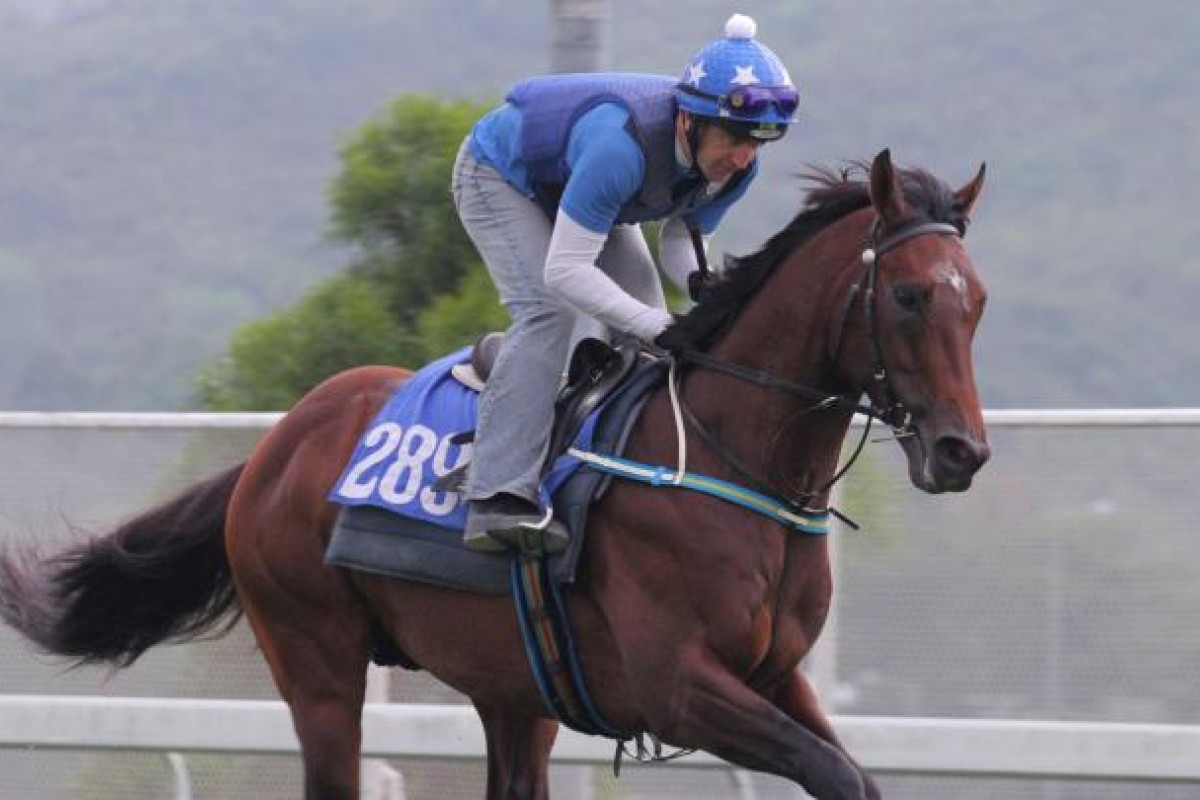 Trainer David Ferraris has been forced to rethink Sweet Orange's present and future plans since the stallion walked into a perfect storm of the harsh all-weather training track at Sha Tin and the new veterinary treatment policies.
The Classic Mile winner and unlucky runner in the other four-year-old Group Ones last term, Sweet Orange makes his return in Sunday's Group Two Jockey Club Mile somewhat later than might have been expected and without the benefit of a barrier trial.
"He's had osteoarthritis in his right fore fetlock and had to have arthroscopic surgery to flush the joint out. He's fine now and he's fit enough to run well, but I thought giving him a trial might be overdoing it," Ferraris said yesterday.
"It's such a shame and it has changed everything. A lot of horses suffer from this fetlock issue in Hong Kong, although the degree varies - it comes with training on an American dirt-type surface.
"It's very hard on their joints and at some stage virtually every horse here will have a problem with it. It's a total shock to these horses from Europe, who have been used to training on turf, and that's why you have so many expensive European imports which have one run, two runs then have to be retired."
Last season, Sweet Orange had run a close, unlucky third as favourite in the Derby and then third in the international Group One, the Audemars Piguet Queen Elizabeth Cup, both at 2,000m, but Ferraris said the joint problem had forced him to alter his focus.
"I can't train him for that sort of distance any more so it looks like he'll have to be a miler now," he said. "The condition can't be fixed, the same as arthritis in human beings. It can only be managed and treated with cortico steroids. And this new policy of only allowing them to be treated like that once per month isn't helping.
"Sweet Orange will need to be treated after this race heading towards the Hong Kong Mile. And as we go on his races will probably need to be kept more spaced, but that's how it is and I'll just see how far we can take him. Some horses with this problem can be maintained at the same level, others just degenerate."
On the other hand, Ferraris is anticipating an improved showing from Hong Kong Vase-bound Liberator as he steps up to 2,000 metres for the first time this season in the Group Two Longines Jockey Club Cup.
The last Hong Kong-trained winner of the Vase (2,400m) was Indigenous in 1998, but Thumbs Up's brave second to Dunaden last year at least hinted the foreign stayers can be repelled.
As the Champions & Chater Cup victor over Ambitious Dragon last season at 2,400m, Liberator has the strongest credentials as the great Hong Kong hope despite a scarcity of suitable preparatory races.
He was caught wide first-up over 1,800m then outpaced at 1,600m, but his trainer is expecting a more competitive Liberator this time.
"Liberator is the other side of the coin from Sweet Orange - he has beautiful sound legs. They can take the pounding and stand up to the training and the racing to get a real staying horse prepared," Ferraris said. "He enjoys his work and I expect him to run well on Sunday going to 2,000m and run even better in the Vase. He's a good stayer and the kind of horse that can win it."