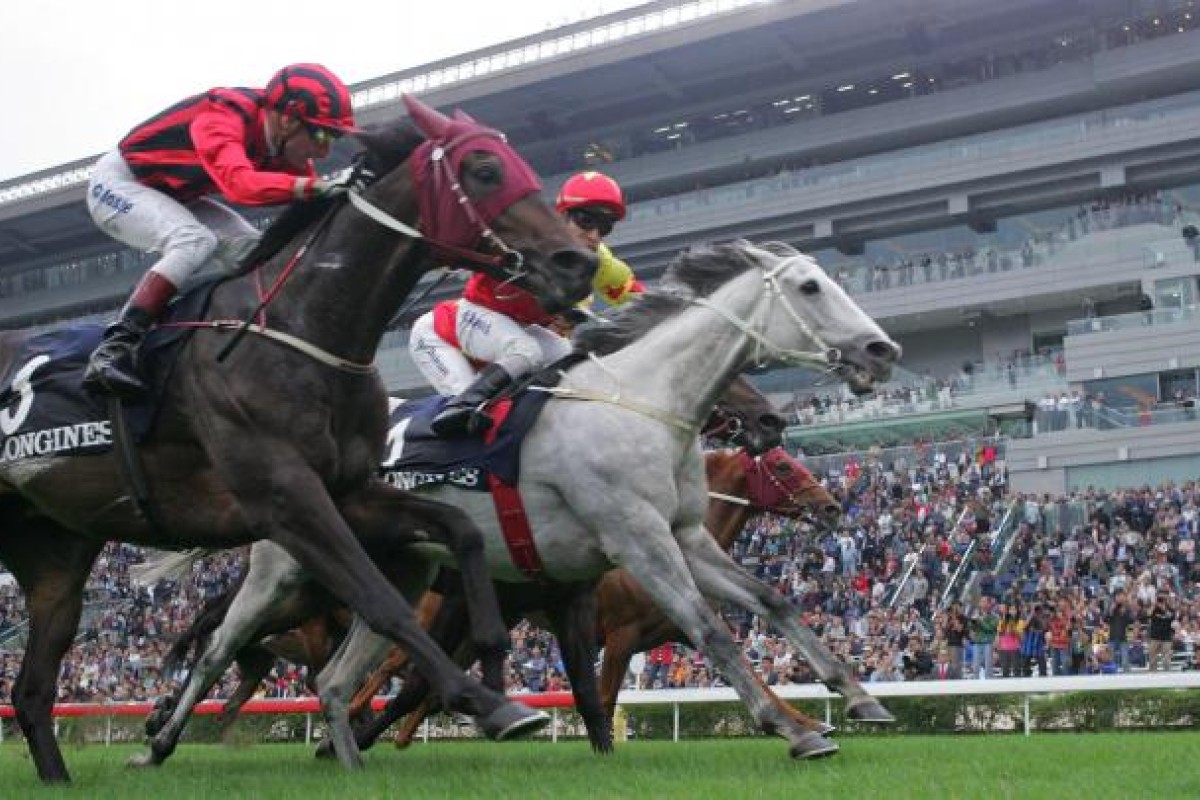 Life is never easy for Tony Cruz's star California Memory. The gutsy little grey regularly spots as much as 200 pounds in body weight to his rivals and his get-back racing pattern make him a heart-in-mouth proposition for punters, but yesterday he got a race run to order in the Longines Jockey Club Cup.
California Memory laid down his credentials for International Day - where he will defend his crown in the Longines Hong Kong Cup - with a trademark sprint, a surprisingly solid tempo making his turn of foot lethal.
Jockey Matthew Chadwick went straight to the rail and last on California Memory from a wide gate before taking a perilously tight run through the centre of the field, beating home the John Moore-trained trio Irian, Zaidan and Packing Whiz.
"We didn't think there would be pace, but they ran along and that helped him relax," said Chadwick. "He travelled nicely, when they got to the turn, they fanned as I expected them to. I had a choice - I could follow Packing Whiz to the outside, but I saw a couple of horses in front of me that I thought could run a strong 2,000m and went that way."
That decision nearly turned disastrous as the run between Liberator and Autumn Gold closed rapidly up the straight. In this race last year California Memory was an unlucky fourth as odds-on favourite, but this time he didn't hesitate as he burst through a narrow gap.
"He copped a bit of a bump in between them and got a touch unbalanced, but once he got through, I think it made him try even harder. He really put his ears back then and get to the line. Once he got through that gap I knew he wasn't going to lose, you could just feel how hard he was trying," Chadwick said.
Cruz has continually said the most important factor for his horse is soundness, and on that score, Chadwick reported the six-year-old had pulled up in great shape.
"He'll be a lot tighter for that run. He was a bit underdone," he said.
Moore's Same World was sent forward in a shock tactic and faded late, but the trainer described the efforts of his three remaining runners as "great preparatory runs".
He said fourth-placed favourite Packing Whiz would now head to the Longines Hong Kong Mile after peaking on his run at his first try beyond 1,800m.
"Speaking to Brett [Prebble] after the race we decided he doesn't get the trip," Moore said. "You've only got to look at him, he has the look of a miler. But at least we found out today and not in three weeks."
Moore's Dominant was withdrawn on race morning after pulling up lame from trackwork a day earlier, and - if fit - will now be aimed at the Cup rather than the 2,400m Vase.
"When we took him out of his box at 8am he would have passed," Moore said. "But after we gave him some light work he appeared to be two out of five lame again. But I'm reasonably confident he will be there on International Day."