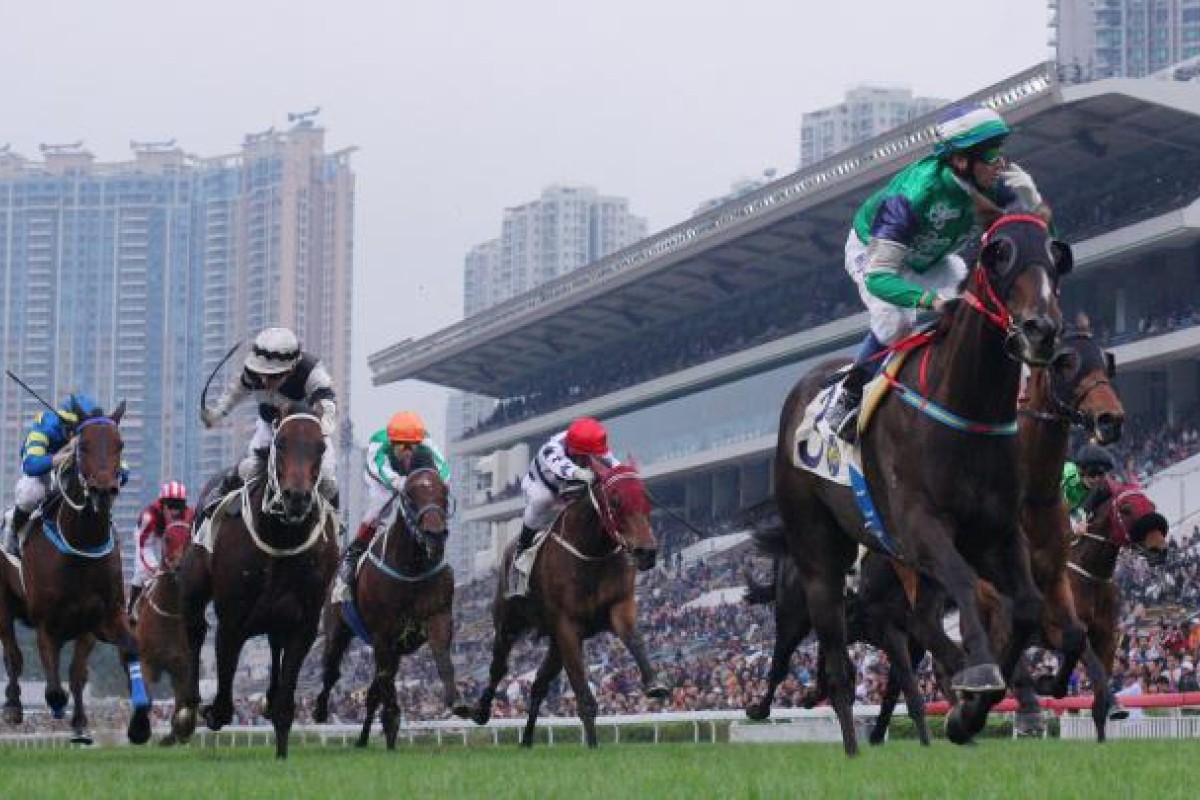 Ambitious Dragon was beaten but not bowed in the Jockey Club Mile yesterday for the second year running and trainer Tony Millard quickly called for a rematch in the Longines Hong Kong Mile next month with his conqueror Glorious Days.
Wearing blinkers for the first time, the John Size-trained Glorious Days (Douglas Whyte) was smashed in betting from 6.5 to 2.8, then travelled like a new horse in running and beat Ambitious Dragon at his own game in the sprint down the straight to win by a clear margin.
"He has always promised to do that, it was just a matter of whether he delivered," said Size. "I'd been thinking about blinkers for him last season when he first got into Group company, when he started to looked as though he was intimidated or not focusing when he was beaten a couple of times. But I decided not to because he was racing well despite it."
But after a sound defeat at the hands of the Horse of the Year first-up this season, Size said the Jockey Club Mile would see Glorious Days in blinkers in an effort to narrow the gap between them.
Instead, the gap vanished, then turned right around yesterday, with Whyte highlighting how switched on Glorious Days had been in the straight as he dashed away from Ambitious Dragon.
"I always thought, in the last four runs, that he would need blinkers. It has been frustrating in a sense riding him because, in the early days, his brilliance won him races and he could afford to make mistakes," Whyte said.
"But the last few have been frustrating because he's been coming through, giving me this amazing feeling and then hitting a flat spot, like he's lost concentration, and it's gone. Today he just travelled so sweetly, and when I've pressed the button, he's taken up the slack and taken up the gap that I wanted and just been a man about it. Full credit to John - he has thought about the blinkers for a while too but he said you can put them on the wrong day and the horse overraces and then you've lost him. He decided today was the important day, the right day."
Size now has a serious favourite in the Hong Kong Mile for the fourth time, with Electronic Unicorn (twice) and Armada all finishing second in the past, and he admitted after this win that he wasn't expecting any further improvement.
"I don't think you could ask for more than his effort today," he said. "It's a pretty big run going into a big race, which is always a discomfort, but he's got three weeks to get over it. If he just repeated that run, that would be enough. To ask him to step up again would be too much."
Millard had been toying with a choice between the Hong Kong Cup and Mile next month, but declared his hand rather than any extreme disappointment yesterday.
"Second run in, that's what I feared - a flat run like last year. First-up, he ran 1 minute 33s and change with 133 pounds on his back and this time they've run 1 minute 34 seconds and he's been beaten," Millard pointed out.
"You've just got to take it. This time there five pounds between them, and next time there's no pounds. I've spoken to his owner, and it looks like we'll go the Mile. We've just got to move forward and I'd rather have a flat run now."
Jockey Zac Purton echoed the trainer's view and said Ambitious Dragon was a different horse second-up.
"Last time he towed me into the race, then dashed away. Today he towed me up but as soon as I went for him, he was flat," he said.
"I don't think there's a great deal between him and Glorious Days, though, and the five pounds that made a difference today could make a difference next time."