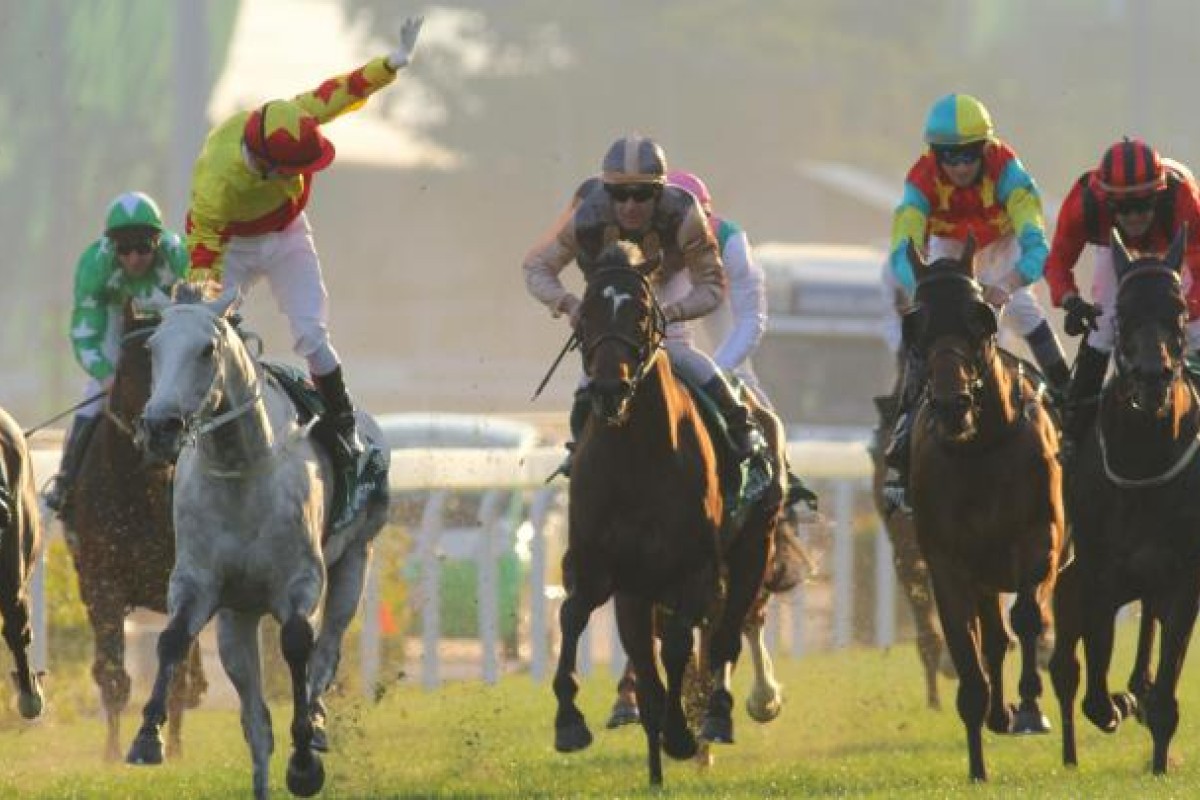 The withdrawal of Cirrus des Aigles was a boon for California Memory's chances of repeating in the Cup, but the French resistance continues and the gutsy little grey's main challenger is now another Gallic over-achiever: Saonois.
California Memory and Saonois seem somewhat kindred spirits: often under-estimated and ridiculously under-sized for top-class thoroughbreds but likely to stand tall at the top of betting for tomorrow's HK$22 million feature.
Not only is California Memory small, he has battled worsening joint soreness that trainer Tony Cruz says has been an issue since the first day the gelding arrived in his yard. "He couldn't even trot properly when he got here," Cruz revealed. "He had soreness in him already. We had to fix up all four fetlock joints."
It is testament to what Cruz calls California Memory's "fighting heart" that he has still been able to win seven of his 21 starts, including two Group Ones, since Cruz began training him.
"After his last-start win, the next morning he was sore, but not as bad as he has been," Cruz said.
"We can tell how badly he is hurting by the amount of fluid you have to take out of his joint, and this time it wasn't so bad. We have medicated him and he is doing well and seems to be feeling good going into this race."
Saonois' connections were rumoured to have knocked back a €7 million (HK$70.7 million ) offer for their colt, despite his diminutive stature. But even though the small-time owner - a village baker named Pascal Treyve - clearly loves his French Derby winner, both he and trainer Jean-Pierre Gauvin were desperate for Saonois to grow.
Alas, Saonois "may have got stronger," Gauvin laughed, but, "he has not grown. I took his measure the other day and only got him 3mm higher than in the spring. To be honest, I think his shoes made the difference."
Saonois also shows a similar tenacity and courage to California Memory when weaving perilous runs through the field late in races.
So while both horses will obviously move up in most estimations after the scratching of the world's highest-rated horse in training, the absence of Cirrus des Aigles robs the race of a possible pace influence, and makes the job of sprinting from off the speed more difficult.
To offset being stuck back in a slowly run race, California Memory's jockey, Matthew Chadwick, said he would try to reprise his winning tactics of 12 months ago, when he pushed into the box seat from gate two.
"I think we can put ourselves handier without doing any work, and then we've just got to find a split," Chadwick said.