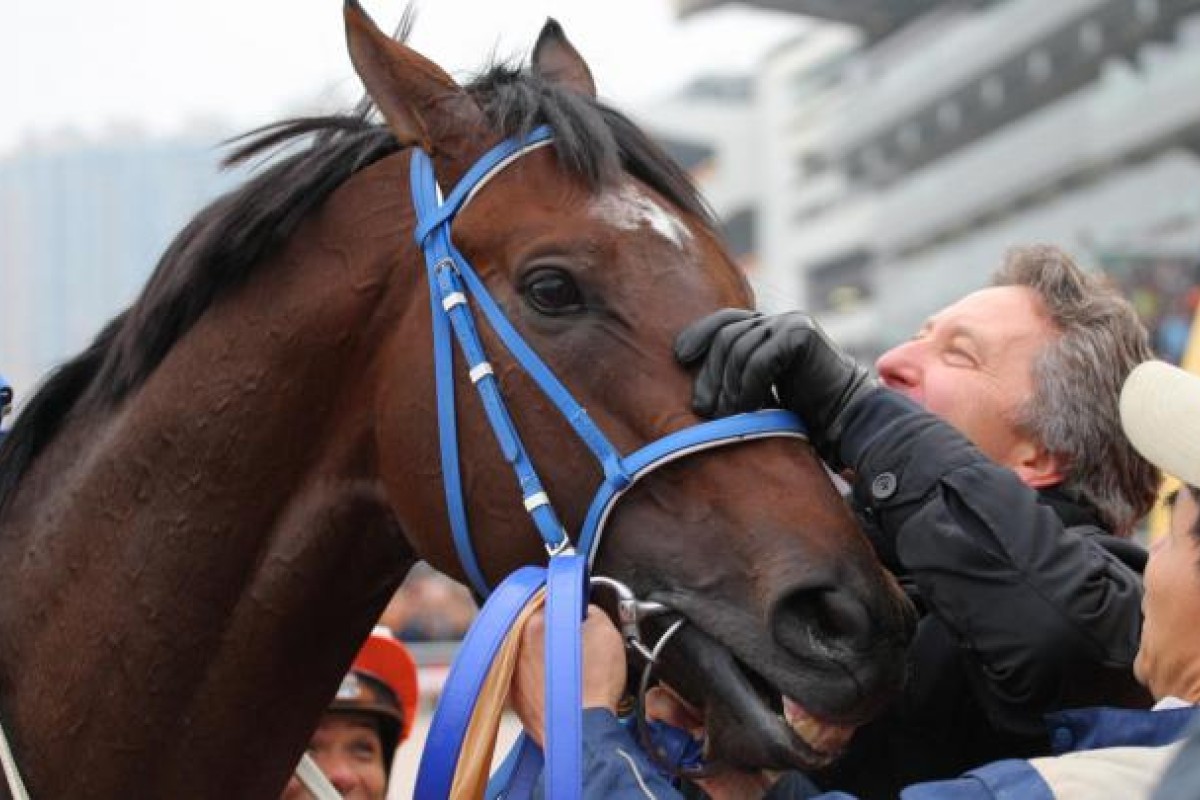 The withdrawal yesterday of outsider Sweet Orange from the HK$22 million Longines Hong Kong Cup may not have caught the racing world's attention like the morning announcement that Cirrus des Aigles was out, but his angry trainer, David Ferraris, reawakened the verbal battle with vets over treating horses' joints.
The world's highest-rated racehorse, Cirrus des Aigles, was scratched from the Cup yesterday just as the visiting horses were starting their Sha Tin trackwork session, with what Jockey Club vets described as a "soft tissue injury" to his left front tendon area.
"It's a relatively mild injury but it would be very unwise to run him in a race," said Dr Chris Riggs, the club's head of veterinary clinical services. "They have wisely decided not to run him and we've been able to medicate him to better treat the injury. When he gets back to France, he'll need another thorough exam and in about a week's time they'll have a much better understanding about the extent of the injury."
But Riggs became a target for Ferraris when Sweet Orange had to be withdrawn during the afternoon following a routine pre-race check which found him lame in his troublesome right fore fetlock. That same joint had been the cause of a spat between Ferraris and Riggs last month when the trainer outlined the difficulties of training Sweet Orange under this season's new policy which does not allow horses to have their joints treated with cortisone more than once in 30 days.
"This is a very good horse preparing for the biggest race in Hong Kong and I think I've done a sterling job and now this is the direct result of this new policy," Ferraris said.
"I don't work lame horses. I know what I'm doing and it's not a question of doping horses to race. I have no disagreement with the 10-day cut-off before racing, but you've got to be able to get them fit before that. I want to be competitive. I'm not training him to pass a vet check. I can get any horse to pass a vet check but he won't be fit to race because I wouldn't have been able to work him."
Ferraris said last month that Sweet Orange's fetlock issue was an inevitable consequence of training on an all-weather track that "is very hard on their joints and at some stage virtually every horse here will have this problem."
"Flexibility must be allowed for horses with chronic degenerative changes," Ferraris said. "It's only fair when their workload increases, so should the treatment. These Group horses only race a few times a year and it's not like I am requesting treatment every month - only when they are being prepared for Group One races," said Ferraris.
"I'm p****d off that the horse hasn't been able to have the cortisone that he normally gets. I'm really angry, and I have a question for Dr Riggs - are these visiting horses subject to the same restrictions training at home before they come here? And where is the proof that this harms horses, the evidence that this policy is based on?"
Riggs was reluctant to join the fray, saying the "issue has been clearly debated and discussed, so it is disappointing to bring it up again now".
"To come lashing out at this moment, and in this forum, is unfortunate," Riggs said. "I don't really want to dignify it with a response in depth, but I'm very happy to discuss it in the right situation. At that time we'll put all the evidence on the table that supports our decision."
Ferraris pointed out Riggs himself had conducted the arthroscopic surgery on Sweet Orange and the trainer said the post-operation notes said "Sweet Orange would need to be trained with cortisone. What can I do? My stable vet can't do anything - his back is to the wall. It's not like I abuse it.
"I would bet that I use fewer injections on my horses than any trainer in Hong Kong. I only get this treatment for one or two horses, but this one in particular, he is an exceptional case and it should be decided on a case by case basis. Let Dr Riggs come and train the horses."
Riggs replied that he would not discuss the extent to which any trainer used cortisone treatments and pointed out "nearly all post-op notes from arthroscopies suggested judicious use of medications would be beneficial. But that does not include only cortisone."