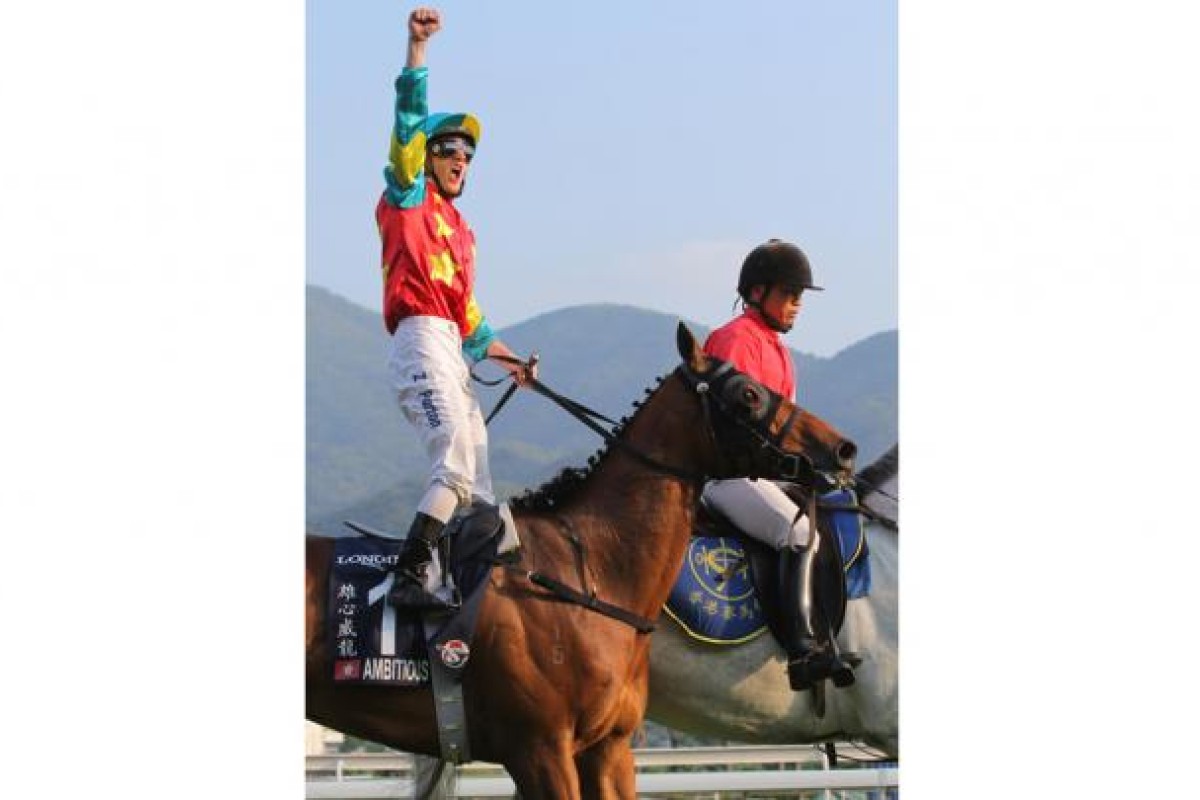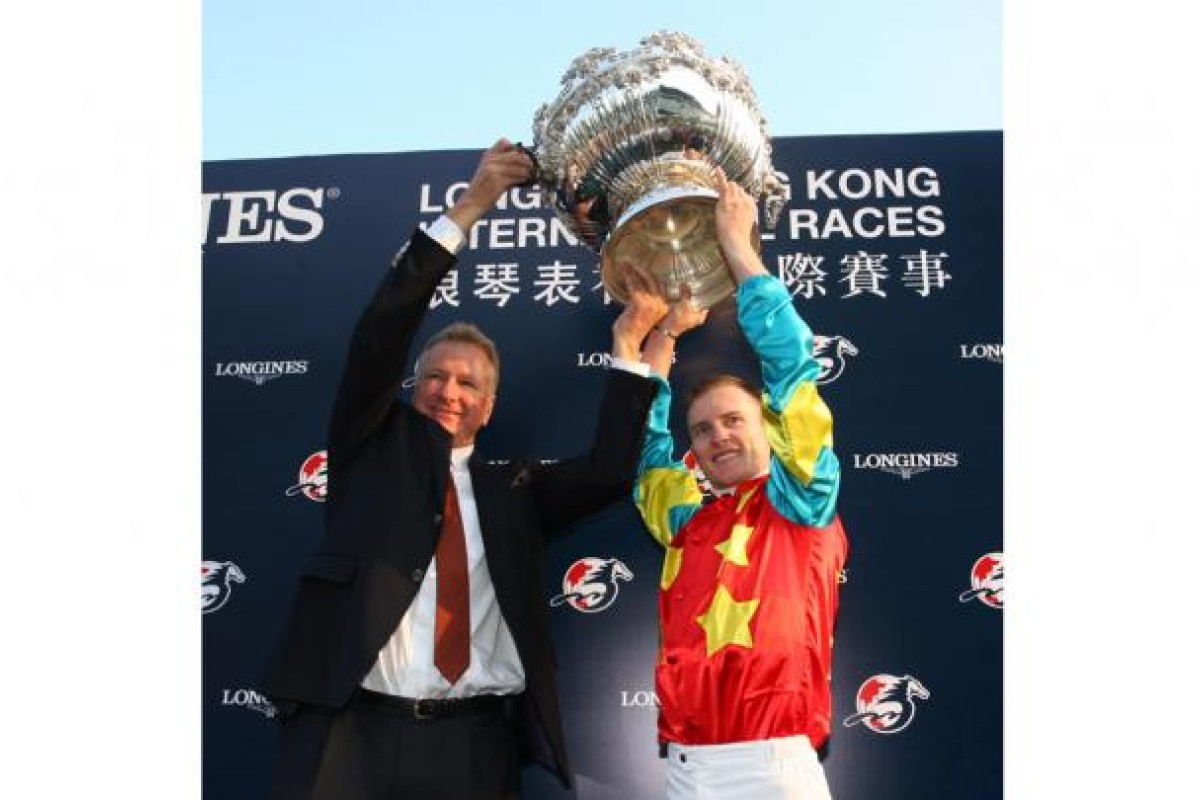 Two days after a trackwork incident had nearly dashed his chance at a long-awaited date with destiny, Ambitious Dragon thrust himself into the company of the all-time greats, with emotional trainer Tony Millard left to marvel at his horse's toughness and tenacity.
After Ambitious Dragon threw a shoe and lacerated skin on his right-hind pastern on Friday morning, his place in the event had become a race against time - Millard's stable staff working around the clock on the injury; the horse failed a vet check on race-eve with lameness and was only cleared to run at 8am yesterday.
The dramas set the scene for the thrilling theatre to come, Ambitious Dragon playing the part of local hero to a perfection as he rounded up his rivals effortlessly.
"Race fans cheer over victory of local stable star" Video by Hedy Bok
Zac Purton didn't even hit the two-time reigning Horse of the Year as he burst away for a three-quarter-length win with something in hand, erasing memories of his loss as Hong Kong Cup favourite a year earlier. "It wasn't career-threatening injury, but it was a bruise. I felt that even if he was a bit touchy on it, he would still run through it," Millard said.
"It's a great reflection on the horse that he was able to overcome these issues. He is just a super champion."
Even though Ambitious Dragon had won five Group Ones heading into yesterday, none was against international competition - the horse failing in his three tries at that level last season.
Adding to the pressure was drawing barrier 11, and having main rival Glorious Days draw perfectly in three, forcing Purton to drop back in the field. But when the in-form jockey pressed the "after-burner" after turning, Ambitious Dragon showed his true colours.
"It's like getting in a Lamborghini - it just gives you a different feel than driving a normal car," is how Purton described riding the six-year-old.
"The power is there, the revs are there - it is an incredible feeling. When he is right, he is unbelievable.
"During the run he felt fine, he was in a nice rhythm and he was breathing properly and I was in as a good a position as I could be from that gate. I was pretty confident I would get them, I didn't hit him and it was a pretty soft win in the end."
Stewards reprimanded Purton for a celebratory taunt after the line - he pointed at Douglas Whyte on runner-up Glorious Days - adding a new dimension to what is becoming a fierce rivalry.
"Douglas was a little bit cheeky last start and when he went over the line, he pointed the finger at me and was a little bit chirpy, so I returned serve today," Purton said immediately after the race.
Glorious Days' trainer John Size was adamant in the lead-up that it wouldn't matter what his horse produced if Ambitious Dragon was on his game, and he was proved correct.
"I can't be disappointed in my horse, he ran his race," Size said.
"He ran the same race he ran last time - the difference was that Ambitious Dragon ran his race; and you can't beat him when he does that."
JOCKEYS' VIEW
"The last thing Tony [Millard] said was just worry about what you're doing and not everyone else, so I did that and I had the horse underneath me. I thought the pace was nice enough that I was able to wait a little bit, but like I'd said to Tony, if they didn't go too fast I was going to have to make a little bit of a longer run on him and I just tried to wait until I got into the straight and then let him down. I let him roll into his gear and then let him down and, in the end, it was a pretty soft win."
Zac Purton
Ambitious Dragon
"He jumped very well from the stalls and we got a perfect trip. My horse gave everything but the winner was just too good on the day."
Douglas Whyte
Glorious Days
"Great result for Hong Kong with the first three horses home trained here. I was comfortable throughout the race and he ran very well."
Weichong Marwing
Packing OK
"We had a lovely trip. Maybe the horse does not quite stay the mile but he ran very well. Couldn't have asked much more from him."
William Buick
Gordon Lord Byron
"Coming back from the 2,000m to the mile, he just lacked a bit of ping." Brett Prebble Packing Whiz "He did not jump well from the gate, so he was not in the favourable position for the trip."
Yutaka Yake
Sadamu Patek
"He just never travelled throughout the race – he was always off the bridle, but he'll come on leaps and bounds for that."
James McDonald
Xtension
"He's probably just out of his depth in this company."
Matthew Chadwick
Pure Champion
"He ran along in front but couldn't maintain it."
Olivier Peslier
Don Bosco
"Maybe too much pressure at the mile here."
Christophe Soumillon
Master Of Hounds
"She ran very flat today."
Gerald Mosse
Siyouma
"He travelled well but did not have a response turning for home."
Hiroyuki Uchida
Grand Prix Boss