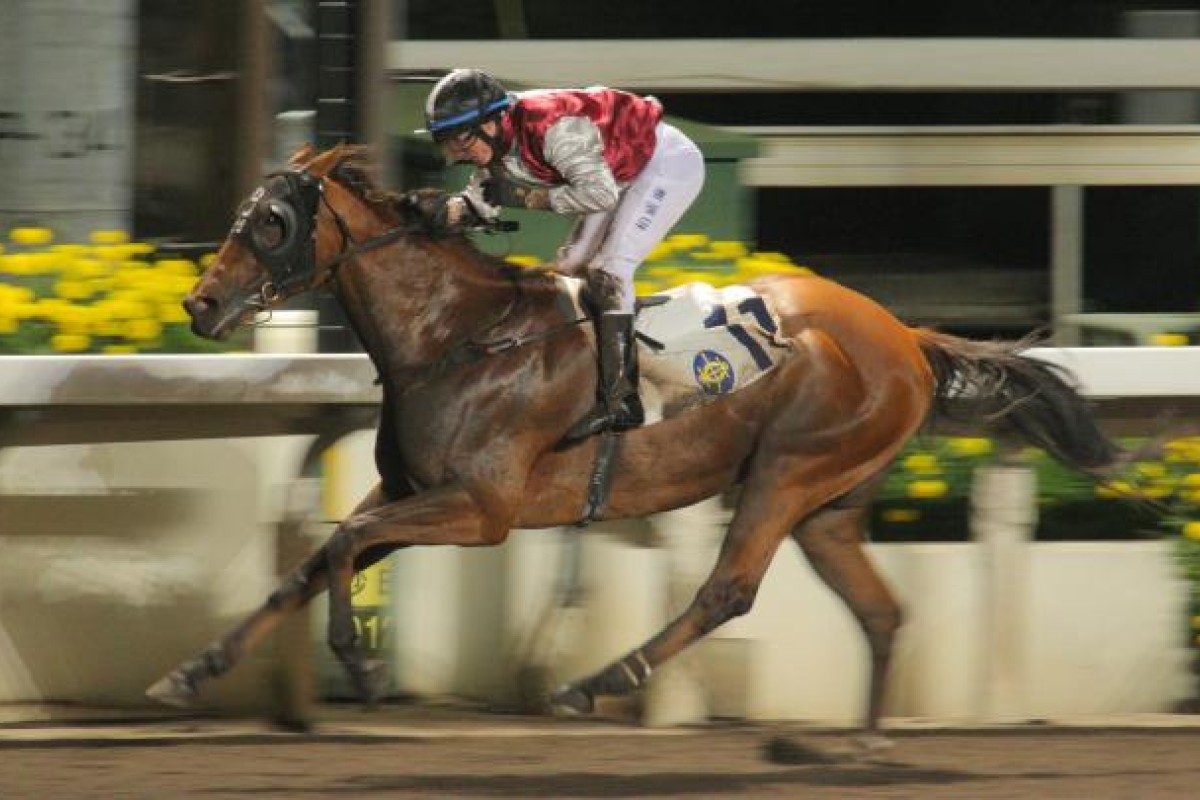 Douglas Whyte and David Hall don't combine all that frequently, but when they do, it pays to take note - and on Sunday at Sha Tin El Grande looks a decent banker in the final leg of an extremely difficult Triple Trio.
Whyte and Hall have a 16 per cent strike rate overall, but scale it back to the last 22 rides - going back to when Silent Dragon won in February 2007 - and you uncover a record six wins from the last 22 starts together.
El Grande isn't heading to the upper grades by any means, but in Class Four, on a dirt surface he is more than capable and he can fill a top-three spot.
The all-weather track has been strictly for front-runners at the last few meetings, and while it is always better to be forward than back on the inner circuit, it will be fairer on Sunday after a respite in the rainy weather and a chance to rip and drain the bog away from the fence.
El Grande broke through with two wins at the end of last term, one over Sunday's 1,200m on this surface, and then stepping up to 1,400m on the big track. He found the 1,650m at Happy Valley too much in July before returning over 1,200m at the same track last month.
First-up last start, the six-year-old was outpaced early over 1,200m, and a touch one-paced late, but wasn't disgraceful and it serves as a decent lead-up effort into what could be his best course and distance. El Grande has never finished worse than fourth in five starts on the track.
From barrier five, Whyte will be in the first half of the field, hopefully one-off the fence, with speed drawn around him with Fiery Raider (Tim Clark) outside in gate six, and Good Smile (Alex Lai Hoi-wing) and Supreme Hong Kong (Umberto Rispoli) underneath.
Include all of those mentioned because of their good draws and on-pace style. The three others under consideration, in this order, are Flying China (Brett Prebble), Good Hong Kong (Tye Angland) and first-starter Time Winner (Zac Purton), whose last trial on the surface was particularly impressive.
The opening leg is a Class Four, but there's plenty heading to - or at least more suited by - Class Five. There's not much to hang your hat on for a banker - perhaps Real General with Alvin Ng Ka-chun's claim could be the one. But, by process of elimination, you could end up with Panther Run (Howard Cheng Yue-tin), Good Thinker (Rispoli) and Mutual Delight (Angland) as your picks.
The middle pin is much the same as the first - there's nothing reliable to bank with. While expecting upsets is one thing, finding who will pull them off is another.
If Clark can get Caga Spirit to settle, he will be hard to beat, but an apparent lack of speed in the race won't help his cause.
Include Champion Ranger (Cheng), Life Of Beauty (Richard Fourie) and China Angel (Ng).
TRACK STARS
RACE 1: (2) King Of The Day, (7) Smart Volatility, (8) Winning Legend, (12) Kidconi.
RACE 2: (2) Hurry Hurry Up, (3) Money Win Wins, (6) Gorgeous Life, (14) Newswire Too.
RACE 3: (1) Happy Era, (2) Goldland Dancer, (3) Fabulous November, (6) Dragon Keeper.
RACE 4: (1) Mi Savvy, (6) Good Directions, (7) Jun Dao, (11) Po Ching King.
RACE 5: (4) Good Thinker, (6) Panther Run, (7) Mutual Delight, (13) Real General.
RACE 6: (6) Champion Ranger, (7) Make A Fortune, (10) China Angel, (11) Life Of Beauty.
RACE 7: (2) Good Hong Kong, (4) Oyster, (7) Forza, (8) Supreme Hong Kong.
RACE 8: (2) Gold-Fun, (5) Corporal Jones, (11) Jolly Victor, (14) The Fast Lane.
RACE 9: (1) Rumba King, (5) Mr Ginger, (7) Cultural City, (11) Sunshine Kid.
RACE 10: (4) Amigo, (8) G-One Winning, (9) Happy Index, (12) Lord Sinclair.
RACE 11: (2) Deep Thinker, (7) Cheers Joy, (8) Finn Maccool.
Read Michael Cox's blog - A win written in the stars - as we all hold our breath. Go to: http://www.scmp.com/author/michael-cox-0