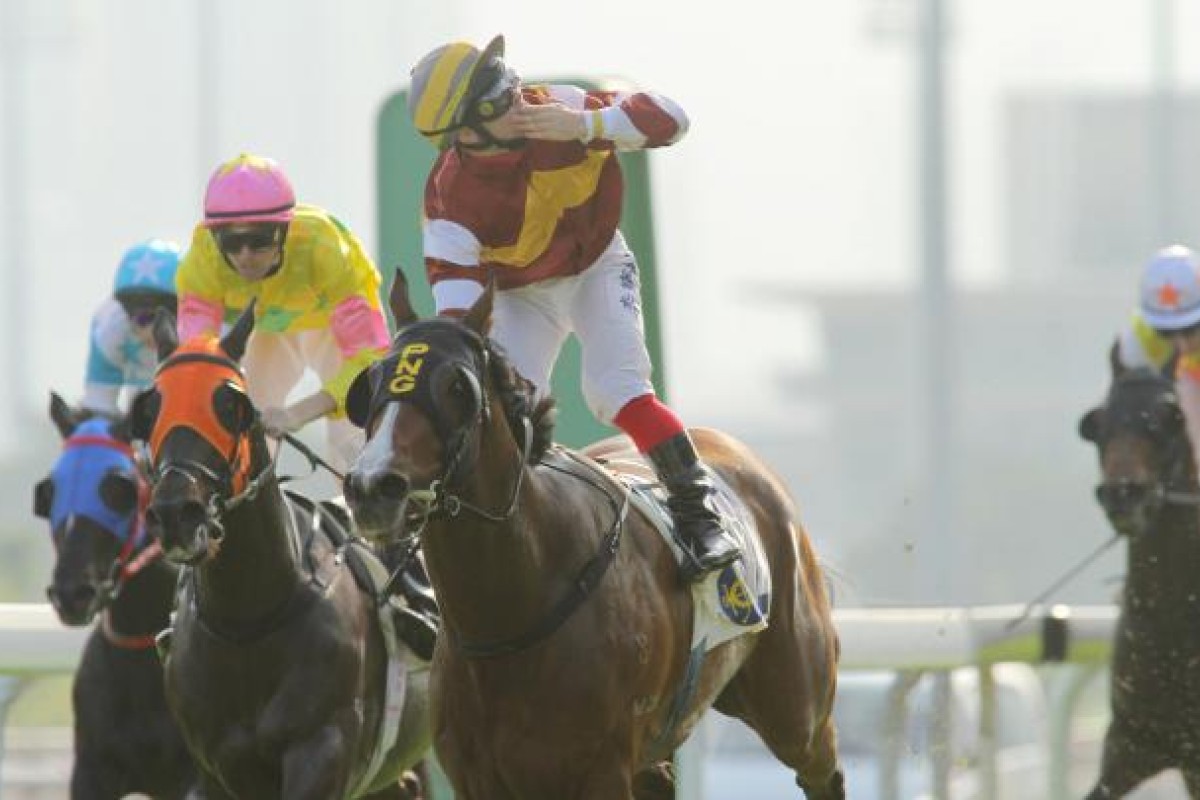 The second leg of a double - which very nearly was a treble - to trainer Peter Ng Bik-kuen gave an emotional Umberto Rispoli the perfect platform to pay tribute to a fallen comrade and countryman, the jockey pointing to the sky as he crossed the line on Perfect Hedge.
Ng had earlier won with first-starter Smart Volatility, and was later denied victory in the last when a protest against Benefactor was upheld in the last - but Rispoli's win on Perfect Hedge provided a poignant moment.
On Thursday, Rispoli was stunned when told Italian jockey Amedeo Valeri had passed away at age 32, following complications after a horse flipped on to him in the starting gates in September. He left a wife and young daughter, and his passing came after it had appeared the Sicilian hoop was recovering.
"When I found out, I just cried," Rispoli said.
"He was a jockey everybody liked. In this sport, we compete very hard. Sometimes we become angry at each other, and might yell at each other even. But in the end, we are like brothers and I feel like I have lost a member of my family.
"Amedeo was a bit older than me, and was someone who would always encourage me and tell me I was going to the top. He would say, 'You will break records one day' and I will always remember him for that."
Perfect Hedge is another winner from the dispersed stock of retired trainer Alex Wong Yu-on, after Ng won a glut of races with horses from that stable last term.
Now in his last term, the 65-year-old Ng has struck a rich vein of form, he is eighth in the trainers' championship and yesterday's double took him to 13 wins for the season.
"We have had to take him slowly, he came to us with some feet issues," Ng said.
Perfect Hedge may be a five-year-old, but his issues have limited him to five starts, and Rispoli said there was room for improvement.
"He was relaxed and from the 300m and I knew I would win. But he was still looking around as he got past the post," he said.
Ng's first winner for the day, Smart Volatility, is part of a strong "Hong Kong family" and purchased through David Price Bloodstock, who also bred the grey by Danewin. Sadly, Smart Volatility's win came two weeks after his dam, Something Funny, passed away while giving birth to a Magic Albert colt. Something Funny was a half-sister to local winners Country Magic, I Smell Money and Down For The Count.
Smart Volatility wanted to hang late in the race, but - sensing he was clear of trouble - jockey Howard Cheng Yue-tin let the four-year-old "have his head".
"There's plenty of time to correct that later," Cheng said.
Ng praised the thorough preparation his first-starter had been given prior to arriving in his yard and added: "He has the right sort of temperament for Hong Kong, just like me."
"He has arrived here quite late, and we have taken our time with him. But he will stand up to racing," Ng said.
It could have been a bumper day for the yard had Ben So Tik-hung kept front-runner Benefactor on the straight and narrow in the last race.
Instead, Benefactor lost the race on protest, and So was given a two-day suspension after he shifted in and blocked the running of the fast-finishing Deep Thinker.