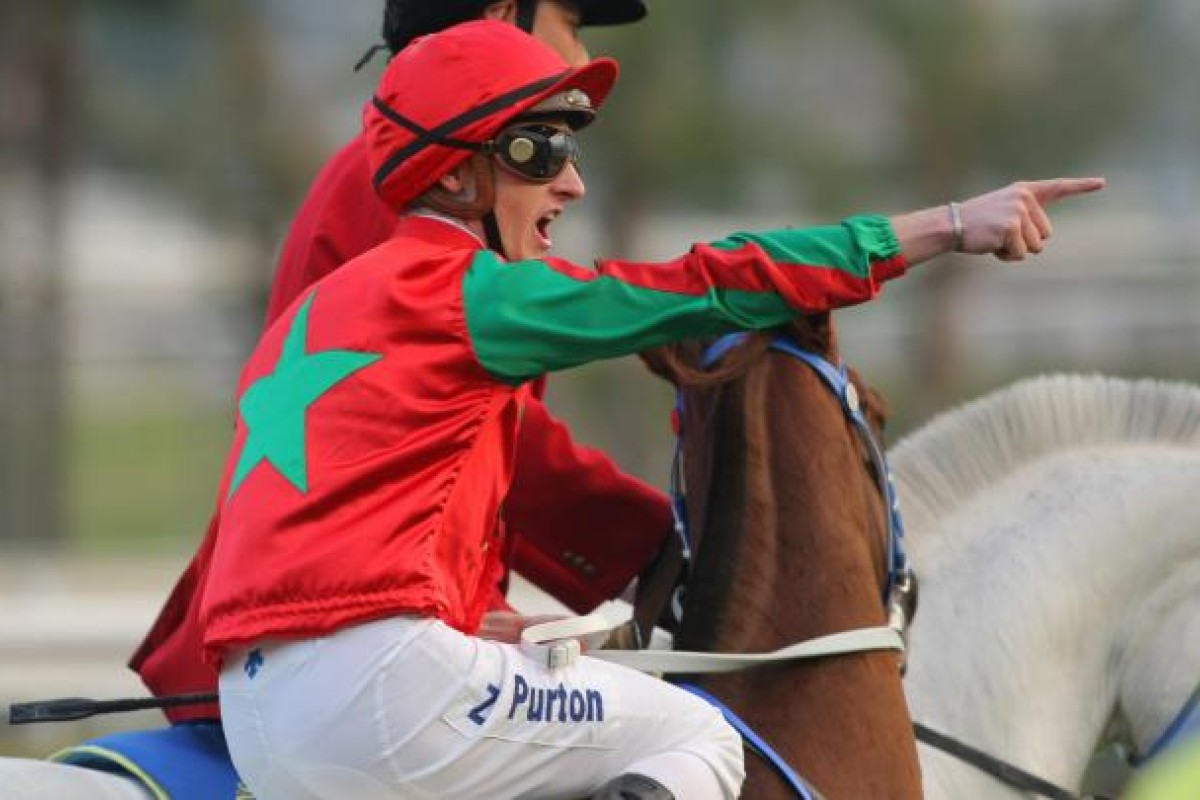 Zac Purton was a three-time winner on the first day of the new year, grabbing the Group Three Chinese Club Challenge Cup along the way to edge clear of Douglas Whyte in the championship as the arch rivals now take an enforced break.
Both Purton and Whyte are suspended as of today, until January 10, but Purton made the most hay while the sun was still shining on Sha Tin, landing wins on Travel Brand and Why Not for Dennis Yip Chor-hong and the 1,400m cup for Caspar Fownes on Helene Spirit, and relegating the Durban Demon to minor placings each time.
Whyte hit back with Gold-Fun in the last race but Purton leads the title race by two and was in the same inspired form yesterday that has been his season so far, yet he nearly sat out the Chinese Club Challenge Cup in the jockeys' room. "I was lucky to get on the winner. I thought I had a ride in the race for John Moore, then when I rang to confirm it, John said he didn't need me any more," Purton said. "As far as I was concerned, I was going to be on the sidelines but Caspar rang me two hours after entries to ask if I had a ride because he couldn't find anyone for Helene Spirit. He was obviously a good ride in the race so I was very happy to be on him and when he drew well, he had to be in with a great chance."
Helene Spirit has been slow to acclimatise after arriving in 2011 as a four-year-old, and suffering a quarter crack to a hoof, but Fownes pointed out he hasn't done anything but run well this season.
"From the shorter races like this at 1,400m to the Jockey Club Cup at 2,000m, every run has been terrific," Fownes said. "He's beaten some good ones today and that will put his rating up over 115, I'd say so he's getting to where he'll only have the major races to run in."
And that additional advancement might come sooner rather than later, with Fownes planning to back Helene Spirit up next Wednesday in the Group Three January Cup (1,800m) at Happy Valley.
"Helene Spirit is much stronger than when I rode him last season - back then he travelled in the run but wasn't there when you went for him," said Purton. "Today he travelled strongly but when I asked him, the turn of foot was there. Like a lot of horses, he just needed time to put it all together."
Whyte finished runner-up on favourite Real Specialist, just as he had done when Purton got Travel Brand over the top of Turbo Jewellery in the fourth to win narrowly. "I thought his job was harder with the big weight but I did think he had a better turn of foot than the others in that race - it was just a case of getting the right run into the race and when Douglas took off early on Turbo Jewellery that played into my hands," Purton said.
Why Not was one of the day's shortest-priced favourites and took his time about getting home by a short head but Purton said he had a lot still to learn.
"He's a big timid horse and was wanting to run away from everything and wasn't concentrating. He'll be better at a mile," Purton said.